Wild Grace
Donate Now
Issue 260

May/Jun 2010
On Being Human
Reviews
Wild Grace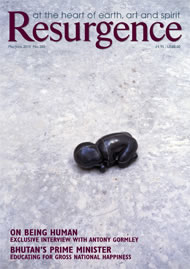 Cover: Still by Antony Gormley. Photograph: Stephen White
Philip Vann is enamoured with a trove of tidal treasures. Bird on a Wire by Ian Collins. Studio Fine Art Publications, 2007. ISBN 9781905883103.
Guy Taplin makes elementally graceful sculptures of birds on the wing, and birds swiftly active or dynamically poised on land and waters. His materials are odd bits of discarded wood or driftwood he discovers on the tidal estuaries and beaches of the Essex coast near where he lives, or on further expeditions to places such as New England, Portugal and the Greek islands. Yet as Ian Collins writes in this beautifully illustrated survey, "The biggest trove of tidal treasure … floats almost to the door of his studio."
Taplin's early childhood in London's East End in the Blitz is recalled, when he found a hedge sparrow's nest with four pale blue eggs in it – "I was awe-struck… It was so pristine, so immaculate – I went home and made one out of straw." In late adolescence he became a keen egg collector and wildfowler on the Essex marshes. "Wildfowling was adventure and it opened up the Essex coast for me, with punt-gunning the last frontier… It was a rite of passage."
In the 1970s, Taplin found himself, auspiciously, in his natural element working as a bird keeper at London's Regent's Park for four years, where he learned reverence for "an obese, cussed Muscovy duck", which became besotted with him, and geese from Tasmania which would hiss at his every approach and sometimes lash out with webbed and clawed feet, tearing his corduroy trousers to shreds. A visit to Japan around this time helped deepen his interest in Zen Buddhism. Left alone for long days in the Regent's Park bird reserve, inspired by its teeming avian life as well as by waterfowl decoys he had seen in antique markets, he began modelling his first birds. In his last year as bird keeper, he travelled round the United States, meeting the last of the "old-timers … who had made decoys as tools rather than ornaments". He found highly inspiring – as both subsistence craft and marvellously fresh folk art – decoy birds made for huntsmen in mid-19th-century Virginia by one Nathan Cobb Jnr.
The extensive Essex coastline, with its creeks, channels and marshy tracts between great tidal estuaries, is (in Taplin's words) "underwritten and overlooked". Its empty, wide-skied backwaters are home to a fluctuating bird presence: cranes and egrets in the spring, terns and swallows breeding in summer, autumnal ducks, geese and swans, then shearwaters, gannets, puffins and little auks in deep winter. Collins sensitively evokes how Taplin makes sculptures "with an apparent artlessness which lies at the heart of his achievement." He draws a bird's profile first on paper or wood, cuts it out with an electric saw, files it down, burning it or scrubbing it to emphasise the wood grain. Wing definition may then be chiselled in, eye sockets drilled, glass eyes added, then extreme details such as a bill or wing sparingly added. Coats of white emulsion are applied to the bird form, with rigorously minimal colouring. Then comes the painstaking process of scouring the painted model with wire wool, and waxing it, to tone down the pigment and, as Taplin says, "take the newness out of it… The actual wood I use with all its imperfections plays an important part… I use the grain to suggest the pattern of feathers and I go over the surface again and again."
Taplin does not aim for pedantic realism or mere ornithological accuracy. Rather, through uncanny Brancusi-like simplification of form, he evokes the essential nature of a particular bird. And with vivid immediacy and skilful scrutiny he describes actual birdlike appearance and movement. One sculpture subtly captures the undulating figure-of-eight of a swan's neck; another shows a swan sinuously searching the waters as its neck reaches down, at once tentatively and surely; a third depicts a swan tautly arched in flight, its grainy white feathering pristine against a backdrop of boat-like planks of weathered blue and indigo paint. In a sculpture of a heron, the exquisitely elongated neck, and the head and bill narrowing imperceptibly together to a sharp point indicate, along with beady eyes, the bird's sharp focus of shape and purpose. Spare and singular in form, or composed of groups whose intricate rhythms are intuitively choreographed, Taplin's bird sculptures capture to the quick the wild grace of both still and soaring forms.