The Language of Flowers
Donate Now
Issue 261

Jul/Aug 2010
Sustaining Life
The Arts
The Language of Flowers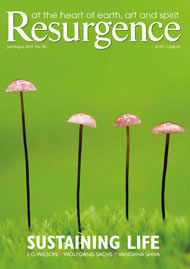 Cover: Photograph: Bence Mate, Wild Wonders of Europe
Philip Vann explores the sensuous yet transcendent flower paintings of Winifred Nicholson.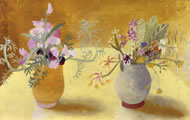 Painting by Winifred Nicholson. Courtesy Trustees of Winifred Nicholson/Aberdeen Art Gallery and Museums
The 18th-century poet Christopher Smart wrote about 'the language of flowers', their 'musical … harmony' and their mysterious natural presence as "great blessings for humanity". True artists – from creators of ancient Buddhist murals to Islamic pattern-makers, from Renaissance painters to Van Gogh, from Charles Rennie Mackintosh to Georgia O'Keeffe – have painted flowers not as mere botanical specimens to be expertly prodded and scientifically dissected but rather as living symbols of Nature to be enjoyed and celebrated.
Flowers as portrayed in such masterpieces remind us not only of the glory and beauty of the natural world but also of the vulnerability of their fragile forms, the inescapable fact of their relatively brief life cycle (ours too) and the poignant transience of all life. And that – in the words of another 18th-century poet, George Herbert – as humans we are "but flowers that glide".
In her exhilaratingly spontaneous yet innately structured flower paintings, Winifred Nicholson (1893–1981) spoke the universal 'language of flowers' with a delightfully unpretentious, informal, modern accent, a swift lucidity of brushstroke and a most liberating lightness of touch. Far removed from an anaemic academic tradition of flower painting (one sentimentally adhered to by generations of politely constrained watercolourists), her pictures – each rooted in a pristine perception of Nature – were painted in quick sessions of utter absorption in her subject matter, usually lasting just a few hours, without the use of preparatory drawings or sketches.
As Christopher Andreae notes in his perceptive recent book on Winifred Nicholson, "she did not exclusively paint flowers, but they were quintessential to her. She used to say that she had painted flowers from birth – and this is very nearly true, as many childhood letters decorated with flowers bear witness. "Towards the end of her life, she objected to being described as "the best woman painter of her generation", preferring, she wrote, to be called "one of the painters, both men and women, who are good painters of flowers – and as such she has given a personal … aspect of flower painting which has not been given before – it is the aspect of the relationship between the growing things and the air and sunshine in to which it grows."
At the Byam Shaw Art School in London Winifred was encouraged to make laborious preparatory studies, to take extensive time making her pictures and to limit her palette severely. A story she liked telling was of her conversation with her tutor: "I painted … the rainbow sheen on a mother-of-pearl shell – 'You are seeing too many colours, Roberts [her maiden name],' said Mr Shaw." Christopher Andreae goes on here aptly to remark: "Which, of course, was just what she did for the rest of her life."
A 1919 trip to India opened her eyes to the possibilities of piercingly brilliant light as well as the vivid, sensitive colours of Indian miniatures. On her return to her native Cumbria, she painted the landscape in brighter, more daringly acidic tones. Following her marriage in 1920 to the young, avant-garde painter Ben Nicholson, they settled each winter until early spring in a house above Lake Lugano in Switzerland, where, inspired by Giotto and Gauguin, they lived a new life "as utter paint fiends. We have cobalt green with our coffee for breakfast, lunch at four, and rose madder for supper."
In 1922 Winifred wrote how much she was moved and inspired by the work of Henri Rousseau, whose visionary naive paintings had so influenced painters such as Picasso and Derain. There was a radical enigmatic and archaic quality she discerned in his work that at the time she related to images in a book she had received on African sculpture: "They are idols. And idols, Madonnas and Buddhas and Totems have a thing in them you can't analyse or explain, and that interests me more than anything else, I believe. It is a thing I feel the lack of in almost all modern work, except Douanier Rousseau who has got it very strong."
It was in her last winter on Lake Lugano in 1923, that her painting "came to flowering point":
"Ben had given me a pot of lilies of the valley … in a tissue paper wrapper – this I stood on the window sill – behind was azure blue, Mountain, Lake, Sky, all there and the tissue paper held the secret of the universe. That picture painted itself, and after that the same theme painted itself on the window sill, in cyclamen, primula, or cineraria, sunlight on leaves, and sunshine shining transparent through leaves and through the mystery of tissue paper."
In 1924, the Nicholsons settled into Banks Head farmhouse, literally on the line of Hadrian's Wall in Cumberland, where they lived simply, with no electricity for over twenty years; Winifred stayed there for much of the rest of her life. She loved the wide, undulating views of farmland, dotted with ungarnished farmsteads, right up to the Pennines on the horizon. In the 1950s, reacting against the prospect of her first visit to Scotland's west coast, she wrote: "I think I like the mixture between civilisation and wilderness, little white crofts and stony fields – not just mountains and mountains and mountains."
In 1926, Winifred and Ben met the young painter Christopher 'Kit' Wood, and were both vastly impressed by his childlike yet intuitively sophisticated vision. Kit and Ben were in turn moved by their chance meeting two years later with the self-taught, sexagenarian ex-fisherman painter Alfred Wallis in St Ives; his hauntingly fresh, primordial paintings had as releasing an effect on their work as the Douanier Rousseau's had on Winifred's art. In 1928, Wood and the Nicholsons painted together with wondrous closeness and intimacy of vision and theme in Cumbria and Cornwall. Wood's tragic death in 1930 and Winifred's separation from Ben the following year were awful ruptures in her life. Though her marriage to Ben was relatively short-lived, they enjoyed a complex, nourishing lifelong dialogue about the essential nature of painting.
In From Bedroom Window, Bankshead (c.1930), Winifred characteristically painted an indoor still life of wild flowers in a vase on the verge of a numinous vista of variegated green farmland, the Pennines bleached and airy in the far distance. Pots of paint, and one holding paintbrushes, are seen on the windowsill, reminding us how the whole translucent scene has been artfully and swiftly conjured up out of the artist's original fresh perception.
For Winifred, gaps between objects, or between plant pots on a windowsill or a tabletop placed in gracefully random arrangements, are seen to be as revealing as the objects themselves. She wrote that there was "more sky in that air gulf than in the sky itself". Her constant use of white paint in many pictures, such as one showing yellow accents of aconites against a silvery-grey background suffused with snowflakes, is especially appropriate. Luminous, fluctuating backdrops – bleakly radiant in November and February, vibrantly ethereal in floral summer still lifes – indicate something of the generous openness and sublime freedom that lay at the heart of her vision.
Winifred Nicholson by Christopher Andreae is published by Lund Humphries at £35 (ISBN: 9780853319726). Philip Vann's latest book is about the painter Tessa Newcomb and is published by Sansom & Company at £29.95 ISBN: 9781904537946.