Scrumping in the Rose Garden
Donate Now
Issue 261

Jul/Aug 2010
Sustaining Life
Regulars
Recipes
Scrumping in the Rose Garden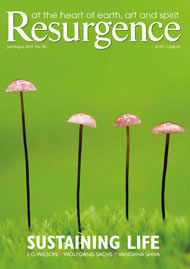 Cover: Photograph: Bence Mate, Wild Wonders of Europe
Issue availability
Roses, pansies and geraniums … alyssum, mallows and cosmos … sedums, chrysanthemums and dahlias. Summer's the time to find more ways to bring edible flowers to your table, says Jane Hughes.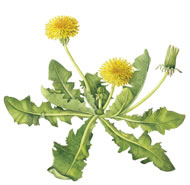 Illustration: Meriel Thurstan
One of the odd things about writing for magazines is that, as my life is deadline-driven, I'm perpetually one season ahead of the rest of society. For me, Christmas arrives in September. By the time the rest of the world gets round to putting on party hats, I'm sick of the sight of nut roasts en croûte and desperately seeking tender leafy greens for spring salads. So, as I was sitting dreaming of blowsy rose-scented summer evenings with friends and musical instruments at a long table under the trees, my reality was the ghastly prediction that the New Year snows were plotting an Easter-time comeback up here in the North West.
I caught a delightful whiff of summer a couple of weeks ago when I was introduced to a Moroccan spice blend, Ras el hanout, at the Vegetarian Society's Cordon Vert Cookery School. Literally translated as 'top of the shop', this is one of those ancient traditional mixtures that are passed down through the generations so that, eventually, there are hundreds of possible combinations of ingredients.
In Morocco, the ingredients and proportions vary from shop to shop as each vendor competes to produce the most mind-blowing blend. Typically, though, it includes coriander, cinnamon, ginger, cardamoms and cloves, nutmeg, hot cayenne … plus, depending upon the whim of the maker, cassia, mace, galangal, turmeric and paprika. But the key essential ingredient is rose petals or, in the variety I first used, tiny rosebuds.
Wow, that's a powerful aroma!
Back home in Manchester, I purchased two jars of Ras el hanout in a delicatessen, and found that they each had different personalities – one with a strong lavender top note, the other dominated by cloves. I passed them around the students at one of my cookery classes, and challenged them to identify the constituents. One student said it reminded her of the dentist! (What an unfortunate association, if the scent of roses reminds you of the dentist's chair!) I suspect it was the cloves that triggered the thought and, you know, now that she has said it, the clove-laden jar is having the same effect on me.
But hurrah for the variety with the rosebuds – at Cordon Vert, we mixed it with pulverised tofu and made crispy little cigar-shaped filo pastries. Note to self: although this is a hot, spicy blend, I wonder if I could use it to make similar pastries, but with chopped roasted nuts and a little maple syrup … and would the sugary-spicy result be best presented as a sweet dish, or a savoury one? Look out, dinner party guests: I feel an experiment coming on.
Ransacking my kitchen in search of further clues about impending summer, I discovered a jar of rose-geranium-scented caster sugar that I made last year. If you own a geranium plant that has scented leaves, you must make some of this. Ideally, let the plant luxuriate in the summer sunshine for a few hours so that its leaves are warm and utterly aromatic. Then pick one leaf, put it into a jar, top with sugar, put the lid on and leave it alone for a week or so. The leaf will exude some moisture, which inevitably makes the sugar that comes into contact with it inclined to clump up, but a lump of sugar isn't such a bad thing.
Retrieve the leaf before it starts to get nasty, and you too will have a jar of precious scented sugar. The problem is how best to use it. I guess it would be good in (or on) fairy cakes (for a midsummer night's feast) or stirred into whipped cream and served with summer fruit and dainty baby pancakes … Makes a nice Christmas present too, if you can think that far ahead (and, yes, by late summer I'm generally already thinking about edible Christmas presents – that's my job).
Eating flowers is a serious summer treat, although it can seem a bit cruel to me. Those courgette flowers might have fulfilled their ambition and grown into courgettes if you hadn't plucked them and stuffed them with herby soft cheese. Shame on you (and me). Less sensitive types will be pleased to learn that most of the flowers produced by vegetable and herb plants are eminently suitable for eating. Top picks include scarlet runner-bean flowers, beautiful purple chive flowers, blue borage, lemon verbena and tiny thyme blossoms.
Flowers that come from bulbs such as daffodils are generally toxic, as are potato flowers and rhubarb flowers. Friendly garden flowers include nasturtiums and marigolds, roses and pansies, geraniums … and, less well-known, alyssum, cosmos, mallows, sedums, chrysanthemums, begonias, dahlias. If you stop and think about it, there's a whole segment of the vegetable kingdom that we're neglecting to bring to the table.
Of course, flowers are best served fresh, and most will not stand much messing before they start to bruise and wilt. Best scattered on top of cool salads, then, and served pretty promptly. Paul Gayler's Summer Ruby Salad, from his Little Book of Salads (Kyle Cathie), is an artful combination of red things: beetroot, red onion, radish, red cabbage and, somewhat, unexpectedly, watermelon, which is inspired. Plus purple basil leaves and the purple flowers of borage, lavender and pansies. Sonja Bock and Tina Scheftelowitz, in Best Salads Ever (Grub Street), have come up with a fabulous salad dressing using elderflower cordial blended with lemon juice, lemon zest and olive oil. I can't wait for Tina's next publication, Vegetarian with a Vengeance, co-authored with Christine Billi Nielsen and due out at the end of July.
Remembering last summer's most flowery moments, I recall taking part in a 'wild food' walk. In a quiet patch of parkland surprisingly close to the city centre, we chomped happily on wild garlic and ground elder and harvested nettles and mushrooms, and, unforgettably, I ate my first dandelion flower: fluffy yellow petals around a heart of honey. Don't eat the green bit that the flower sits on – it's bitter – but the leaves are good in a salad.
Duly inspired, I spent an hour or so gathering dandelion flowers near my home, to the puzzled amusement of passers-by. How could they have known that I was on an alchemist's mission to turn weeds into wine? I had the last laugh. Early this morning I dashed through the sleet (remember, I am writing this in April) and into the summerhouse (more accurately called the shed at that time of year) where my demijohns hibernate. An illicit egg-cupful of rich, sweet, golden dandelion wine with breakfast, accompanied by the compellingly sinister soundtrack of Summer Wine by Nancy Sinatra and Lee Hazlewood, and I awaken to all the boozy possibilities of al fresco dining to come, as summer now gradually unfolds.
Weeds into Wine Dandelion Wine
This is my lazy interpretation of two different recipes and methods from Fruity Passions by Margaret Vaughan (BBC Books). See if you can find a copy – it's utterly inspiring.
• Harvest four pints of dandelion flowers and put them in a clean bucket. Pour over a gallon of boiling water, cover the bucket to deter suicidal bugs, and leave to steep for three or four days.
• Using a funnel, put 1.5kg of sugar in a clean demijohn. Strain the dandelion liquid onto the sugar, but don't press the pulp or you'll end up with cloudy wine. Add a teaspoon of winemaking citric acid powder, stir the mixture (I used a metal skewer) to dissolve the sugar, and sprinkle two teaspoons of wine yeast compound onto the surface of the brew.
• Top with an airlock bung and put in a warmish place. You should see it start bubbling within a day or so, and it may continue to work for a couple of months. When it goes quiet, siphon it into a storage demijohn or bottle it. Pretty palatable by Christmas and, like all the best things, it improves with age!