Paul Gauguin
Issue 262
September/October 2010
Embodied Wisdom
The Arts
Paul Gauguin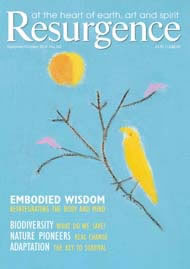 Cover: Small Yellow Bird by Craigie Aitchinson. Courtesy: Bridgeman Art Library
Issue availability
No Back Issue available
In the first exhibition of his work in 75 years, Tate Modern presents Gauguin: Maker of Myth.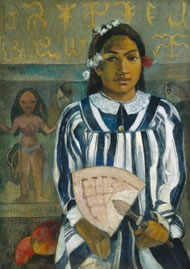 Teha 'amana has many Parents 1893. Courtesy: Art Institute of Chicago, USA © Art Institute of Chicago, USA
Billed by critics as 'the art event of the year', Gauguin: Maker of Myth gathers over 100 different Gauguin works in every medium and genre – from paintings to pots – all exploring the importance of myth and story-telling to an artist who famously went into self-imposed exile in Tahiti, where he immersed himself in the rapidly disappearing Maori culture.
Signifying a major re-evaluation of the Paris-born painter, sculptor and printmaker (who was also a one-time stockbroker), it is clear that at a time when other artists believed story-telling to be dead, Paul Gauguin used stories and myth to give a powerful narrative tension to his paintings, and fable remained central to his work.
His favourite topics included creation, reincarnation, life-cycle myths, the femme fatale, Venus, Eve and temptation, the Nativity, and the 'noble savage', and his remarkably profound ideas about human nature and religion are reflected in the bold imagery of his paintings, watercolours, pastels, drawings, prints, ceramics and sculptures. The exhibition also offers an insight into his artistic processes by including rarely seen illustrated letters, sketchbooks, memoirs and other publications.
Gauguin's life in French Polynesia has traditionally been portrayed as some mystical quest for 'the other', with the artist himself as the romantic explorer encountering 'primitive' cultures for the first time, whereas in fact he was deeply immersed in world art and was an avid reader of Polynesian stories and fables even before he exiled himself there.
Vision of the Sermon (1888) and Teha'amana Has Many Parents (1893) demonstrate the inspiration Gauguin derived from Tahiti's tropical flora, fauna, daily island life and traditions, whilst Self-portrait as Christ in the Garden of Olives (1889) and Self-portrait with Manao tu papau (1893) reveal his further fascination with role-playing in the guises of victim, saint, Christ-like martyr and sinner.
Much of this mystique – including his self-mythologising and presentation of himself to the world as a suffering Christ-like figure – is explored in this new exhibition and the accompanying book of the same name, both of which firmly reposition him as Gauguin: reader and thinker.
Gauguin: Maker of Myth is at Tate Modern from 30 September to 16 January and moves to the National Gallery of Art in Washington from 27 February to 5 June, 2011. The new book, Gauguin: Maker of Myth, is edited by Belinda Thomson, curator of the new exhibition, and is published in September 2010 by Tate Publishing (ISBN: 9781854378712) For an account of how Gauguin used myth to portray his own life, read Resurgence writer and art consultant Andy Christian's exhibition preview at www.resurgence.org/magazine/article3203.html