Embodied Wisdom
Issue 262 • September/October 2010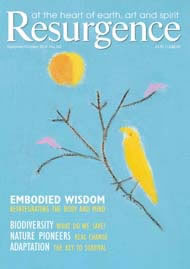 Buy a copy of this issue
Become a member and receive 6 issues a year
Contents
Key
Free for all to view
Free for members to view
Not available
Welcome
A vision of wholeness and Integrity.
Frontline
Indigenous landowners are stripped of traditional land rights.
Exposing the reality of 'Beyond Petroleum'.
The World's Most Polluted Places • Lorna Howarth
Cleaning up toxic waste.
Trees for Global Benefit • Lorna Howarth
How carbon finance can work for the poor.
Groundbreaking Allotments • Lorna Howarth
Bridging the gap between demand and supply of horticultural land.
Debate rages over the world's largest forest 'conservation' agreement.
Undercurrents
Why conservation mus change to 'stand up' for the whole of nature.
How this dying tradition plays a role in supporting biodiversity.
A modern sage shares his thoughts on living in harmony.
Younger Japanese consumers are rejecting material abundance.
Could our medieval ancestors know something that we don't?
Keynotes
Exploring the embodied condition of the integrated human experience.
Quotes
A lost number in the equation.
Why modern life makes it hard to be happy.
A human being is a part of the whole.
Biocultural Diversity
Those species most able to adapt will survive climate change.
The Arts
Celebrating landscape artist William Crozier.
Tate Modern presents Gauguin: Maker of Myth.
Regulars
Film can be a platform for personal transformation and global change.
Recipes

- Pumpkin Magic • Jane Hughes

The ultimate comfort food from an autumn staple.
Big Foot, Little Foot

- Food, Glorious Food • Mukti Mitchell

Cottage industries are the future.
Slow Travel

- The Kindness of Strangers • Adam Weymouth

Discovering the true meaning of hospitality.

Celebrating three grassroots pioneers who champion biodiversity.

Finding inner freedom as a pilgrim in the Sinai Desert.

The most important thing in the garden is your compost heap.
Poetry

- The Nature of Being • Peter Abbs

Collected Poems of P.K. Page.
Letters to the Editors

- Benefits of Reforestation

A selection of letters to our editors.
Members' Page

- Nature's Language • Ian Tennant

Earth Vision Nature Writing Contest.
Reviews
Review of The Running Sky: A Birdwacthing Life by Tim Dee
Review of Eaarth: Making Life on a Tough New Planet by Bill McKibben
Review of The Honey Gatherers by Mimlu Sen
Review of The Tao of Liberation by Mark Hathaway and Leonardo Boff
Review of Letters from an Extreme Pilgrim by Peter Owen Jones
Review of The Age of Absurdity by Michael Foley
Review of Creating a Forest Garden by Martin Crawford
Review of Common Wealth by Martin Large
Review of Celebrating the visionary works of the late Thomas Berry
Web Exclusives
Science can accelerate the transition to sustainability.
Guaguin produced work of great quality that pushed the boundaries.
Community engagement is the key to creating sustainable 'living landscapes'.
Expression of the soul.
Rekindling The Waters: The Truth About Swimming with Dolphins
You could be one click away from changing the world.
Animal rights protestors applaud new law.
Traditional design and latest technology combine to create enegy-saving stove.
Ryan's Well Foundation.
Freeing the arts from the taint of black gold.
Recycling paint benefits the environment.
MP backs parliamentary bill for lighter evenings.
Restoring trees and natural woodlands in 'the Desert of Tanzania.
An experiment in creativity.