Singing the Truth
Donate Now
Issue 262

Sep/Oct 2010
Embodied Wisdom
Reviews
Singing the Truth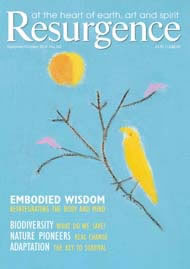 Cover: Small Yellow Bird by Craigie Aitchinson. Courtesy: Bridgeman Art Library
Val Harding is moved by a passionate tale of life with the Bauls of Bengal. The Honey Gatherers by Mimlu Sen. Rider, 2010. ISBN: 9781846041891
The magic started for me on the first page of The Honey Gatherers. Mimlu Sen begins her story with her first contact with the songs of the Bauls of Bengal – an album called Indian Street Music, published in the USA in 1970 – and how she had been haunted by a particular song, Oh My Spirit, Dress Like Nature, Learn to Be a Woman. This album was also my first contact with the songs of Bauls, and hearing those haunting melodies led me, too, on a journey of discovery.
At the heart of Baul philosophy lies a deep understanding of how our real selves are bound in this transcendent physical body, which is inseparable from the natural world around us – a true message for anyone who feels passionately about the future of our planet, our environment and our relationship with Nature.
Sen recounts her journey into this powerful sphere of Baul music and Baul mysticism, but first traces her own Bengali roots and her life, which began in Shillong, Meghalaya, before moving to Kolkata and to Europe and back again – a story of transition and bravery that included time spent in jail in India for her sympathies with left-wing politics. Whilst in jail she encountered again the songs of Bauls, this time not on a vinyl album but sung by her female co-prisoners.
She goes on to describe her 1982 encounter with 26-year-old Baul singer Paban Das, who was on tour in France. Their growing relationship takes her on a journey from her home in Paris back to her roots in West Bengal and an itinerant life with Paban and the Bauls. She writes with passion, openness and honesty about the hardships and harrowing experiences of poverty, which are commonplace amongst many Bauls who, like Paban Das, come from poor rural communities.
She creates a balance between political awareness and spirituality, reflecting the themes of Baul songs, which are about spirituality and the mystical body, and which lampoon hypocritical and elite society to express the truths of equality between all people, whether Hindu or Muslim, male or female, from whatever caste or creed. In the words of the great philosopher and song-maker Lalon Shah, "there is no caste in the Saddhu's market!"
Throughout the book we read about the passion for music and the talent of Paban Das, who is now an internationally renowned artist. Sen's vivid descriptions take us through towns and villages, down wide flowing rivers and across the verdant landscape of West Bengal, to concert venues, melas and festivals, ashrams, initiation ceremonies and encounters with yogis from the tantric world.
The story ends with Mimlu and Paban's creation of their own mahotsava (festival) in Boral, which they ran for 12 years from 1988 to 2000, when sadly it became impossible to sustain because, in the author's words, "urbanisation and globalisation had set in with a vengeance".
This book dispels romantic illusions about saintly lives and gives us some hard-hitting facts, but never fails to inspire.
Editor's note: the word 'Baul' means 'mad': madly in love with music and with God!