Derek Neville, Poet of Nature
Donate Now
Issue 262

Sep/Oct 2010
Embodied Wisdom
Web Exclusives
Article
Derek Neville, Poet of Nature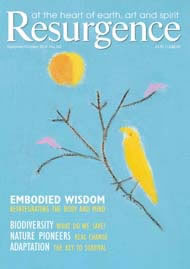 Cover: Small Yellow Bird by Craigie Aitchinson. Courtesy: Bridgeman Art Library
Celebrating the late British poet who found an expression for his own soul whilst living among the poor and destitute.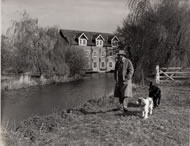 Photograph courtesy: Sophie Sorrell
I live on a river,
And I watch the universe every day,
There, in the water,
As it flows to the ocean.
And whether we know it or not,
We all live on a river.
Pavements, perhaps, instead of rushes.
The wild forget-me-nots gone,
And a block of flats where the Mimulus-might-have-been;
But it is a river just the same,
Cement, or steel, plastic or plasterboard,
City or mountain, slum, suburb, or Ascot,
It is a river flowing to the Eternal.
I was fortunate to meet the nature poet, Derek Neville, when I was just 14-years old. At the time my mother had taken me on a week's holiday to a vegetarian guesthouse, which was contained within an old working mill. Derek Neville, together with his wife, Mary, ran the old water mill.
As their guests we had the added bonus of listening to Derek reading his poetry in the evening in his soft deliberate voice. Outside the windows there was the sound of the River Bure rushing by while swallows and swifts scythed and shrilled as they plundered the banquet of insects for their hungry young. And unlike the poetry I had heard before – poetry that had been tempered to fit the school curriculum - here was someone who made his poetry come alive and, like the liquid cadences of birds in spring, held everyone in enthralled.
This was poetry that stopped the heart and sent it sounding a deeper rhythm. I knew now why I had always loved my mother reading the Rubiyant of Omar Khayam, T. S Eliot and Kahlil Gibran. True poems are honed from the soul, harvested with the heart and then, let free like rare birds to inspire and guide many.
Certainly, Derek had the ability to draw the beauty out of the ground beneath our feet, literally.
Be gentle with the dust
You do not know
What shape it had,
Or what it may become.
A million worlds dance there
Within the slanting beam of sunlight…
Derek's start in life had not been easy. He was only nine months old when he lost his mother, and his relationship with his father was difficult and challenging. He admitted, later, that this was soul-making that had tempered his life's work. As a youngster, the natural environment became his port in the storm where he could 'lose himself in Nature':
I remember the bells that pealed
When we walked to church across the field,
But one of the loveliest sights I saw
Were roses growing outside the door
I buried my face in the family pew
And thought of the roses wet with dew.
When the others had turned to prayer,
I thought of the roses growing there.
Leaving school at 17, he took a position at an insurance brokers in London. He admitted he worked hard and rapidly gained promotion, but something in him simultaneously 'went to pieces'. He realised then, that he couldn't live that sort of life any more. Something from deep within him was calling and he had to follow that call, if only to alleviate the loneliness he experienced in his soul.
At 21, he left home with nothing but a piece of card in his pocket which read: 'Derek Neville, in search of God'. He was to spend six years on the road, sleeping at common lodging houses, selling pen and ink copies of his poetry from door-to-door. He slept in a tree, garden sheds and under the stars and yet, despite his outwardly diminished circumstances, was aware of a deepening sense of the Divine within and around him.
He writes about his life with other down-and- outs: "I cannot adequately describe the experience of living with men who were completely alone and destitute. I only know that it was one of the greatest privileges that life has held for me."
His poem, Common Lodging House illustrates this so well.
I sat on the bench
as dirty as they were -
And as alone,
A tramp among tramps.
And then I saw
The grimy hand of God
Pushing a mug of tea
Towards me along the table.
I recognised him -
There in the broken body,
There in the rags,
Illustrious and eternal,
My unshaven God!
Whilst, on the road selling his poetry, Derek came to meet the gentry as well as the poor; even selling his work to Thomas Hardy's widow. Gradually, his poetry became more widely known and eventually, he held poetry recitals at the Wigmore Hall in London and wrote for various magazines and papers, including The Farmer and Stockbroker.
Using the money he had made through selling his articles to rent a room in Chelsea, he bought himself a typewriter and continued writing. For two months he lived off the sale of his articles until the money ran out. The day when his rent was due, he went out looking for work, but to no avail. But then, on his return, he found a cheque waiting for him in payment for some article he had written and forgotten about. It was just enough to pay the rent and afford a proper supper.
Later, he moved on to sell newspapers, walking every day to his pitch in Haymarket. Afterwards, he worked several months at a tennis club, then a travelling library. When work was scarce, he slept on the beach at Brighton and on the cliffs at Eastbourne.
Those years of travelling, he admitted, changed him profoundly.
He wrote "as long as the search is an intellectual one – so shall we wander aimlessly in circles over and around the truth, unaware of its nearness, blind to its dazzling light."
He believed that by opening to one's heart one could enter into an experience fully, whereas the intellect held the experience at a distance. Above all, he had lost all the 'fear of life' that had gripped him before his journey. He had been impoverished, without food or money, but it was during these times that he felt enriched on an inner level. He could see that so many people were terrified of loss, yet were miserable with what they had. Above all, he felt a deep connection with God. This connection ran like a line of gold through steely rock. And yet, by this he does not limit himself to a Christian doctrine.
No! I am not a Christian
But I believe in the light
Wherever it may shine.
I know beyond knowing,
That the earth is the garment of God,
And that we are meant to be
The light of the world.
Many people have quite literally had their lives changed by Derek's poetry. He had collections of his work published in New Zealand as well as the United Kingdom, and Henry Thomas Hamblin made several reprints of The Garden of Silence which, by 1964 it had been re-published five times over and sold over 12,000 copies. (Thanks to Mystica publications Ltd in New Zealand copies of his work can still be accessed in this country.)
After his travels at the age of 27 Derek went through a time of spiritual impoverishment. The trust and quiet belief seemed to leave him. It was as if God had withdrawn from him and he experienced a deep sense spiritual loneliness. This is very common experience in the life of many poets and mystics, where there is an eclipsing of the faith; sometimes described as a 'dark night'. But some time later, he was to have a profound spiritual experience, a vision of pure light which led him to write Put off Thy Shoes - a poem of 300 lines. These few lines here lend a glimpse into his experience.
And in that moment every star
Or sun that shone in unknown space,
And every fragment near or far
That went to make His ageless face,
And every second of the hours
And every joy upon the years,
The deep soft splendour of the flowers,
The still imprisonment of tears,
All hidden glories, voiceless prayers,
Time-buried things with a name,
And all man's struggles, pain and cares,
O'er shot with joy, together came.
Derek's Neville's work lives on, I feel, in both the Earth and in the memories and hearts of people who have come across his work and been touched by it. Somehow, the wish that he had expressed in one of his later poems, When I go from here has already come to pass.
When I go from here,
I want to leave the whole of Nature nearer
To the whole of man. I want to store up riches
In the wind, and to leave blessings travelling upwards to the stars…
I want to leave my peace in the grass.
I want the tears that I have shed
For the sake of high love to come again in the dew…