Exquisite Craft
Donate Now
Issue 263

Nov/Dec 2010
Apostles of Beauty
The Arts
Exquisite Craft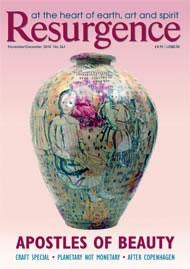 Cover: Golden Ghosts by Grayson Perry. Image courtesy: Victoria Miro Gallery
Philip Vann celebrates the influence of the somewhat neglected Arts and Crafts designer Charles Ashbee, whose beleagured Guild and School of Handicraft tried to create the Utopia of simple country living with exquisite craft.
Whereas the Arts and Crafts designer and socialist William Morris championed the notion of a full-blown revolution against wasteful consumerism, his less well-known contemporary the designer Charles Robert Ashbee (1863–1942) favoured a more gradual change, arguing that it would be the artisans themselves who could and would create the change they were seeking.
To this end, in the spring of 1902, when the 'back-to-the-land' movement that both men supported was at its height, Ashbee led a unique social experiment, with the exodus of over 150 East End craftsmen and their families – moving them out of the hurly-burly of life in London and into Chipping Campden, a honey-stoned rural idyll in the Cotswold countryside.
The tradesmen – jewellers, silversmiths, enamellers, printers, carvers, modellers, blacksmiths, cabinet-makers, polishers and gilders – were all members of Ashbee's prosperous Guild and School of Handicraft, and their collective move to the countryside fulfilled the ideal of a creative life lived close to Nature that was expounded by so many of the Arts and Crafts pioneers.
Gainfully employed in a largely co-operative, democratic venture, with plenty of free time for Guild suppers, folk singing, cricket matches and amateur plays, the workers also attended lectures on the arts by visiting dignitaries (William Morris himself had visited the Guild when it was based in London's East End). The tradesmen and their families made full use of the surrounding countryside with regular camping and canoeing trips, rooted in Ashbee's belief that such wholesome activities "cannot but make better artists and workmen" of his Guild members.
Ashbee deeply admired what he called Morris's "creative splendour", stating: "I don't mean that every Tom, Dick and Harry had Morris's genius, but that the great neglected power for creation lay in men's hands under the inspiration of the arts, and that this was demonstrable from tradition, more especially from medieval tradition".
"My life's work has been to try and put this into practice," he wrote.
He and Morris talked often about the essential dignity of making art, unattached to luxurious, extravagant consumerism, and it was Ashbee who took over Morris's renowned Kelmscott Press after his death.
Describing life as one of the Chipping Campden Guildsmen, Alex Miller, a carver and modeller, wrote: "There was presently opened to me in the Guild an entrancing and wholly new kind of life, in which it is now difficult to separate the various elements – the strange and romantic beauty of the Cotswolds, the absorbing interest of work, the widening intellectual life into which we were introduced, the sense that we were a group enthused by a common aim."
One of those aims included keeping the use of electrically powered machinery to a minimum and only for routine tasks such as buffing and polishing silver. And by the time the Guild made its exodus, Ashbee was championing a focus towards greater self-sufficiency, to what he called a "more real and more direct…hold on life" in terms of working on the land, cooking and baking.
At first, the Guild had prospered to such an extent that it had opened a new shop for its rich patrons in London's Bond Street, but by 1906, just four years after the exodus, it had made an astonishing loss of £1,994, signalling its demise the following year.
Most of the Guildsmen moved back to London and Ashbee's own career as a designer was virtually over, although he continued to work as a writer and lecturer and, from 1919 to 1922, as a town planner, conserving many of the historic buildings of the city of Jerusalem.
So what went wrong?
According to Alan Crawford, author of C.R. Ashbee: Architect, Designer and Romantic Socialist, the designer's Guild failed not, as he himself argued, because it was impossible to sustain a flourishing workshop in the countryside, but because of the way he had gone about it. Put simply, Ashbee had overreached himself with the sheer scale of his dramatic exodus.
In her book The Simple Life: C.R. Ashbee in the Cotswolds, the writer Fiona MacCarthy poses that trickiest of ironies barely hidden in this and similar social endeavours – namely, that "democratic as they were in outlook, their prosperity, even their existence, was dependent on the whims of the rich".
Nevertheless, I would argue that even within its brief history, Ashbee's Guild produced organic, original, elegant work – most of which he designed himself – of prophetically modern outlines, within the contours of a way of life that, for a while at least, integrated freedom and culture with a daily rhythm of self-sustaining labour.
In his designs, he often aspired to an expressive plainness in detail and colour that was radically modern and innovative in spirit, and he had an eye for unpretentious beauty that was at odds with the explicitly finished and over-polished craftworks of his age.
He was a visionary designer whose work was rooted in an organic distillation of natural motifs. His frequent use of certain imagery in his art – the peacock, the ship, the Tree of Life – has a long history in traditional arts and crafts, with the resplendent peacock much employed in both Indian and European folk art.
The more contemporary Arts and Crafts Movement (of which Ashbee was clearly an important pioneer) often affirmed the use of the peacock motif as a blazing symbol of creativity in a dull, utilitarian and philistine world. And for Ashbee himself, the ship form, so commonly used by Renaissance jewellers, had an intimate, almost mystical association symbolising life as a voyage of discovery, a journey into the unknown.
An emblem, as he frequently punned, of "the Craft of the Guild".
The Simple Life: C.R. Ashbee in the Cotswolds by Fiona MacCarthy (Faber and Faber, 1982) has recently been reissued. C.R. Ashbee, Architect, Designer & Romantic Socialist by Alan Crawford was published by Yale University Press in 1985.