Christmas with all the Trimmings
Donate Now
Issue 263

Nov/Dec 2010
Apostles of Beauty
Regulars
Recipes
Christmas with all the Trimmings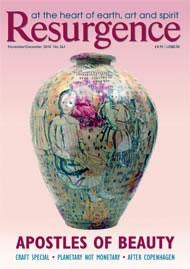 Cover: Golden Ghosts by Grayson Perry. Image courtesy: Victoria Miro Gallery
Issue availability
Nobody – including vegetarians – wants to be treated as an afterthought, writes Jane Hughes.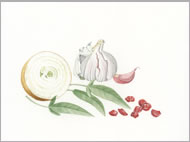 Painting: Meriel Thurstan
One of the high points of the last few months has been the International Cheese Awards. An improbable amount of cheese was on show, with more than 300 classes to be judged, including 'novice' classes with cheeses, I fondly imagined, lovingly created by ex-bankers who have taken to the hills with goats. Good for them.
My glee gave way to last-minute nerves when I began to wonder whether I was truly equipped to judge one cheese against another, but a kindly cheese technologist took me under his wing and I was soon plunging long curved knives into enormous cheeses to extract core samples, conversing confidently about watery deposits and the 'rollo effect', and rolling little balls of cheese between my fingers.
Appearance, texture and presentation are all considered but, of course, the most important aspect to judge is the taste. Happily, my years of cheese eating served me well and I had no difficulty weeding out cheeses that were 'disappointing', too salty or, frankly, nasty. The winning entries offered 'long' flavours that developed on the tongue and left you wanting more. Having said that, two classes was enough for this judge…
Many people are surprised to learn that there is such a thing as a cheese that is not, strictly, suitable for vegetarians. The issue is the use of animal rennet. Extracted from the stomach of a calf, it's a product that cannot be obtained without killing. These days there are plenty of alternatives and most of the cheese on the high street is vegetarian-friendly. The main exceptions are named cheeses like Parmesan where the name cannot be used unless the time-honoured recipe and manufacturing techniques are kept unchanged. Sadly, Parmesan is never suitable for vegetarians even though it seems to crop up in a lot of 'vegetarian' dishes, and plenty of otherwise strict vegetarians turn a blind eye to the rennet issue.
Recently, I had to explain this to some chefs who came to the Vegetarian Society's Cordon Vert Cookery School to improve their ability to cater for vegetarians. How do you explain that some vegetarians are more vegetarian than others? I guess the point of attending a Cordon Vert course is to be able to cater for the strictest vegetarians with confidence – and as soon as a good chef starts delivering good vegetarian food and demonstrating that he or she cares enough to get it right, word spreads and hungry vegetarians will come.
At the beginning of that training course, I asked the chefs what they thought vegetarians wanted.
"Vegetables?" suggested one, tentatively.
Well, yes…but…
How very strange it felt to realise that these chefs assumed that vegetarians were peculiar, difficult customers. I found myself explaining that vegetarians are people, too. What do vegetarians want? The same as everybody else – they want to know that food is being prepared with care and, where a chef has created a menu of wonderful offerings with fabulous marriages of flavour, colour and texture which showcase his or her artistry, there should be vegetarian choices available that are of the same standard. Nobody wants to be treated like an afterthought. And, by the way, one vegetarian dish on a menu does not constitute a 'choice'.
Vegetarians have a bad name for being fussy at restaurants. My view is that if restaurants took the trouble to get it right, and to give out sufficient information to show that they know what is and what is not vegetarian, vegetarians would be more than happy to relax. I think that vegetarians who use meals out as an opportunity to preach or complain are in a tiny minority – most of us are sweet-natured individuals who don't like to make a fuss.
I gave a talk at a care home in Belfast recently, where I made the point that care home residents who prefer vegetarian food, for whatever reason, might like to have something special made for them – but there is also a strong possibility that they will prefer to fit in with the other residents. The art of vegetarian catering in that kind of situation can be to find ways to adapt meals, with minimal fuss or additional expense, so that vegetarians can feel part of the group. I made this point again when talking to chefs at the Cordon Vert School: if I go to an office Christmas party at a restaurant, I want what everybody else is having – a proper Christmas dinner. Just without the meat. I do not want a red pepper stuffed with goat's cheese, a salad or a grey puddle of 'mushroom stroganoff' with rice!
Vegetarians come in all shapes and sizes and I can't speak for everybody, but I like my Christmas 'traditional'. Traditions are part of what makes a family, and for my family, that means stockings over the fireplace, tartan ribbons on door handles and a big fat Brazil nut roast en croûte on the table – with all the trimmings, please.
Christmas cheese and cranberry pâté in crispy baskets
This rich, smooth pâté is flecked with green sage and red cranberries. The colours, the richness and the special presentation in crispy golden cheese baskets make it ideal to offer to guests at this time of year. Served in small portions, it makes a good starter or could be a light evening meal with a glass of wine and some crusty bread. My local cheese shop recommended Berkswell as a vegetarian alternative to Parmesan and it worked beautifully.
1 tbs dried cranberries
a splash of white wine
100g onion, finely chopped
1 tbsp sunflower oil
20 sage leaves, chopped
1 clove garlic
250g ricotta cheese, drained
30g grated vegetarian Parmesan-style cheese, plus extra for baskets
2 free-range egg whites
butter for the baskets
12 sage leaves, kept whole
1. Leave the dried cranberries to plump up in the wine while you cook. Preheat the oven to 180°C/360°F/Gas Mark 4.
2. Fry the onion in a tablespoon of sunflower oil until translucent but not browned. Add the chopped sage and the garlic and continue to cook for another minute or two. Remove from the heat and set aside.
3. Beat together the drained ricotta, Parmesan-style cheese and egg whites until smooth. Drain the cranberries and stir these into the mixture along with the onion, garlic and sage.
4. Grease four or six ramekins well and arrange a few whole sage leaves in the bottom of each. Divide the cheese mixture between the ramekins. Place them on a deep baking tray and pour water into the tray to reach halfway up the sides of the ramekins. Bake on a middle shelf in the oven for 45 minutes. Take great care when removing the tray from the oven! Lift the ramekins out of the water to cool slightly and then turn them upside down to release the pâtés.
5. To create crispy cheese baskets, you will need two tablespoons of finely grated Parmesan-style cheese per serving. Wipe your frying pan with butter and sprinkle the cheese to form a circle approximately 5 inches in diameter. Heat the pan until the cheese melts and begins to bubble – you will see holes forming. Take the pan off the heat and wait until the bubbling stops. Carefully lift the melted cheese and place it on an upturned ramekin dish – the edges should drape down over the ramekin. Leave for a couple of minutes to cool and form a basket shape. Lift the crispy cheese basket off the ramekin and stand it on a plate while you make more. You should not need to grease the frying pan again. The crispy baskets can be made in advance and will sit happily for an hour or two.
6. To serve, place one portion of pâté (warm or at room temperature) in each crispy cheese basket. A teaspoon of zingy homemade cranberry sauce would be lovely with this!