Hemp Cellar
Donate Now
Issue 263

Nov/Dec 2010
Apostles of Beauty
Web Exclusives
Article
Hemp Cellar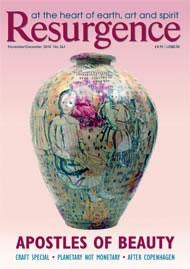 Cover: Golden Ghosts by Grayson Perry. Image courtesy: Victoria Miro Gallery
Nature-based technology.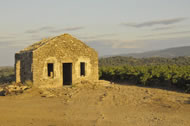 Cellar Maris, courtesy Benjamin, www.picasaweb.google.fr
Robert Eden, an English biodynamic winemaker who lives in the Languedoc region of southern France, has just built the world's first hemp-brick wine cellar. This 900 sq m cellar houses his award-winning Chateau Maris wine. "It's an amazingly effective, completely recyclable building made from plants,' Eden says.
The cellar, perched on a hill overlooking the Pyrenees, was built carbon-neutrally using hemp, lime mortar and wood. The use of locally grown hemp has many benefits: besides sequestering carbon dioxide, it stabilises soil, needs no pesticides or fertilisers and needs very little water to grow. What was once considered a waste product – hemp straw - forms the basis of the bricks, with the hemp seeds being sold for high-quality oils.
No heaters or air conditioners are needed for controlling the atmosphere within the cellar because "hemp bricks, unlike concrete or metal, are naturally able to 'breathe'," Eden explains. "They maintain ambient temperature and humidity on their own, whereas most buildings require fossil fuel-based energy to do this". A passage around the cellar remains open to provide natural ventilation, and photovoltaic solar panels on the roof ensure that the building produces more energy than it expends. The contours of the land allow the cellar to be sited against a bank and with its grass roof it can hardly be seen; it is like an extension of the land itself.
Three of Eden's wine labels donate one euro from each bottle sold to either the Jane Goodall Institute (which Eden is also Executive Director of), the Rainforest Foundation or the International Polar Foundation. "All these organisations are helping to stabilise climate change, either directly or indirectly, so by purchasing our wine, you can help in their endeavours!" Eden says.
Sustainably-built and able to regulate its internal environment, this innovative hemp-cellar sets a precedent in the wine trade which is becoming increasingly aware of and attendant to its environmental impact.