School Battery Boxes
Donate Now
Issue 263

Nov/Dec 2010
Apostles of Beauty
Web Exclusives
Article
School Battery Boxes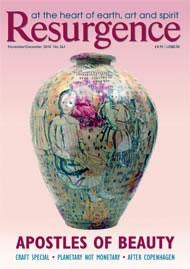 Cover: Golden Ghosts by Grayson Perry. Image courtesy: Victoria Miro Gallery
Recycling initiative for local schools.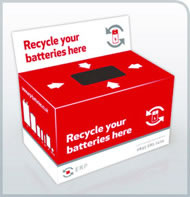 Image courtesy: http://www.erp-batteries.co.uk/schools/
A 12 year old from Cornwall is fronting a new campaign to persuade school children to recycle their batteries. The boy stars in and narrates a 3-minute film, which follows the journey of a battery from his home to school and then on to France for recycling. The campaign, devised by European Recycling Platform (ERP), one of the UK's largest battery recycling schemes, was launched in May 2010, nearly 6 months since the new law on battery recycling came into force.
Environment Minister Lord Henley said: "Half of all toys in UK homes need batteries, and so being able to recycle batteries at school is a great way for our children to put what they learn about protecting the environment into practice." In the UK around 36,000 tonnes – 620 million batteries - are sold for use in homes each year. The UK is legally required to recycle 25% of its batteries by 2012 and 45% by 2016. In 2009, only 2% of waste batteries were recycled, the rest ended up in landfill.
Recycling batteries is good for the environment as batteries are made from heavy metals, such as nickel, cadmium, lead, mercury and silver which are highly toxic pollutants in landfill. It takes a lot of energy to extract these valuable metals from the earth and reprocess them - four times more energy is needed to produce steel from raw iron ore than from recycled material – so it makes good sense for lots of reasons to recycle batteries.
"Young people are big battery users and they are keen recyclers," said Scott Butler, general manager of ERP. "That's why we're providing a battery box and free collection service to any school in the country. By law, the UK has to recycle a quarter of its batteries by 2012. We're going to need everyone's help to achieve this." All schools in the UK can request a free battery box from ERP. The batteries are collected for free when the box is full. ERP also collects batteries from offices, shops and local authority premises.
Schools can view the film and assembly slides at www.erp-batteries.co.uk/schools