Peru Protects Endangered Birds
Donate Now
Issue 263

Nov/Dec 2010
Apostles of Beauty
Web Exclusives
Article
Peru Protects Endangered Birds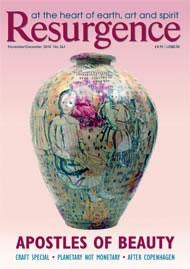 Cover: Golden Ghosts by Grayson Perry. Image courtesy: Victoria Miro Gallery
Community-owned conservation areas granted approval.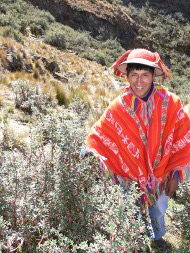 Local Mayor of Tastayoc with a replanted Polylepis tree. Photo by Mike Parr
The Peruvian government has announced the creation of three new conservation areas that will have significant ramifications in the ongoing efforts to protect habitat for endangered bird species in the country. The aptly-named Peruvian Minister of the Environment, Antonia José Brack Egg, recently announced his government's approval of three new, community-owned, private conservation areas encompassing 8,438 acres, to protect forest in the Vilcanota Mountains of southeastern Peru, near Cusco.
Government approval of such private conservation areas is significant because it recognises at the highest level, the importance of preserving these areas for conservation purposes. Local communities and NGOs have been working to protect, reforest, and restore healthy Polylepis habitat on their communal lands to benefit several globally threatened birds that are unique to this habitat, including the endangered Ash-breasted Tit-Tyrant and White-browed Tit-Spinetail, and the critically endangered and highly range-restricted Royal Cinclodes. Currently, only about 2-3% of the original high-elevation Polylepis forest remains in all of Peru, threatening the rich and specialised biota of this vanishing ecosystem.
"The declaration and approval of these private protected areas is the culmination of years of effort by Asociación Ecosistemas Andinos (ECOAN) and American Bird Conservancy (ABC) working with local communities in Vilcanota. This initiative will greatly benefit the unique birds of the region," said Daniel Lebbin, Conservation Biologist at ABC.
ECOAN continues to erect signs to mark reserve boundaries, put up fences to exclude grazing animals, and improve infrastructure at these protected areas and on other community lands in the region. In addition, 81,000 Polylepis saplings were planted to create future habitat for threatened birds. Three additional nurseries were also initiated with a combined capacity to produce 47,000 Polylepis saplings annually. Work continues with several other communities to declare additional private protected areas in the region.