A Lifetime of Activism
Donate Now
Issue 264

Jan/Feb 2011
Leadership
Leadership
A Lifetime of Activism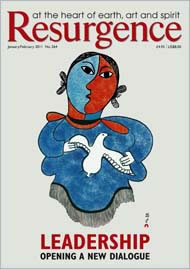 Cover: Woman and Snow Bird by Pitaloosie Saila. Courtesy: Kinngait, Dorset Fine Arts
Are good leaders born or made? James Arnold-Baker profiles pioneering educational and environmental activist Karl Jaeger.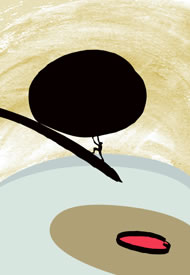 Big Save by George Shewchuk. Image copyright: Corbis
Long, long before these matters headed the daily news agenda of global concerns, Karl Jaeger was an activist for a sustainable environment, and linked this to radical improvements to educational systems around the world. We may have plundered and polluted our planet, but our children's education should be a vital tool to help repair the damage – to the great benefit of their and future generations.
Karl Jaeger's own upbringing held very few clues to his later career. The only son of a self-made German-American industrialist who founded the world's largest manufacturer of cement-mixer trucks, Karl was privately educated in the USA's prep-school and Ivy League institutions. But a clash with the authorities at Cornell led to his expulsion – and to his studying political science at Ohio State. There he first glimpsed a global agenda after one of his professors remarked, "We should be in Paris to understand this…" So, in 1958, he founded the International School of America.
This unique institution took students for an academic year around the world, staying with local host families before returning to their own USA university. The school boasts many successful alumni – including Zac Goldsmith, MP, former editor of the Ecologist – and its programme continues to this day under the aegis of Boston University. But for Karl Jaeger it was the intellectual first step in his development of a different educational agenda: one that was both pupil-centred and sustainable.
Still in the USA, Karl was one of the early pioneers of the charter school movement, which bids for state funds to run independent schools – a vision now developed as free schools in Scandinavia, and a key part of the new coalition government's plans for UK education. These schools have become immensely popular in the USA, as real alternatives to the state-run schools. There are over 6,000 USA charter schools, with around 360,000 pupils on their waiting lists.
Not content just with independence, Karl went on to devise a new pupil-centred curriculum known as the 'Jay system'. Abandoning classrooms, the Jay system focuses on achievement units for individual pupils, allowing them to progress at their own pace, and is combined with a heavy use of IT. The Jay system also replaces competition for grades and places with collaboration.
It was, perhaps, a step too far for the 1980s. Whatever the reason, local politicians blocked Karl's plans for a charter school that would implement this new way of thinking and educating children.
Fast forward, then, to the UK, where Karl moved in 1981 to take up residence in two elegant Georgian crescent houses in Bath. Continuing his activist path, he soon became deeply involved in local educational and cultural institutions, as a governor of what is now Bath Spa University, and as a founder/operator of the Jabberwocky Montessori nursery school. He was also a founder of the Brillig Arts Centre and Bath Arts Association, which launched Bath Fringe Festival, now part of Bath's annual Music Festival. He also rescued and revived the Bath Royal Literary and Scientific Institution.
But it was the unexpected revival of an old family asset that sparked the latest and most significant of Karl's projects. For years the Jaeger family had joked about their ownership of a defunct coal mine in West Virginia. Suddenly, demand from steel mills for the mine's product – coking coal – increased dramatically.
Struck by the irony of an environmental activist owning a coal mine, Karl resolved to devote the earnings from the mine to a major environmental initiative. Observing the seemingly relentless growth of population, of urban sprawl, of pollution, of tribalism, the negative drag of organised religion, and the endless succession of wars (an average of over 50,000 annual deaths since the end of the Second World War), he decided that we needed somehow to drop the baggage of history. We needed to make a clean start intellectually, and to use this clean start to design our planet afresh.
The result was Our Future Planet, which Karl founded in 2008. Its website invites members to become citizens and design the future of their Planet Earth, starting from scratch. Pages are devoted to the major issues of our time – the environment, sustainable living, population, energy, transport and travel, education, globalisation and human rights – reflecting the movement's stated objective to cover a wide range of issues, not to focus on a narrow area of lobbying.
As the number of citizens of Our Future Planet grows, it aims to be the leading social network for the environmentally aware. Membership is spread right across the globe; the website is both a meeting place and a locus for action on the burning issues of our time.
"Collaboration must replace competition, if the human race is to survive – but is man intelligent enough to make this vital transition?" is the challenge Karl presents.
His own lifetime of activism leads one to believe that his rhetorical question can indeed have a positive outcome.
For more information on Our Future Planet visit: www.ourfutureplanet.org