Stairway to Heaven
Donate Now
Issue 265

Mar/Apr 2011
Intrinsic Values
Frontline
Stairway to Heaven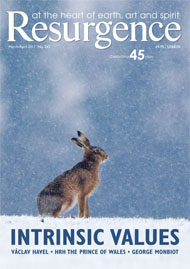 Cover: Brown Hare. Photograph: David Tipling
Growing food on the roof of a supermarket.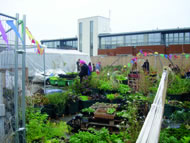 Rooftop growing space in Crouch End, London. Photograph coutesy: Azul-Valerie Thome
A dynamic new community group has started a pioneer project growing food on the roof of its local supermarket in Crouch End, London. It all started, as most good projects do, over a cup of coffee. This one was shared between Andrew Thornton, the owner of a Budgens franchise store, and Azul-Valerie Thome, a committed community activist with a background in organic gardening, permaculture design and community projects. They decided to develop a model of growing food on urban flat roofs, in the hope that it would be replicated by other supermarkets and urban organisations.
The first job was to have the roof surveyed to see what weight load it could bear. At the same time, delicate negotiations were conducted between landlord, leaseholder and franchisee. It is relatively simple to plant a seed, nurture it and harvest it; but the success of this project also relied on powers of persuasion in order to secure the legal framework that would allow the project to unfold. Although nothing could be planted on the roof before the paperwork for health and safety, risk assessment and insurance was signed off, the volunteers couldn't wait.
In February 2010 they started their project by planting seeds in compost-filled loo-roll-cardboard plant pots. The seedlings began life in the supermarket car park, protected from urban foxes by makeshift pallet fences, oblivious of the frantic background work needed for them to be lifted to their aerial home. Finally, on the 31st of May 2010, a crane lifted ten tons of free council compost onto the roof. The council also 'retired' 250 green recycling boxes to the project. These made ideal food-growing planters as they had holes in the bottom, allowing drainage. Wormeries and compost tumblers were also installed. The volunteers quickly planted up an orchard, vegetables, fruits, edible flowers and mushrooms. All of the food is grown to organic standards, following biodynamic rhythms.
"At first the roof was a dead, cemented, lifeless place," explains Azul, "and then within weeks it was alive and literally buzzing." The first visitors were red-tailed bumblebees, followed quickly by honeybees, solitary bees, butterflies and a mass of ladybirds: volunteers counted 30 different insect species. Thanks to these important pollinators, within five weeks there was produce to sell in the supermarket below. The roof has a particular ecosystem – it is hotter than on the ground, but it is also windier and more exposed. Tomatoes did particularly well, and didn't suffer from the blight that 'ground' gardeners complained of. Also on sale from the roof garden were mixed salad leaves, pak choi, carrots, beans, peas, spinach, radishes and courgettes.
To begin with, the only access to the rooftop garden was through the supermarket and up a wobbly ladder. Later, after a 'fundraising feast', enough money was raised to provide a public-access scaffolding tower on the outside of the building. Now schoolchildren and other community groups are able to visit the project and join in with regular workshops. Representatives from Marks & Spencer, The London School of Economics and Southbank Centre are among the curious who've come to see this marvellous, productive ecosystem in the sky.
It's estimated that there are 3 million square metres of flat-roof space suitable for green roofs in London – just think of the possibilities.
For more information: www.foodfromthesky.org.uk