Dirty Art
Donate Now
Issue 265

Mar/Apr 2011
Intrinsic Values
The Arts
Dirty Art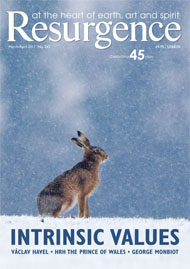 Cover: Brown Hare. Photograph: David Tipling
From soil collected on the heights of Devon's Dartmoor to a verge-side Californian clay found on Highway 101 in the USA, two earth artists – Leah Fanning Mebane and Cea Blyth – explain the benefits of creating colour from natural pigments.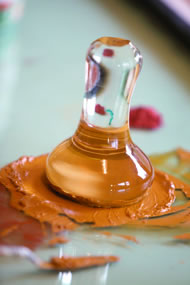 Photograph courtesy: Leah Fanning Mebane
Leah Fanning Mebane
For over a decade, my medium of choice was oil painting, which uses turpentine and toxic heavy-metal-laden paints. Despite my allergic reactions to solvents and paints – as well as my growing guilt over polluting the Earth with toxic chemicals – I carried on using it, remaining ignorant of any other option.
When I learned it was possible to make my own paints from clay and oil, my passion was ignited.
I realised my paintings, already inspired by the Earth in their patterns and colours, could also now include Nature-based pigments. The whole process then became even more aligned with my intrinsic values.
I discovered that over the centuries – from the Egyptians and Etruscans to the ancient Buddhists and medieval monks – earthen pigments have been used as the primary paint. And whilst red, orange, yellow, brown, black, white, and sometimes even green could always be found in the ground, blues and purples were more elusive, each culture using different techniques to produce them. For example, the ancient Chinese ground up malachite and azurite, whilst the Etruscans used lapis lazuli.
The basic steps I use to make my own paint are simple: I look for primarily clay soils, avoiding sand or soil with lots of organic matter. The places to find the best colours are along road cuts, in quarries (which often reveal strata of several different-coloured earths), in eroded areas, in banks of rivers or streams, and on construction sites. After collecting a few handfuls, I dry the soil in the sun, before grinding it into a fine powder and mixing it with walnut oil.
The most obvious benefit of making earthen paints is that we're no longer poisoning the Earth or ourselves with unnecessary chemicals and toxins. And the pigments are free! Even better, natural earth pigments are actually superior to synthetic paints: they are more permanent (think cave paintings), and are not affected by sunlight, humidity, temperature or impurities. There is no need for added fillers or stabilisers to increase shelf life, and the colours themselves are more intense because the light bounces off the irregular surfaces of each particle.
Working with natural pigments has led me to a deeper connection with our natural world. I don't miss the 'normal' experience (disconnect) of buying a tube of paint that has been shipped from another state or country and squeezing it out without a sense of its direct relationship to my painting process. Instead I start with a walk down a trail, creek bed or road cut. I breathe the fresh forest air, feel both the stillness and the movement of the branches and birds, and before long, spot an interesting colour.
Digging with bare hands to see if it's mostly clay, sand, or silt, I scoop up a handful and pause to really experience its texture. The stillness and complexity of Nature is what I try to capture back in my studio. The organic materials marry well with the Nature-inspired images on each canvas, and this blending of my work and Nature's work allows me to express my art and passion in partnership with the Earth.
Cea Blyth
Step through the door of my studio and you are entering an Aladdin's cave of earth pigments gathered from all over the world.
Stored in beautifully labelled jars reminiscent of an apothecary; silvery dust from a glacier in New Zealand can be found next to turmeric-yellow earth from India. Cool green clay from Budleigh Salterton contrasts vividly with a deep red soil from Brazil. In the corner a pestle and mortar glow with pink pigment from the Texas desert.
There is a natural affinity between the whole spectrum of earth colours, and this notion of pigments resonating with each other is most evident in my work Dartmoor Rainbow, which is painted with pigments collected only from within the high moor region. Starting with soft white feldspar glinting with quartz, picked up on a track above Postbridge, it is followed by a pinkish clay from an old arsenic mine behind Princetown. Next, sparkling blue-grey micaceous haematite from Kelly mine, near Lustleigh, then a cool creamy clay crumbling off root fibres by the path along the river Dart below Holne.
The warm side of the spectrum begins with a yellow clay found by the lane up to Sherberton and spills into a stripe of soft warm apricot ochre from the track up to the moor from Michelcombe. Alongside that there is a band of reddish tone from the old Gobbet tin mine and, finally, inky black peat gathered from the path up to Bellever Tor.
I first painted with earth pigments as a teenager, having been inspired by cave paintings in France, and I returned again to this medium whilst collaborating with an eco-fashion design company in London. I too had become very sensitive to chemical paints, so it made sense to use natural materials that created no fumes or pollution.
I remain in awe of the intensity and strength of earth pigments – a whole palette of colours beneath your feet – and when painting, I like to apply the pigments in layers until the earth I have painted glows with the same intensity as it did in the landscape.
Currently I am working on a new body of work, turning my pigment collection into small shapes and abstract sculptures that you can hold in the palm of your hand. I mix the pigments with hemp straw and animal hair to add both strength and texture. Touching them is a fun, tactile experience and a way to really engage with the pigments of the earth.