Wild Nature
Donate Now
Issue 265

Mar/Apr 2011
Intrinsic Values
Regulars
Projections
Wild Nature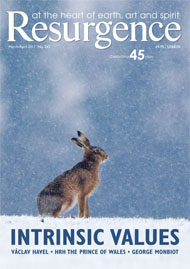 Cover: Brown Hare. Photograph: David Tipling
It was his love of the vivid portrayal of wild Nature in cinema that first sparked the idea for a Resurgence film column, says Caspar Walsh. Here, he identifies those films where Nature is the true star.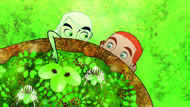 Image from The Secret of Kells
I've held a slack-jawed awe for wilderness-based movies and documentaries since I was a kid. Films including Grizzly Adams, The Call of the Wild, Tarzan, anything David Attenborough touched and all of Jacques Cousteau's deep-sea exploration. What I've seen on the screen over the decades has inspired me to seek adventure outdoors on the hills and moors, up mountains, in forests, along rivers and in plenty of oceans. What I've learnt from cinema and TV has instilled in me a respect and healthy fear of the wild places.
The films featured in this issue remind me that I'm not alone with my passion for vivid wild landscape and the way it so often mirrors back the tricky inner terrain I traverse in my search for the answers to life's big questions. Some of these movies are a reminder of my own place in wild Nature. Some are simply about reconnection to the soul food that keeps me going on the journey.
So here is a very personal selection of contemporary wilderness films that have opened my heart and blown me away. Watch them and decide for yourself.
Into the Wild (2007) is actor Sean Penn's powerful directorial debut based on the diary of wilderness wanderer Christopher McCandless, a man paradoxically searching for a connection with his family through the isolation of wilderness. Lovingly shot, edited, scripted and scored, it entered the top 500 best movies of all time soon after its release. I became so immersed in the story that I had that rare gift of forgetting I was in the cinema. Into the Wild is a clear warning of the reality and danger of a reckless engagement with wilderness and, if we're lucky, the healing it can provide – a healing McCandless discovered with tragic consequences.
The Secret of Kells (2009). Animation features are gaining increased credibility as mainstream contenders for the Oscars. This is one of them. It is based on the story of St Brendan and the creation of the Book of Kells. The monastery of the title is surrounded by a wild forest strictly out of bounds to our hero. Wild Nature is seen from the high monastery walls as the threshold he must cross to complete his true-to-life adventure as the co-creator of an iconic and stunning spiritual text. Many less cinematic movies can wait for DVD, but this had to be seen on the big screen. I was mesmerised by the lush animation, and lit up by the way Brendan befriends wild Nature to find the strength, skill and support needed to complete his hero's journey. Folklore and fable nourish in ways that reconnect and make life much richer. The Secret of Kells does this in spades. Watch, and watch again. Definitely a family film.
The Road (2009) depicts a future that, in the current climate, is frighteningly feasible. A father and son travel through a post-apocalyptic landscape in search of food, shelter and safety. The journey takes them through a dead world where no crops grow, and much of their time is spent fleeing free-roaming cannibals. The father's unflinching commitment to protect his son from danger is deeply moving: a flickering light amid the savage darkness of a broken society. This is a grim warning of one road we could be and perhaps already are heading down. Mercifully, it shines a light through the story of the son. It tells me that even in the darkest times, there is always hope.
Grizzly Man (2005). This is a fascinating and deeply harrowing documentary which haunted me for weeks. It is the true story of Timothy Treadwell, a lover of wild bears to the point of obsession. This unhinged adrenaline junkie video-diaried his 13 seasons spent living with grizzlies and brown bears in the wilds of Alaska. Werner Herzog, a prolific filmer of wild Nature, took on the task of putting together the rescued footage after Treadwell's death. Treadwell believed he had a special relationship with wild bears. Perhaps he did, but the horror and tragedy of his death seemed inevitable. The film made it very clear that on her turf, Nature is not to be underestimated and that in authentic wilderness, we are seldom top of the food chain.
The Lord of the Rings trilogy (2001–3) needs little introduction. A group of films I revisit regularly to reawaken me from any slumber I may have slipped into when it comes to my awareness of wild Nature and the central role it plays in my life. This epic saga tells me what can happen if I drift off the path of consciousness back into a convenient, head-in-the-sand sleep. Inspired by Tolkien's love of wild Nature and the despair he felt at the industrialisation of his treasured home turf in the West Midlands, the battle humans wage against Nature lies at the heart of this tale. It is a story for any age of the destruction humankind wreaks across the planet. The distance the historical fantasy narrative gives us allows us to be drawn into a world where characters like Gollum sneak up on us and hold up a mirror to us of a world we know exists today.
What strikes me in all these films is the central, essential relationship we have with Nature and how humans so often underestimate the power she holds over humankind's life and death. There is a clear and obvious consequence that awaits anyone who deludes themselves into thinking they have ultimate control over any aspect of wild Nature, from the animals that roam her landscape to the elemental forces that shape and create the continents and climates. We may experience short-term wins in terms of easy resources and quick-fix food but in the long run, if we disconnect, take more than we need, and forget our place in the chain of evolution and life, we will always lose.
Movies about wilderness and wild Nature hold a global fascination big enough for money-hungry film execs to green-light even the biggest productions – not all of them worth watching. Done well, they serve as a reminder to us of our place on the planet, which is not as the unquestioned dominant species with an Earth-given right to take what we want; and they serve as a reminder that so many of us so easily forget that our survival is inextricably linked to our relationship with and respect for the Earth and everything that lives on it. Ultimately, when viewed beyond the entertainment of a good story well told, films on wild Nature inspire us to change, and remind us that we are not alone and that at our centre, beyond our destructive fears, lie a deep love and respect for all things wild.
Become a part of the Projections dialogue. What films about wild Nature have inspired you and continue to inspire you? See Caspar's blog at resurgencetrust.blogspot.com/ and post a comment.