A More Human World
Donate Now
Issue 265

Mar/Apr 2011
Intrinsic Values
Reviews
A More Human World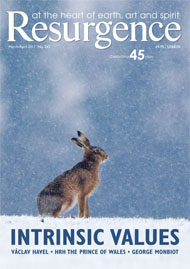 Cover: Brown Hare. Photograph: David Tipling
African-born Barbara Nussbaum explains how better leadership will emerge from communally expressed humanity.
One of the premises of Personal Growth African Style is that the world urgently requires leaders who carry a greater consciousness of our shared humanity. In this context, Africa has a vital role to play. In order for our world to be whole, we need to reclaim the humanity that Africa's heritage can give us.
This is as important for emerging leaders in South Africa as it is for our continent and indeed the world.
We all lose out from the limited, outdated view that still perceives the world from a disconnected, individualistic and fragmentary perspective. And so it is critical that we make the shift to a new kind of global leadership. Such a leadership would be born and nourished through a deep sense of interconnectedness and the experience of the communal responsibility that flows from a heartfelt feeling of belonging to a global community.
Africa's dominant worldview has for centuries taken the human being as the starting point, emphasising the dignity and worth of all, and relying on the philosophical constructs of ubuntu. Central to ubuntu is the idea that self evolves through identification with the larger community: umuntu ngumuntu ngabantu – 'a person is a person through other people'. At their heart, such values call on each of us to be the kind of leader who knows that we are who we are because of other people and that as people, living together in the community of nation-state or world, we care about everyone in that community.
The book builds on the best of what African humanity offers and aims to prepare younger leaders to live co-creatively in community; to paint a picture of what it would mean to reclaim communally expressed humanity; and to redistil and refashion the many important values that are the hallmark of Africa's heritage in the context of a post-colonial world. It takes an optimistic view of all Africa has to offer, and unashamedly stands on the shoulders of Steve Biko, who, with others, said that Africa's contribution to the world will be about giving the world a more human face.
With all our knowledge, history and technology, we desperately need this. And although too few African political leaders embody the promise of their own heritage, Africa's gift to global leadership lies deep in its roots – in a communally expressed humanity inspired by the collective wisdom and actions of all human beings.
While studying 40 African dances to complete a graduate degree in dance therapy, I was moved by something I now name 'African group emotional intelligence', and the book seeks to enliven such communally felt emotional intelligence on an individual and a collective scale.
This book was inspired by and written for the younger generation who are seeking to make sense of who they are to become in a rapidly changing country. In inviting our students at CIDA City Campus in Johannesburg to reclaim the value of their past, we developed a reflective space and methodology for them to build a different future. Our book is an invitation to living with soul, claiming individual destiny, and living and learning together with more compassion and mutual accountability.
Born in Zimbabwe to a Jewish family who fled the Germany of the early 1930s, I celebrate the great privilege of being born in Africa and being close to the cradle of humankind. At 16 I felt a youthful idealism to change the world, to heal what did not make sense, and I chose to blend the passion of a ballet dancer with the high ideals of a young person fascinated by the need for authenticity, compassion and connectedness.
In a world that continues to choose to see Africa's shadow rather than its light, this book takes a stand for the promise of a different kind of world, by reclaiming group emotional intelligence and confidence in emerging leaders, and restoring the values of ubuntu.
Personal Growth African Style by Barbara Nussbaum, Sudhanshu Palsule and Velaphi Mkhize is published by Penguin Books South Africa. EAN: 9780143026389
Barabara Nussbaum is a writer, speaker and coach based in South Africa.