Back to Front Gardening
Donate Now
Issue 265

Mar/Apr 2011
Intrinsic Values
Web Exclusives
Article
Back to Front Gardening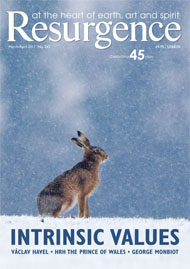 Cover: Brown Hare. Photograph: David Tipling
An inspirational project that encourages the use of front gardens for food production.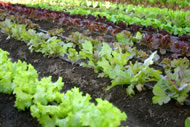 Photograph courtesy: www.sxc.hu/profile/AlexaSky
Imagine… a family that grows their own food and saves a bit of cash… the children discover where food comes from, learn about composting and wildlife and share in gardening activities. Passing neighbours stop to admire the garden, say 'Hello' and soon begin to grow their own too. People now know each other's names and become friends, they take pride in their achievements and the street is featured in the local paper.
Seeds swap and surplus food exchanges are commonplace. Butterflies and bees pollinate fruit trees and perennial plants. Gardens help soak up water and when it rains, the drain at the bottom of the street no longer floods. The benefits of their initiative grow just as much as the harvest does.
Welcome to Back to Front!
The beginning
Back to Front (BtoF) was set up to promote growing food crops in front gardens as a socially acceptable norm. The project aims to provide attractive, practical and culturally sensitive garden designs to enhance the quality of neighbourhoods and the wider productive urban landscape.
Roxana Summers, a member of Schumacher North (SN) and a pioneer of BtoF recalls: "Whilst conducting my MSc, I visited just under 300 Bangledeshi households in Leeds and Bradford. Householders often grew spinach, beans, pumpkins or coriander in the front gardens of back to back terraces, the only land available. Productive yes but the gardens lacked 'the looks' and UK culture does not take kindly to the transformation of front gardens to allotments! Luckily, good designs can incorporate productivity, good looks and practical uses too!"
Roxana further adds, "In January 2008, I thought it might be possible to set up a project to encourage the use of front gardens to grow food. After some initial research, I wrote a proposal and came across a similar project in London (Food up Front). This made me think that the idea was not so crazy after all. But I had to demonstrate that a project was based on evidence of 'need'
Developing a partnership approach
The local British Trust for Conservation Volunteers (BTCV) assisted in the writing of an initial bid. A case worker and 15 multilingual volunteers conducted door to door surveys and focus groups in areas representative of a variety of housing types.
With encouraging results, Roxana approached staff at the Leeds Metropolitan University School of Architecture, Landscape and Design, Alma Clavin and Emma Oldroyd, to discuss their participation. They guided students to develop suitable front garden designs for inner North East Leeds.
Alma says: "Leeds City Council Area Management funded the construction of the gardens but building costs were reduced by promoting 'salvage days'; opportunities for allotment holders, business and garden nurseries to donate plants and building materials. The community charity Groundwork, staff and students from Leeds Met helped to build the gardens".
Creating transformative spaces
The initial survey showed that just under a fifth of those who replied said that they would consider growing food in their front garden. But the majority of the reasons given for not doing so could be tackled with appropriate design solutions as follows:
• Lack of space – incorporate vertical gardens and supporting structures for trailing or climbing plants (beans, peas, courgettes, kiwi)
• Increased likelihood of theft – reduced with greater numbers joining the scheme but possibly less of a problem than vandalism at isolated allotments
• Practical requirements – children's play areas and utilitarian needs can be accommodated in multi functional designs
• Perceived costs – paved areas can be unpaved and topsoil bought cheaply when neighbours club together
• A north facing aspect can be helped with the use of specially selected crops
• The idea that it is 'Not customary to grow stuff in the front garden…not a habit' – BtoF's fundamental aim is to ensure that this can become normal and acceptable
Designing an urban food growing space that works with natural processes creates a dynamic learning environment within which people begin to learn about nature's limits and interconnections. Such cycles build integrity and wax and wane through the seasons. But a wider and more strategic network of urban food for the city is necessary in order to secure urban food growing as a practice integrated with everyday life.
Urban Food Growing - The Second Coming
Urban food growing became abundant in the post war period and now impending climate change and peak oil further damage the precarious nature of urban food supplies. Food grown in cities will become a critical factor in developing essential resilience in the coming decade. It seems people are almost instinctively aware of this as urban food growing initiatives are spreading throughout the UK and internationally. However, it is not just about growing food. The trend also reflects a progressive turning away from consumer culture and towards a healthier, saner and more natural lifestyle.
Promoting the use of front gardens for food growing is an especially powerful way to begin to change the culture around attitudes to food as neighbours congregate to admire and share their produce. In the project team, we all hope that growing productive crops from front gardens could soon become the norm.
Roxana says, "I long to eradicate derelict front gardens and the notion that you can't grow vegetables in the front garden…I long to see a city where neighbors' get together to grow food and exchange produce. I think it will bring people together and make them more self-reliant – that has to be a good thing".
We would welcome feedback from Resurgence readers. For more information visit: www.backtofront.org.uk