Rethinking the Age of Stupid
Donate Now
Issue 266

May/Jun 2011
Tagore - The Big Vision
Frontline
Rethinking the Age of Stupid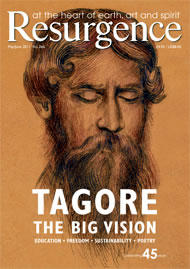 Cover: Image courtesy: British Museum © Artist's Estate/Bridgeman Art Library
Cinema for social change.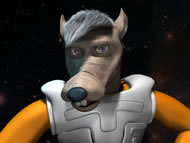 Still: Odyssey 2050
Franny Armstrong's film The Age of Stupid was quite rightly hailed as a wake-up call for humanity – yet it portrayed a future dystopia where it was too late to redress the issues of climate change and environmental injustice. A new, animated film in the making – Odyssey 2050 – is a natural successor to The Age of Stupid, addressing as it does the same issues, but it is aimed at young people and, crucially, it offers them a chance to rewrite the future: to contribute scripts, characters, music and animation and so help create a more optimistic prospect for planet Earth.
Young people played no part in the problems they are faced with, but they will have a key role in envisioning the solutions, and it is hoped this film will give children a creative outlet for their ideas. Project Founder Bruce Callow comments, "In the global climate change debate there is a huge segment of the world's population that is not being sufficiently taken into account – the children of the world. The mission of Odyssey 2050 is to provide an exciting and interactive platform for young people everywhere to get involved in the fight against climate change and have fun while doing it."
Thelvin Cabezas, visual effects artist on the Superman Returns and Avatar films, who is advising the Odyssey 2050 project, says, "I know first-hand the huge impact and influence cinema has on social change, but to my frustration, many movies or short films these days have an empty message or no message at all. Odyssey 2050 changes this and uses a hugely influential medium to communicate a serious issue that we should all be involved in."
So if you know any creative young people whose vision for the future is contrary to the 'Stupid' message that it's already too late, then tell them about this film and encourage them to convey their story to the wider world.