In the Field
Donate Now
Issue 266

May/Jun 2011
Tagore - The Big Vision
Timeless Tagore
In the Field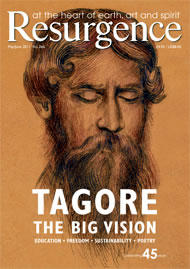 Cover: Image courtesy: British Museum © Artist's Estate/Bridgeman Art Library
With his fame resting largely on his literary legacy, it is often forgotten that Tagore's work in rural development was pioneering too, says Reba Som.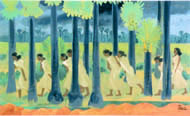 Image: courtesy National Gallery of Modern Art, New Delhi
When Rabindranath Tagore returned to Calcutta from England in 1880 without becoming the barrister that his father had sent him out to be, he was still unsure about his larger purpose in life. He knew his family regarded him as a "gifted wastrel" and accepted he was not cut out for a profession. But little did he imagine that his father's decision to send him in 1890 to look after ancestral estates in rural Bengal would become the defining moment in his life.
Gaining first-hand experience of village life, Tagore despaired over the servile mentality and despondency he saw. As a landowner, he felt thoroughly ashamed at his preoccupation with revenue collection and resolved that he had a personal obligation to the villages.
Initially, he had felt that the onus for change in the villages lay on zamindars, or landowners, traditionally custodians of village improvement. However, over time he realised that the zamindars were becoming city-bound and so change would have to come from the villagers themselves, which meant understanding them better.
Tagore recalled, for example, how his proposal to build a well using village labour had been (surprisingly) rejected because the villagers felt that, rather than their receiving recognition for their manual labour, it would be the landowners who would gain merit for granting the water. He realised then how the poor felt they were entitled to the gratitude of the rich.
Deciding on a rural intervention of his own, Tagore purchased a 20-acre property in the village of Surul (and close to his school at Santiniketan), which he dreamt could become the nucleus of a rural reconstruction centre. His son Rathindranath, who had trained in agricultural sciences in the USA, would take the lead along with a few others. However, rampant malaria made Surul unfit for habitation.
Tagore then turned instead to his ancestral estates in East Bengal, where there was already a nucleus for rural work with an agricultural bank, a primary school and a system for settling disputes through arbitration. Realising that he needed more volunteers, he delivered a series of lectures, all aimed at the young people and reminding them there are two types of education: one skyward, with book learning, and the other at grassroots level. Among those assembled was a young man of 26 named Atul Sen. Headmaster of a high school, (and my maternal grandfather), he, like so many of his generation, had been attracted by the revolutionary movement against the British Raj.
In trouble with the police for sheltering the revolutionary hero Bagha Jatin, Sen responded to Tagore's clarion call. He resigned his job and became the leader of a dedicated band of workers operating from three centres at Tagore's estates in Kaligram province. The programme, as laid down by the poet, incorporated literacy, hygiene (with an emphasis on the importance of clean drinking water), infant mortality and disease (including malaria), and disaster relief. Each of the three centres opened a hospital and dispensary, with free medicines, doctors and a few beds, and the project was deemed an unprecedented success.
Education was always a priority for Tagore, who believed that caste divisions, religious conflicts, aversion to work and even precarious economic conditions could all be blamed on an absence of education, and in a relatively short space of time the total number of primary schools in the estate exceeded 200 (including night schools for the elderly).
Lessons in history and geography, updates on global news, advice on first aid, agricultural improvement and disaster management all figured in the programmes. Public works involving sinking wells, constructing roads and jungle clearance called for extra finances, and Atul Sen hit upon a novel scheme whereby tenants made contributions through labour or a monetary equivalent.
Rural indebtedness – a serious problem – was tackled by granting loans at 9% interest direct from the estate's agricultural bank, with the credit requirements of the cultivators being carefully assessed by Sen and his band of workers to prevent reckless borrowing. The advances were mostly utilised for crop raising, and loan repayments only commenced after assessing the final crop.
The principle of settling all local quarrels by arbitration without appeal to the court was welcomed by Hindus and Muslims alike, since it saved them the time and expense of going to the law courts. Official records show that between 1915 and 1916, not a single case went to court.
In 1916, a report in the Bengal District Gazette declared: "It must not be imagined that a powerful landlord is always oppressive and uncharitable. A striking instance to the contrary is given in the Settlement Officer's account of the estate of Rabindranath Tagore, the Bengali poet whose fame is worldwide. It is clear that to poetical genius he adds practical and beneficial ideas of estate management which should be an example to local zamindars."
Tagore's dream was slowly coming true. He had candidly declared that we cannot be preoccupied with the problems of all India. However, we could make a difference by adopting one or two villages. These would then constitute the India that mattered.
Tagore's biographer Krishna Kripalani wrote: "For Rabindrath the two experiments, pedagogic and agricultural, cultural and rural, were vitally linked. What he tried to work out, at Santiniketan and at Surul, was an integrated programme in which culture of the mind and culture of the soil went hand in hand."
And Sudhir Sen, the late Indian economist who specialised in agricultural development and rural electrification, wrote: "Tagore was the father of the movement for rural resuscitation in this country…at least a generation before the Indian National Congress turned its attention in this direction."
This remarkable success story remains largely unknown because it ended abruptly with the arrest of Sen (for sheltering Bagha Jatin) in 1917. Years later, a disappointed Tagore reminisced that he had not been afforded enough time for this story to be written in bright letters in the annals of history.
The forgotten chapter recently came to light with a reprint of the 1941 special edition of the prestigious journal Shanibarer Chithi. Produced on the poet's death and edited by Sajani Kanta Das, it had invited contributions from those who might shed new light on Tagore's vast life experiences. Sen contributed 11 previously unpublished letters and a report on his experience in Kaligram, which put into perspective the important rural intervention Tagore had made.
The immense trust that Tagore had placed in Sen's initiative is evident in the letters. In one, Tagore wrote excitedly: "This is what I had wanted – in this way we make a beginning in one place and see how it spreads everywhere – the wind has caught your sail now and you will surge forward."
In another letter, Tagore advised Sen that he had to invest his heart and mind to win people's hearts and earn their goodwill and unquestioning respect, which in turn would give him a sense of fulfilment in the context of which small irritants would fade away. With great prescience Tagore cautioned: "Remember that in whatever is unfolding, you are merely the witness."