Rethinking Conservation
Donate Now
Issue 266

May/Jun 2011
Tagore - The Big Vision
Regulars
A Sense of Place
Rethinking Conservation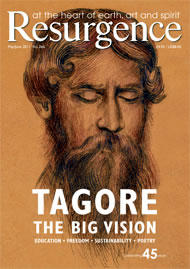 Cover: Image courtesy: British Museum © Artist's Estate/Bridgeman Art Library
The time is ripe for a new relationship with the natural world and here, at the National Trust, we will help lead the way, promises Fiona Reynolds.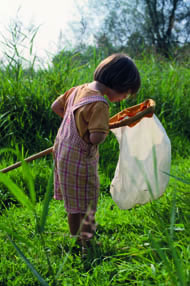 `Bug Safari' at Wicken Fen, Cambridgeshire © NTPL/David Levenson
Octavia Hill, one of the founders of the National Trust, observed in 1895 that "the need of quiet, the need of air, the need of exercise, the sight of sky and of things growing seem human needs, common to all men". She argued that access to beauty was as important as a roof over one's head or enough to eat. She and her fellow founders devoted their lives to safeguarding Nature and beauty for a nation that, through the Industrial Revolution, was increasingly being deprived of it.
What is fascinating today is the growing body of research that supports these pioneers' intuitive understanding of the human condition with the backing of hard science. Study after study shows the hugely positive impact that time spent in Nature (in both a rural and an urban context) has on key social indicators. From the creativity of children to the increased social engagement of older people, from its impact on domestic crime and depression, we are seeing researchers confirming what in our hearts we have always known: humans need Nature not only to survive, but to thrive.
The last 115 years, however, have not been kind to the natural environment in Britain, and the intuition of people like Octavia Hill has not proved a sufficient basis for us to truly value the physical and spiritual refreshment we all get from our surroundings. Over the last century, our ecosystems have degraded, and as they have done so we have increasingly removed and disconnected ourselves from them. The 'extinction of natural experience', a phrase coined by American ecologist and author Robert Pyle, is no less pressing a concern here in Britain than across the Atlantic. Indeed, we know that our grandparents roamed more freely as children than our parents did; that our parents roamed more freely than we did; and that the next generation is restricted yet further. The distance children now stray from their homes has decreased by an astonishing 90% since the 1970s.
As this disconnect has happened, we have witnessed the consequences in both our bodies and our minds. Our well-documented problems with obesity, for example, now cost the National Health Service a staggering £4.3 billion every year. And the state of our mental health is even more serious: we are now a nation where one in four adults will experience clinical mental illness in their lifetime, a figure that carries an estimated annual cost of £77 billion to the wider UK economy.
Exactly what proportion of this is due to our withdrawal from Nature is unclear; we can be sure, though, that it is a significant factor.
Despite the gravity of the situation, however, we now have a powerful moment of opportunity. Can we be the generation to turn this situation around? The generation that stops the inexorable decline and turns Nature net loss into Nature net gain? And – just as importantly – reconnects all people with Nature again? That, and nothing less, is the challenge now facing us.
The time is ripe for a reassessment of the role of the natural environment in our national life, and the science is there to give us a platform. What we need is a revolution in the role of Nature in public policy. No longer will it be possible to set questions of outdoor space in urban and rural planning to one side in a box labelled 'green issues'. No longer can outdoor learning be a minority concern in our education system, an occasional indulgence at the edge of learning. No longer can health strategies focus myopically on pharmaceutical treatment, to the exclusion of natural prevention. These things must move to the centre. Nature must take its rightful place at the heart of our thinking.
As the largest private landowner in the country, the National Trust can and must play a vital role in this revolution, and we are more than ready to do so. We already welcome half a million schoolchildren a year to our properties as part of a formal learning experience, but we can and will do much more for the next generation. With over 700 miles of coastal path, and thousands more inland, we already provide a great resource for walking and other pursuits, but we will develop our role here, as well as identifying further opportunities to cycle, camp and explore the outdoors.
In recent months, we successfully added our not inconsiderable voice to the collective and growing protest in Britain against any move to sell off our national forests and nature reserves. Perhaps most fundamentally, though, we ourselves are rethinking and expanding what we mean by conservation, never diminishing our focus on high-quality conservation management, but now embracing an approach that recognises the deep connections between conservation and people.
Our work at Wicken Fen in Cambridgeshire is a good example of this.
Wicken is one of the country's first-ever nature reserves, acquired by the National Trust in 1902 to help preserve the remnants of Britain's traditional fenland. But Wicken's early protectors could never have foreseen the dramatic changes of the 20th century that resulted in intensive farming being carried out right up to its boundaries. It required heroic efforts to maintain water levels in the fen, and, sadly, we were witnessing a steady loss of species. By the 1990s we were calling that precious patch of fen and sedge our "nature reserve in a plastic bag". The fen's future could no longer be guaranteed.
We realised that action was needed – not just protection, but also vision: what we refer to as 'arms open' conservation.
Our task was to extend the reserve dramatically in order to render it ecologically viable and re-create the traditional fenland landscape that had once stretched from Cambridge to the Wash. To do this, we needed to buy land around the original area to expand it 16-fold. To succeed at such a scale, however, we had to open our arms to people too. We had to embrace the opportunity to reconnect the people of Cambridge (one of England's most densely packed and pressurised cities) with their landscape and history; and to offer a 'green lung' for a region whose population is predicted to grow faster than any other.
Ten years into our 100-year vision, Wicken has more than doubled in size and now offers a unique experience to thousands of people in a landscape that had all but lost its sense of history. A new Walking for Health programme has been started, and both guided and self-guided visits abound, as does the local wildlife. The new landscape is drawing species back to it – even the bitterns are back, and perhaps one day the swallowtail butterfly will also return. But there's plenty more still to be done.
And as Wicken grows, so does the National Trust as a whole. We now have 3.9 million members: seven times the membership of all the UK political parties combined, and a growth that demonstrates an enormous demand for what we do and provide. Caring for the environment, both historic and natural, is something that large numbers of people care about and want to be part of. That gives me great hope.
The time is ripe for a new approach. If we want to think and plan for the longer-term future of humankind, we need to restore a better balance between us and Nature. To do that we have to get people hooked on Nature, offering more opportunities to those who have never experienced it, and calling for the attention of those who take it for granted. We have to engender a view of Nature that is holistic – within us and all around us – not tucked away in a separate compartment of policy and practice.
The signs are that the desire is there. Now we need to make it happen.