Dance of Life
Donate Now
Issue 266

May/Jun 2011
Tagore - The Big Vision
Regulars
Members' Page
Dance of Life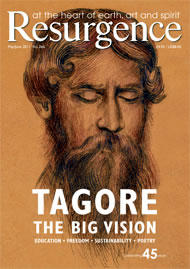 Cover: Image courtesy: British Museum © Artist's Estate/Bridgeman Art Library
Victoria Whelan finds that Tagore was a man ahead of his time.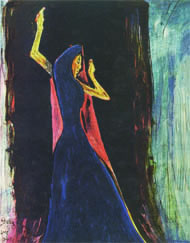 Dancing woman by Rabindranath Tagore. Image: courtesy Nirmalya Kumar
When I applied for this position as Producer of the Tagore Festival, I didn't know who Rabindranath Tagore was. I didn't know he was the inspiration behind Dartington; or that if it weren't for Tagore and the subsequent impact of Dartington on the South West region, it would not be either as creative or as green in its outlook.
In fact, if it weren't for Tagore, I would not even be living here. Many years ago, whilst living on the coast in tropical Australia, I met a number of fellow artists who had travelled from Devon. I was touched by something intangible, something authentic; and so I too travelled to where they had come from; towards a spirit and community I longed for.
So who is this man who has had such an impact on my life?
As the producer of the Tagore Festival it became my job to learn more about Tagore – and what a great job it has been. Initially I read his Nobel Prize award-winning book Gitanjali or Song Offering. Perfect, I thought: service and art, together. I remembered how, when I first trained in theatre, one of my teachers had described performance as an act of generosity and service. This insight, which had always helped guide me, was reflected in Tagore's life's work too.
So I learned that I can trust him and his wisdom. Then, as more doors opened, I found myself with more questions about the man and his work. One of the first questions was who had translated Tagore's writings. This is important because the translator will have their own perspective on his work. And when was it translated? Important because language too changes over time.
I wondered if Tagore could be reincarnated today, who would he be? What if he came back as a rapper in a poverty-stricken slum, how would he now reflect the beauty of life? As I researched more into the man, his art and his ideals, I realised he was very much a man ahead of his time. And I wonder what he would think about our lives now.
Tagore was a man of action and creativity: he sang, wrote, painted and saw the world, perhaps, like a wonderful stage where all things were possible. So at this Tagore Festival we celebrate a great man. We celebrate action and art that are part of living an inspired 'green' and creative life; a dance of life that enlivens the mundane and reframes the everyday as a glorious opportunity to be seized and cherished.