The Fifth Element
Donate Now
Issue 246

Jan/Feb 2008
Gandhi's Gift: The Power Of Nonviolence
Reviews
The Fifth Element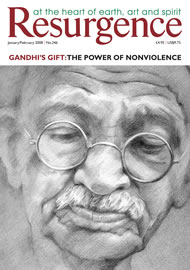 Cover: Gandhi drawing by Xanthe Mosley
Wildwood: A Journey Through Trees Roger Deakin Hamish Hamilton, UK, 2007, £20.00
ROGER DEAKIN'S WILDWOOD is one of the most beautifully written books I have ever read. Roger has a breathtaking turn of phrase: "the last of the rooks had hoisted home and settled in their dark constellation of nests", his work so lyrical that reading it is the deepest of pleasures.
Roger belonged to a generation who "grew up with elm" and his love of the woods stems from a time when children were allowed to wander in woods at will, to stop and examine the "countlessness of bluebells" and to ponder on how a moth experiences "the swooning scent of so many flowers". He came to know the New Forest intimately, returning there on many occasions to his school botany and zoology camp, working with "a formidable lepidopterist", his teacher Barry Goater, who infected Roger with a wild enthusiasm for the natural world. Roger writes at length about his time spent in the New Forest – indeed on revisiting the place in his adulthood, for a bout of moth-spotting, he lists the creatures he is lucky enough to espy in a delightfully comic chapter worthy of Monty Python: "Not a bad moth, the dark spinach"!
Roger had a "weakness for sheds" coupled with a penchant for not sleeping in houses. In the bothy built for him by his father (and of which he believed Thoreau would have approved) he noted that "twilight, the gradual softening of the day into darkness, is surely the gentlest, most natural way to prepare for sleep." In his wagon, where, in the warm embrace of the wood-lined interior, "I always sleep like a cat for eight hours at a time," he is wakened from his slumber by the pattering of his "animal familiars" – the pied wagtail on the tin roof. Once, while preparing to sleep on a moated island in Burgate Wood, Roger put his cheek against the loam and cool ground ivy. "When I closed my eyes I saw the iceberg depths of the wood's root-world." How evocative. His field notes made me long to sleep outdoors too; indeed, on the summer's evenings I spent reading this book, I too dallied in the woods and sprawled in the meadow all the more to experience "the softening dusk where shade makes colours loom and be thoughtful".
Roger ponders on times gone by from the folklore we are left with. He recalls that "flies especially are said to have an aversion to pale blue and it is a traditional colour for farmhouse kitchens" and he discusses the myth of the Green Man at length. "He is a reticent figure, always half hidden in the woodwork or carved stone, like a wren in a hedge… He is a green outlaw and he is everywhere, like a Che Guevara poster…all wrapped-up in leaves like a Greek dinner!" Magpies and folklore are closely coupled, and in the countryside to this day, magpies are reviled for their tendency to take chickens' and songbirds' eggs, yet Roger's recounting of Charles Waterton's befriending of magpies "on account of its having nobody to stand up for it" has changed my own view for ever: "I love in my heart to see a magpie," writes Waterton, "for it always puts me in mind of the tropics. There is such a rich glow of colour and such a metallic splendour of plumage in this bird, that one would almost be apt to imagine it had found its way here from the blazing latitudes of the south."
Roger travels beyond these shores to explore the woodlands and heritage of other cultures. His visits to Australia are colourfully evocative and his forays into the walnut forests of Central Asia are absolutely fascinating. He recalls with glee a suave little café in Lviv where the culinary choices on offer were translated as "meadows fried on butter" and "frog tights coated"! I have read that other reviewers felt Wildwood could have been edited somewhat in these passages, but I disagree. I lingered over every word, every moment of cultural and aboricultural difference. Like all good things, this book is to be savoured.
My great sadness is that Wildwood has been published posthumously. Roger Deakin is no longer with us and in his passing we have lost someone who, uniquely, could convey the exquisite complexity and beauty of the natural world, in the written word – this book, his legacy, will undoubtedly become a classic, to be placed proudly alongside the volumes of his peers and mentors, Thoreau and Hughes to name but two.