Gandhi's Gift: The Power Of Nonviolence
Issue 246 • January/February 2008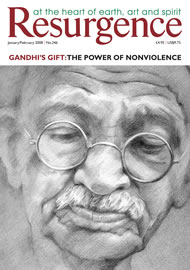 Buy a copy of this issue
Become a member and receive 6 issues a year
Contents
Key
Free for all to view
Free for members to view
Not available
Welcome
Commemorating the sixtieth anniversary of the death of Mahatma Gandhi.
Frontline
Ekta Parishad: 25,000 people, mainly Adivasi and Dalit, marching to Delhi for land rights.
Earth Restoration Service launched the UK School Tree Nurseries to help restore our damaged planet.
Encouraging community self-sufficiency by offering and sharing skills.
Capturing carbon and returning it to the ground.
Mini-reforestation projects are helping to improve livelihoods in Mali.
The Plunkett Foundation is helping reconnect consumers to the land by increasing access to fresh, healthy local food.
Gandhi Anniversary
Gandhi said that we need to question the very basis of civilisation and rebuild it on an alternative foundation. Our anthropocentric world view should be replaced by a cosmocentric one.
Gandhi's techniques of Satyagraha - Sarvodaya, Swaraj, Swadeshi - offered a template for ecology, peace and social justice.
Honouring Gandhi: a reflection on defecation and development.
The Elders are a global force for change. Their bid to try where others have failed is inspired by the life and work of Mahatma Gandhi.
Undercurrents
Supporting those who are following the path of nonviolence in conflict resolution.
The power of putting into practice Marshall Rosenberg's ideas of Nonviolent Communication.
A visit to Doug and Kris Tompkins' Conservation Land Trust project at Pumalín Park, in Argentina.
Sheep are no more natural to the landscape than a wind farm. The poems of Gerard Manley Hopkins and Sorley MacLean show how landscape is a way of seeing.
Keynotes
Three prominent Resurgence writers explore some options relating to globalisation, peak oil and the industrialisation of agriculture.
We need to redefine our economy and our values so that happiness, rather than material wealth, becomes our priority.
Recognising and connecting with the vast, diverse movement for positive change that is all around us.
The Arts
Fiction: The Goldfinch Tattoo • Andy Brown
She pictured herself somewhere above the landscape? A short story.
Two recent volumes of poetry by Henry Shukman and Mimi Khalvati.
Craft: A True Cavalier • Sandy Brown
The magnificent driftwood horses of Heather Jansch.
Today's art movements are rooted in an ancient sacred context.
The drawings and paintings of Louise McClary reflect a sense of wonder in her surroundings.
Regulars
The Long View

- FIXITY AND IMPERMANENCE • Harry Eyres

Fixity and impermanence: human beings were born to improvise.
The Occasional Didymus

- TIME FOR A YARN • John Moat

Time for a yarn: what sense we make with the words we say comes from what we are.

The Carbon Cycle: a long, contemplative bicycle ride from Texas to Alaska.

Celebrating the taste and health benefits of cabbage. Sauerkraut, stuffed cabbage leaves and colcannon.
Letters to the Editors
Reviews
Review of A personal tribute to the nightingale.
Review of The prospect of catastrophe is an opportunity to be resourceful.
Review of Blessed Unrest by Paul Hawken
Review of Animal, Vegetable, Mineral by Barbara Kingsolver, with Stephen L. Hopp and Camille Kingsolver, and Our Farm by Rosie Boycott
Review of Doing Time in the Garden by James Jiler
Review of Wildwood by Roger Deakin
Review of The Green Self-Build Book by Jon Broome
Review of A Year in the Life of an English Meadow by Andy Garnett and Polly Devlin with Chris Smith
Review of The Gift by Lewis Hyde
Review of That Distant Land by Wendell Berry and The Way of Ignorance by Wendell Berry
Review of (My) Dying is Fun by Christopher Day, World Changing (ed.) Alex Steffen, How Many Lightbulbs Does It Take to Change a Planet? by Tony Juniper, Dharamsala Diaries by Swati Chopra, Green Up! By Will Anderson