Stories for Change
Donate Now
Issue 267

Jul/Aug 2011
Once Upon A Time
Frontline
Stories for Change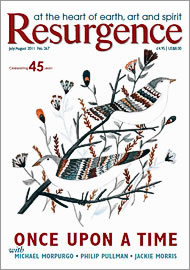 Cover: Birds by Lizzy Stewart www.abouttoday.co.uk
From the comfort of a bedtime story to a tale that can change the course of history or even save lives, storytelling is a powerful tool for social change.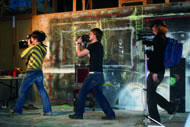 Image courtesy Invisible Children
Unusual and effective in its use of storytelling for change, the UK-based organisation Folk Against Fascism (FAF) was founded after the right-wing BNP campaign began to hijack folk music for political gain. In response, FAF released compilation albums, organised high-profile folk events and worked to promote the use of storytelling through music to affirm a more inclusive national identity.
Staying in the UK, and in the wake of the economic crash, the Robin Hood campaign is calling for the UK government to avoid cutting public services by instead taxing the financial sector – and in the process raising £20 billion a year, which would help tackle poverty in the UK as well as fund poverty relief and climate-change projects around the world.
And as part of that Robin Hood Tax campaign, a small group of film-makers and bloggers are now travelling around the UK collecting stories of people, projects and places that have been impacted by the spending cuts. The Robin on the Road tour will be hearing stories from places where the impact has been felt most deeply – from foodbanks in Wales and asylum housing in Glasgow to Crisis shelters in London. These are the stories that are now starting meaningful conversations and turning statistics into individuals – and MPs are listening. One client of a foodbank centre in Wales says: "They have helped me out in every way I could have hoped for. It gives you hope. It's not just the food and the money – it's the fact that someone cares."
Spanning social justice and literature, Kenyan author Ngugi wa Thiong'o is a determined advocate of storytelling and bottom-up development. In his 2006 book Wizard of the Crow, he set out to explore what has negatively impacted people in Africa, a continent too often seen from a critical, Western perspective. He writes: "Progress and development need to be measured from the standpoint of those at the bottom of the mountain and not those at the top." Last year he was nominated for the Nobel Prize in Literature – perhaps as much for the recognition of the role storytelling has to play in development as for the story itself.
A world away, Invisible Children is a movement working to highlight and help bring an end to the abduction of children for use as child soldiers in Northern Uganda. It has been remarkably successful in just a few years, thanks to its use of storytelling through a harrowing but powerful film called Invisible Children: Rough Cut, which tells the stories of former child soldiers.
The sharing of these difficult stories has inspired people around the world to support the campaign and create visible change in the country, including funding former child soldiers to go to school, or supporting whole schools to get back on track after the war. Invisible Children say: "We are storytellers. We are visionaries."
For more information: