Word Quest
Donate Now
Issue 267

Jul/Aug 2011
Once Upon A Time
Web Exclusives
Article
Word Quest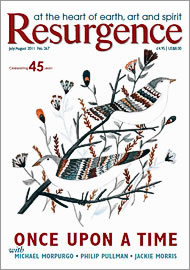 Cover: Birds by Lizzy Stewart www.abouttoday.co.uk
A new project in Devon in the UK is drawing attention to the county's impressive literary past and present, and is encouraging local people to contribute to the discussion, as Sadie Green, Creative Producer behind the project, explains.
"Wordquest Devon is a new project exploring the literary heritage of Devon, and is one of the county's contributions to London 2012's Cultural Olympiad. The project is creating a set of journeys linked to literary themes and writers across Devon, and to Devon's outstanding natural heritage, published as a series of printed and online maps. There are four main partners involved - Aune Head Arts, Devon County Council Libraries, Exeter University Special Collections and the South West's Literature Development Agency Cyprus Well. Other partners include the North Devon Biosphere Reserve and the National Trust.
A programme of events and activities will run from July 2011 to September 2012. Some of these activities will be online, and an active writing community on Wordquest Devon's Facebook and Twitter pages will provide a platform for discussion about reading and writing in Devon. People are very welcome to join in.
We will be producing a series of bookmarks through the life of the project to help get the word out and to provide opportunities to feature words written by the public or established writers about Devon and their inspirational places there. These will be available across the county including in all libraries, Tourist Information centres, and independent bookshops.
Visit the project website at www.wordquestdevon.info for further information, a timetable of events and to 'sign up' to our database to be kept informed of opportunities and news."