A Feast of a Find
Donate Now
Issue 268

Sep/Oct 2011
What Comes Next?
Regulars
A Sense of Place
A Feast of a Find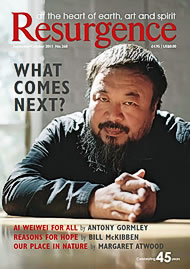 Cover: Ai Weiwei, April 2009. Photograph copyright: Elisa Haberer
Issue availability
In a city that can feel cool and aloof, Jemima Roberts finds a warm welcome at the local market.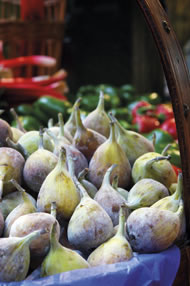 Borough Market, London. Rebecca Ruth Photography www.rebeccaruth.co.uk/blog
I never imagined that I would live in London. How would I breathe, I wondered? Like many cities, its green spaces are kempt and contained within the straight-edge rule of urban infrastructure. My roots, on the other hand, lie in the remote hills of Mid Wales, content to be swaddled in the meandering mossy banks of the river Ystwyth.
The thought of London stifled.
But once I had set my own stride to the racier pace of inner-city life, the discovery of my local, weekly organic market was a feast of a find. I am a passionate home cook and here were stalls run by growers, farmers, orchardists, foragers, bakers, cheese-makers, butchers and more, the market-goers all made up of my new neighbours. In a city that can be cool, aloof, I suddenly felt warm, welcome and a part of something.
Over the course of the year or so that I have now lived in North London, this small but lively market has become far more than a place to buy my weekly provisions. It has been my source of sustenance in its every conception, my soil in the city; the fulcrum to my sense of belonging: my community isle in what would otherwise be a sea of anonymity.
Inaudible to the intellectual 'ear', there is a musicality, a rhythm by which we all thrive once we allow our minds and our bodies to gently tap to that tune. Rising like sap in the spring, gleeful and garrulous as bees in summer, reaping the harvest of autumn before hibernating, consolidating our energy inwards in winter. The occasion to settle, to pause for a full cycle, allows the full furl of our own inner seasons to unfold, in chime with the wider natural world.
London, open all hours as it is, and the year-round availability of food, festivities, attractions and distractions can plateau the seasonal cycle; the Earth flattens, the rich and varied dimensions of life pestled to within a wafer of their vitality.
This 'Life' or lifestyle, on tap, drowns my senses. I have found myself urgently seeking real weather: to get wet, muddy, bedraggled; to be swayed by the wind or pelted by hail. I sometimes feel the need to pinch my own skin, to prickle my limbs, simply as an affirmation of my own vivacity.
Market, as weekly metronome and cyclical calendar, has tethered me to the seasonal shifts and gifts that I'm not sure I was even aware I was seeking, or that I had been set adrift from. Come what weather, come what may, Saturday morning market is as much part of my week as the ritual of breakfast is the start to my day.
Senses seduced, jotted lists of food staples left to crumple and languor in pockets... hands, nose, taste buds guide: my culinary repertoire, in turn, has been infused with variety and spontaneity, and similarly my health and wellbeing. Winding my way around the stalls, I might discover a new potato variety, note a recipe for onion pickle, forage through alien and extraterrestrial mushrooms, pick up a loaf of reassuringly weighty bread.
But just as likely I will hear about a local course, the celebration of Apple Day, a Christmas carol service, the differing cultural preferences when it comes to plum varieties, how best to look after my struggling coriander plant. Yes, money changes hands, but something inherently more valuable is the real currency of exchange here: a strong sense of community, connectedness, an example of the wealth that can be pooled and shared from a collective of people with passions, skills and a commitment and humility to the reciprocity of these.
And it is deeply reassuring to find the whims and vagaries of the fickle weather patterns of this northerly isle honestly reflected in the availability of produce on offer – to accept the bounty but respect the brink of the soil. This is not born of rationale or cerebral logic, but something deeply elemental: I am cradled in this rhythm much as I would be in the gentle swing of a hammock, to be reminded of the subtle but insistent pull of the pendulum, the occasion to welcome a respect for balance, to learn of the finite and to embrace resourcefulness.
I am a twin by nature: inquisitive, curious, an inexorable mental fidget who feasts on variety and thrives on the intrepid. I am also cow-slow, reflective and at my most soothed and still when pottering in the ordinariness of the quotidian: baking, writing, tending my herbs. Travel takes me to the sky and it is brightly lit, refreshing, exciting; but home – that rooting – brings me back down to the soil and a sense of place where the light is softer and I can feel my feet.
London, too, has a duality.
What grants the city its unique appeal and character, what sets the stride along its streets and walkways is also what nips at its Achilles. It is as stimulating as distracting, as energising as draining, as populous as anonymous. The effect can be dizzying. I have found my home in the city through the small, dynamic local market: I have become a regular and I am now recognised and warmly greeted. I reciprocate the familiarity and threads of thoughts; news and musings spool out between us from week to week.
I relish the rainbow weave of the market's social and cultural tapestry as much as the changing colours of our seasons. Lunch could be a hot Turkish börek or garlic-fried, locally foraged mushrooms in a sandwich, some Creole soda bread or a Bombay potato burger. There is a diversity of cultures that meet in the melee of the market, an open embrace that says, "Welcome, come into our home, take off your shoes and make yourselves warm, comfortable."
Nothing puts a lighter spring in my step, brings a wider smile to my face, than a simple "Hello, and how are you?" over a bunch of carrots, a paper-wrapped walnut levain or half a dozen eggs on a Saturday morning at market.
This is our piazza, our 'green': the place where our small part of the big London smoke gets to turn itself into a thriving 'village' community for one day a week.