What Comes Next?
Issue
268

• September/October 2011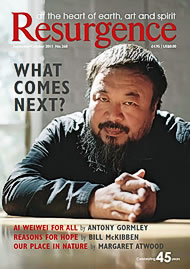 Buy a copy of this issue
Become a member and receive 6 issues a year
Contents
Key
Free for all to view
Free for members to view
Not available
Welcome
Our work must be based in harmony and wholeness
Frontline
Climate-change activists issue an urgent call for a moratorium on shale-gas extraction in the UK
Paying tribute to the myriad extinct species
Can supermarkets ever be good for the environment?
Regulars
Planet for Sale
Genetic Engineering has not increased the yield of a single crop
Climate change champion Kirsty Schneeberger explains Think2050
Transforming an inner-city wild space into a much-loved community garden
Greater awareness of environmental damage should be reflected in environmental sentencing
In a city that can feel cool and aloof the local market provides a warm welcome
Holding out hope that sport is still a gentlemanly pursuit
A selection of letters to our Editors
The Poetry of Glyn Hughes
Celebrations and projects of the Resurgence East Devon group
Keynotes
What is our proper relationship with Nature?
Quotes
We are all inhabitants of the Earth, citizens of the wide world
Extract from the official poem for President Clinton's inauguration on 20 January 1993
Undercurrents
On why there's still a good chance we can save our magnificent Earth
Being fashionable shouldn't mean destroying the planet
Why the plan to sell off our national forests triggered a monumental outcry
In dialogue with the Conservative MP Oliver Letwin
How much progress have we really made, and what should we be doing next?
Where to look for big answers
Biocultural Diversity
Photo feature on the difficult choices facing not just Africa, but all of us
The Arts
The silencing of the artist Ai Weiwei and why we must all speak out
The forgotten etchings of the potter Bernard Leach capture the spirit of Japan
Profiling the powerful work of Wynn Jones
Reviews
Review of The Colour of Time by Garry Fabian Miller and Susan Derges' Elemental
Review of Economics Unmasked: From Power and Greed to Compassion and the Common Good
Review of The Winter of Our Disconnect
Review of Ending the Global Casino?
Review of Common as Air: Revolution, Art and Ownership
Review of The Art Instinct
Review of Walking Wisdom: Three Generations, Two Dogs, and the Search for a Happy Life
Review of Tall Timber
Review of The Magic Mirror: Thoughts and Reflections on Cecil Collins
Web Exclusives
Positive suggestions for enjoying the moment
More and more people see themselves as pilgrims rather than tourists
Slow travel around the Cornish Coast
Let us be modern pilgrims with new visions
Review of The Bluff Detector: Stories, Dreams and Rivers of Change
We all have the capacity to help transform violence and bring about positive change in society
A historical perspective on the recent unrest in the UK