Reflections
Donate Now
Issue 268

Sep/Oct 2011
What Comes Next?
Web Exclusives
Article
Reflections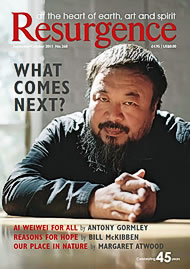 Cover: Ai Weiwei, April 2009. Photograph copyright: Elisa Haberer
Pilgrim or tourist? More and more of us are choosing to count ourselves among the former, says Rosalind Brackenbury.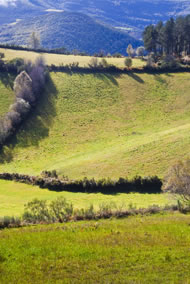 Rural landscape in autumn, Triacastela, Lugo. plazas i subiros / shutterstock
Walking, as many Resurgence readers will know, is a meditation as well as the oldest means of travel. Walking puts you in touch with your body, your thoughts, the world; and when I was walking one of Europe's most ancient pilgrim routes – the Camino de Santiago – I was happier than I could ever have imagined.
My journey to start my pilgrimage began at the very worldly Gare d'Austerlitz in Paris, where I took the night train to Madrid. I shared a sleeper with three other women. I slept well and had breakfast on the train with café con leche and linen napkins, looking out onto wild, rainy northern Spain. In Madrid I met the other members of our expedition: my youngest brother, my Peruvian sister-in-law, and four friends from England who were walking with us for part of the way.
We took the bus in pouring rain to Astorga, about five hours from Madrid. This was to be our starting point for a two-week, 300-kilometre walk, following the Camino Francés through O Cebreiro, Triacastela, Portomarin, Melide and Arzúa.
The Camino is becoming increasingly popular, with people from all nations coming to walk it. In fact, there are several pilgrimage routes that cross France from the north or come up from the south to converge on Santiago, but ours was to be a limited experience of it (two weeks a far cry from the year-long pilgrimage a young friend of mine from Key West is currently undertaking in order to re-orientate her life). My brother has already done the pilgrimage we are about to embark on three times, the first of them with three children of whom the youngest was nine. He is turning 60 this year, I am 68, and the rest of our party is a little younger. I was about to ask my legs to do something they have never done before even in an active life: to walk 20 to 25 kilometres a day. For me this was not a stumbling block. I simply believed that they would and could oblige.
But why had I wanted to do this pilgrimage at all?
I had a sense that it would change something about my life and, after 17 years of living on a small island in the USA, what I wanted most of all was an encounter with Nature, on foot, which I hoped would help me find a new perspective on the challenges that lay ahead as I entered a new phase of my life – that of not being "forever young".
So we set off in rain and mist. (Yes, surprisingly, Galicia in June can be as wet and chilly as Scotland!) We crossed two mountain ranges, stayed in a refuge where the showers were stone cold, got wet and got dry again, suffered horrible blisters and sore knees and, as we walked, told the stories of our lives, as pilgrims always have. My brother and sister-in-law were walking to raise money for the Peru Support Group. The rest of us were just there for the pilgrimage.
At the end of the Camino, when a priest in Santiago asked me my reasons, "religious or otherwise", for doing it, I replied that I had thought increasingly along the way about the people I know who cannot walk – my son's people, wheelchair users. I can walk, so I walked, and I lit candles along the way for them. I am sure there are people with physical disabilities who have done their own pilgrimages, but it struck me as being such a privilege to be able to use my legs, and perhaps I really only appreciated this for the very first time when they actually began to hurt.
As we walked, I felt accepted by the country I was walking into – as if it were coming to meet and envelop me, as I put one foot after another painfully, joyfully, counting each of the milestones marked with the pilgrim shell cut into them as I, now a pilgrim too, passed by them.
In our walking group, we talked of blisters and of the meaning of life; we told jokes and shared our sadnesses. Once, on a particularly difficult and long uphill section, I asked my brother to tell me the story of his life since the time I had left home to get married, a time when he had still been at school. My sister-in-law taught me songs in Spanish and one day, as we sat together having our sore feet bandaged in a high village by the Spanish Red Cross, we sang Bésame Mucho at the tops of our voices, laughing together as the nurse who was treating our blisters joined in.
The menu peregrino that we discovered in the cafés and restaurants we stopped at along the way was copious and usually delicious. In Melide, there's a memorable pulpo restaurant, where we downed plates of spicy octopus and mugs full of cold white wine. There was always wonderful café con leche and fresh bread for breakfast, even if we sometimes had to walk 5 kilometres to get to it. And the tangy fresh orange juice was a constant treat.
As we walked from village to village, I realised that the Camino is at once an ancient site – it has been walked since the 9th century – and a shared open space for the 21st century in which people from all over the world meet, make friends and exchange ideas. It is also a way of seeing this particular part of Europe in a way that is both affordable and ecologically sound. Many of the small stone villages we were passing through would have been abandoned, if not for the flow of pilgrims looking for breakfast, lunch and somewhere to stay the night. Now people make coffee in their garages, rent out their spare bedrooms, and scrape a living with welcome tortillas and bowls of nourishing soup for the ever-hungry travellers crossing their paths.
As we walked through rain-lashed mornings, I realised it made me really happy hearing so much birdsong, finding plants that I had not seen since my childhood and feeling myself to be in a world that is not extinct, not polluted, not on its way to destruction.
We saw storks nesting on church spires, trees laden with cherries, lumbering cows passing slowly by and streams gushing in their gulleys. We saw sunrises and sunsets, mountains in rain, and green pastures in sunlight; we walked through forests of oak, chestnut and eucalyptus. We visited small Romanesque churches where we lit candles and where some of us prayed. Others simply reflected quietly.
We arrived, the three of us, tottering rather slowly into Santiago de Compostela on 24 June – the Feast of San Xuan and my brother's saint's day. The cathedral clock was chiming, Latin American musicians were tuning up under the archways, and the huge square was already filling with pilgrims. It was an experience as old as Europe itself, and one that we shared across history.
Here, at the end of our pilgrimage, we threw down our walking sticks, pilgrims no more, and joined the life we had left so very briefly, taking leave of each other to catch buses, trains and planes; to hear of the agonies of the modern world, to be drawn back into those dramas again – yet somehow, this time, differently.
And perhaps, this time, with a changed ear and eye for what really matters most.