The Alchemy of Compost
Donate Now
Issue 269

Nov/Dec 2011
Wellbeing
Frontline
The Alchemy of Compost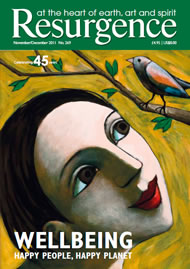 Cover: Uccello-nella-Primavera, by Anita Klein www.anitaklein.com
Turning food waste into a valuable resource.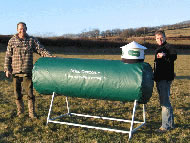 How it started - Exmoor
Hospitals, schools, hotels and other big organisations that provide catering services inevitably have a lot of food waste to deal with, and sadly most of it ends up in landfill sites. Discussing this problem in an Exmoor pub one night were Richard Gedge – an ex-stockbroker who now runs an award-winning environmentally friendly farm – and Dan Welburn, a former Formula One (motor racing) engineer. Together, after experimenting with prototypes, they created the Ridan composter.
Capable of processing up to 400 litres of food waste a week, these composters have helped divert over 1,000 tonnes from landfill in two years. Available in three different sizes, they are proving popular with prisons, hotels, National Trust sites and even adventure holiday centres.
Perhaps most importantly, colleges and schools are also using them, not only to save money on disposal costs, but also to help raise awareness about the food cycle. By learning about best practice in food and food waste management, young people will better understand not only where food has come from but also how food waste can become a valuable resource. In conversations about food miles, rarely does anyone consider the distance that food waste travels to be disposed of.
As the Ridan composting process requires no electricity and is carbon negative, it is not surprising that it was a finalist in the Devon Environmental Business Initiative (DEBI) awards. It was recognised not only for its sustainable practice in dealing with food waste, but surprisingly for savings in carbon emissions, because the process eliminates emissions from transportation as well as reducing the methane gas produced from decomposing matter that occurs in landfill.
Dan Welburn recalls a wonderful moment when visiting a school that had just installed a Ridan composter: "Hearing 'I've got a brand new Ridan Composter' sung by the children at assembly to the tune of the Wurzels classic was a great moment!" he said. "One day it will be standard practice for every catering facility to compost on-site."
For more information visit: www.ridan.co.uk