Sacred Light
Donate Now
Issue 269

Nov/Dec 2011
Wellbeing
Reviews
Sacred Light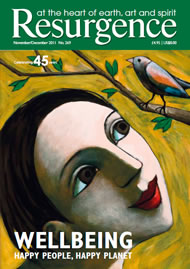 Cover: Uccello-nella-Primavera, by Anita Klein www.anitaklein.com
Philip Vann reviews a retrospective of the often-poignant paintings of Greg Tricker. The Christ Journey: Sister Wendy Beckett Reflects on the Art of Greg Tricker by Sister Wendy Beckett. St Pauls, 2011, ISBN: 9780854398225
Earlier this year, Gloucester Cathedral was the mystically apt setting for a large-scale retrospective exhibition of paintings, sculptures and stained glass by Gloucestershire-based artist Greg Tricker, who was born in London in 1951. The same body of work moved on to Westminster Cathedral, and selected works will be on show at London's Piano Nobile gallery from November 9 to December 10.
The Westminster show marks the launch of a profoundly perceptive new book, The Christ Journey: Sister Wendy Beckett Reflects on the Art of Greg Tricker. Sister Wendy says: "Tricker has an amazing innocence and passion, and extraordinary command of techniques, painting, drawing, sculpting, all with the same concentrated yet gentle power."
In Gloucester Cathedral, new stained-glass panels of the most subtle delicacy and chunky grandeur – portraying in turn Mary and the baby Jesus, the adult Christ, St Francis of Assisi and St Clare – were attached to great columns in the nave. Also in the nave were an impressively intricate oak sculpture of a voyaging Joseph of Arimathea, and a bronze sculpture of St Bernadette as a far-seeing shepherdess of enchanting purity.
Walls of the cloister were hung with examples of Tricker's earthy yet graceful art – sometimes reminiscent of medieval stained glass – forming a kind of retrospective, encompassing his extensive series on subjects such as the life of Kaspar Hauser (the holy fool of a boy imprisoned for 12 years in a tiny, dark underground cell near Nuremberg in the early 19th century), St Francis and St Bernadette and, most recently, the journeys of Christ.
There were beautiful juxtapositions between Tricker's art and the cathedral setting, including an exquisitely fluid limestone relief of St Francis and the birds held aloft by a medieval carving (on a pillar in the nave) of angels' wings.
In her new book, Sister Wendy discusses Tricker's ineffably poignant painting of Anne Frank holding a songbird: "Anne, with everything against her, lived in joy. She writes: 'I want to go on living.' Why? She seemed to have so little to live for. But Anne understood that all life was a gift, a beautiful gift that was to be appreciated. She lived in the present moment and that is the only place where God gives himself to us. The darkness of this picture is a bright darkness, beautiful and radiant, transcending all bars."