Inspiring Change
Donate Now
Issue 270

Jan/Feb 2012
A New Moral Compass
The Arts
Inspiring Change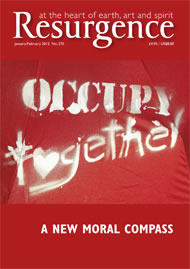 Cover: Photo: Action Press/Rex Features
India Windsor-Clive explores the work of Gustav Metzger, whose provocative expressions of environmental concern have proved prophetic.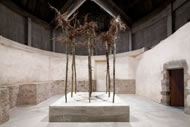 Flailing Trees by Gustav Metzger www.musee-rochechouart.com Photo: David Bordes
Itinerant activist, incessant archivist and inspirational forerunner in ecology; now in his eighties, Gustav Metzger has re-emerged as a legendary figure in contemporary art. Since he has remained a background, if forgotten figure, the striking and relatively recent reappraisal of this veteran agit-artist can be attributed to his vanguard ethics. As Metzger himself recognises, in the midst of growing awareness and changing attitudes the opportunities for understanding his work are greater now than ever before.
This unassuming bearded figure of small stature, often wearing threadbare garments and wheeling a shopping trolley carrying his worldly belongings, has shown no compromise in integrity, by staying true to his principles and not selling a single work of art. Gustav Metzger occupies an unusual position in the art world, remaining resolutely independent of art-market operatives, demonstrating resistance and even disappearance.
Often described as 'the conscience of the art world', his nonconformist artistic conception is indivisible from his political and ecological initiatives. Manifesting an extreme didacticism through extraordinary means, his work is at once captivating and fundamentally challenging.
Born in 1926 to a Polish Jewish family in Nuremberg, Metzger witnessed the rise of Nazi power before being brought over to England at the age of 12 as a child refugee, escaping the fate of his parents in the concentration camps. It was this experience of war and dislocation that led Metzger to destruction as a paradoxical form of creative expression, and the force necessary for communicating the destructive tendencies of 20th-century society.
Metzger's desire to be a political revolutionary was surpassed by his decision "to be an artist who would be a revolutionary in and through art". He came across the influential ideas of German psychologist Wilhelm Reich, who defined the term 'revolutionary' as the use of truth in public appeal to human conscience. Following the Campaign for Nuclear Disarmament's Aldermaston march in 1958, Metzger's strong desire to mobilise people saw him becoming a founding member of the Committee of 100, an anti-war group dedicated to nonviolent civil disobedience (for which he was arrested alongside co-founder Bertrand Russell following one of their demonstrations in 1961).
Nurturing an early political impulse, Metzger developed his theory of Auto-Destructive Art, distributing manifestos and giving lecture/demonstrations. The idea is to use art to present situations in which disintegrative processes can be witnessed and experienced, such as painting hydrochloric acid onto large nylon sheets in a cathartic public display of potential nuclear annihilation and ecological damage. Auto-Destructive artworks represent civil 'monuments' capable of self-destruction, standing for impermanence and returning sites for reuse; acting against civilisation's drive for the preservation of material objects is one of its raisons d'être: "Nothing is forever".
Under the label of 'material/transforming art', Metzger counterbalances the brutality of automated destruction with Auto-Creative Art. Demonstrating an interest in intuition and consciousness – from visceral drawings to the aesthetics of rusting metals – he has pioneered a new artistic sensibility founded in the interrelation between destruction and creation. Metzger's sensuous and meditative Liquid Crystal Light Projections (once the psychedelic backdrops to musical performances by Cream and The Who at the Roundhouse in London) involve the heating and cooling of liquid-crystal slides to cast infinite variations of pulsating colours through rotating polarising filters.
Metzger's work Flailing Trees, originally conceived for the Manchester Peace Gardens, confronts us with a poignant image of man's violation of Nature. Trees are inverted in a concrete block with their roots exposed to the sky in extremis – a powerful environmental memorandum. In the subversion of a natural state he illustrates the irreversible debasement of Nature as the Earth's natural resources are plundered. During a lecture at the Architectural Association in 1965, Metzger expressed the need for alternative technologies to curtail industrialisation's damaging impact upon the environment. At a time when Western consumerist culture was being celebrated, in the late 1950s and the 1960s, Metzger's was a rare expression of such acute environmental concern, especially in artistic practice.
In his book Damaged Nature, Auto-Destructive Art, Metzger refers to our memory, experience and perception of Nature as becoming increasingly distorted and veiled in uncertainty. He accuses capitalism's willingness to exploit industry and technology as being largely responsible, with principles of control and efficiency overriding ethics. He sees the attitudes encouraged to maximise growth and productivity as reducing sensibility and fostering a passive moral disengagement within society.
In reconnecting art as behaviour to the behaviour of its viewers, Metzger aims to engage the collective imagination, confronting us with our own capacity for destruction in order to stimulate individual responsibility. He perceives it as his moral obligation and role as an artist to deploy art's imaginative capacity and communicative perspicacity in engendering knowledge and perception, in order to inspire fundamental social change. It is with this profound belief in art as a functional idea in society that Metzger continues to avow its potential as a cultural force, demonstrating how art can serve as a mouthpiece for ecological initiatives.
Metzger is an artist who cannot solely be judged on artistic output, or 'works' in the conventional sense, but whose dedicated life has been an inspiration for generations and whose prophetic injunctions have finally been acknowledged.