A Taste of Italy
Donate Now
Issue 271

Mar/Apr 2012
Animals: A New Ethics
Regulars
Recipes
A Taste of Italy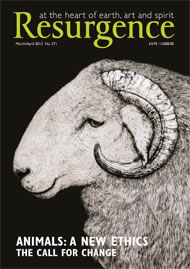 Cover: Photo: Welsh Mountain Sheep by Julia Finzel www.juliafinzel.co.uk
Cooking without tears, by vegan chef Andy Murray.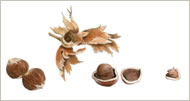 Illustration by Meriel Thurstan
Hazelnut and Celery Risotto
This is my version of a basic risotto, tweaked for vegan taste-buds and extended to include some of my favourite ingredients. As with most things, risottos benefit greatly from good-quality ingredients. If you can find them, Carnaroli and Vialone Nano are two of the best varieties of rice. If not, then Arborio rice can still give good results.
1 1/2 cups shelled hazelnuts
2 onions, finely chopped
3 garlic cloves, minced
5 sticks of celery, finely sliced
2 tbsp olive oil
2 cups Carnaroli rice
2 cups dry white wine
2 pints hot stock
6 ripe vine tomatoes, finely chopped
2 tbsp fresh marjoram, finely chopped
1 tbsp yeast flakes
Salt and freshly ground black pepper
• Lightly toast the hazelnuts in the oven at 170ºC/325°F/Gas Mark 3. Don't let them get any further than lightly turning brown. Allow to cool a little until the bitter, papery skins can be scrunched away from the nuts and blown away. Wrap them up in a clean tea towel and gently beat for a little bit with a rolling pin.
• Fry the onions, garlic and celery for 5 minutes in olive oil on a medium heat until the onions are softening. Add the dry rice and continue frying and stirring for a minute or so before adding the wine and turning up the heat, cooking and stirring for a few minutes until the wine is absorbed. Stir.
• Add a cup of hot stock and the tomatoes, marjoram and yeast flakes and simmer on a medium heat. Stir…
• Keep adding another cup of stock when the one before has been absorbed, until the rice is cooked but still retains some bite. Don't stop stirring. This should take around a quarter of an hour from the time you put in the first cup of stock. Stir…
• As you near the end of cooking, lessen the amount of liquid you're pouring in. It's a skill that might take you a couple of goes to get spot on, but it's worth it.
• The risotto is ready when the rice is creamy and plump but still retains some bite, with just a little thick, creamy liquid between the grains.
• Add the hazelnuts and salt and pepper to taste before leaving it to rest with a lid on for a few minutes before serving. You can stop stirring now, by the way.
Panforte Nero
Panforte Nero is an extremely rich Italian cake/slice from Siena, needing the restraint of thin slices rather than thick wedges or else the sugar rush might tip you into la-la land. This cake would normally have honey in it rather than maple syrup, but it's much better – all round – without!
100g/3 1/2 oz plain vegan chocolate (from health stores)
1 cup white flour
1 tsp ground cinnamon
1/4 tsp ground allspice
3/4 tsp ginger
1/2 tsp black pepper
2 1/2 cups almonds, lightly toasted
and chopped
1 cup chopped mixed peel
2/3 cup light brown sugar
1/3 cup maple syrup
Icing sugar for serving
• Set the chocolate to melt over simmering water.
• Meanwhile, mix the flour, spices, almonds and chopped mixed peel together in a bowl.
• When the chocolate has melted, take it off the heat and set it aside.
• Put the sugar and maple syrup into a small pan and bring to the boil over a medium heat. Now, either use a cooking thermometer to determine when the mixture is at soft ball stage, at around 118ºC/235ºF, or drop a little into a small dish of cold water, where it should solidify but still stay soft. It all happens faster than you might think, so be ready.
• Immediately take the mixture off the heat and stir it into the dry mix together with the melted chocolate. The mixture will start to thicken right away, so do it quickly.
• Scrape the mixture out into a greased, lined 18cm/7" spring-form baking tin and smooth out the top as much as possible.
• Place in a 150ºC/300°F/Gas Mark 2 oven and bake for about 40 minutes. The top should be slightly cracking.
• Leave the cake to cool for half an hour before loosening the edge with a knife and lifting it out of the tin.
• Remove the base of the tin and allow the cake to cool fully.
• Sprinkle with icing sugar and serve.