One Dog at a Time
Donate Now
Issue 271

Mar/Apr 2012
Animals: A New Ethics
Web Exclusives
Article
One Dog at a Time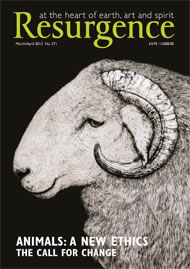 Cover: Photo: Welsh Mountain Sheep by Julia Finzel www.juliafinzel.co.uk
Pen Farthing explains how a single act of kindness by a Royal Marine pioneered animal welfare in Afghanistan.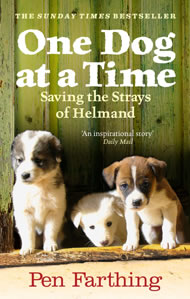 www.nowzad.com
"Grab that dog!" I yell as I fall backward, the muddy belly of an escaping stray flying easily over my head as my fellow shelter worker frantically attempts to catch the escapee. And so another day at the only animal rescue shelter in Afghanistan begins in chaos…but rewarding chaos.
The Nowzad Dogs charity was formed to help the thousands of stray and abandoned dogs roaming Afghanistan who have no voice of their own, in a land blighted by war where animal welfare is not given even the slightest consideration. Sadly many male stray dogs are still used in the long Afghan tradition of dog fighting.
From the horror of war, one of those scarred, fighting dogs found his way into the heart and care of a serving Royal Marine. He was soon named Nowzad after the remote Afghan village where he was rescued. From that moment the foundations were laid for the Nowzad Dogs charity to make a difference in Afghanistan.
Four years later, and over 250 dogs, and some cats, have been permanently reunited with the soldier who felt the pull of compassion to reach out to a starving stray. A gesture of kindness that has been paid back by each animal a thousand times over, in unfaltering companionship, as together they endured a tour of duty.
Ours is the first-ever animal shelter in Afghanistan. We have just implemented a local trap-neuter-release programme that will hopefully be rolled out across the capital, Kabul. Not only will the stray dog population be reduced, but so will the incidence of rabies. We know we can help both the human and the canine population move forward.
With a local Afghan adoption programme now up and running, and plans for a working animal cooperative, Nowzad Dogs has never been busier, or more in need of funds. We are forever in debt to our army of volunteers, who are helping to make a real, long-term difference here.