Faith and Perseverance
Issue 273
July/August 2012
Emerging Networks
Green Living
Pioneers
Faith and Perseverance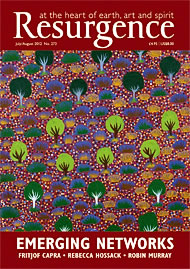 Cover: View of Country by Betty Beasley 2011 www.r-h-g.co.uk
Issue availability
As the Findhorn Foundation celebrates its 50th birthday Geoff Dalglish tells the story of its inception.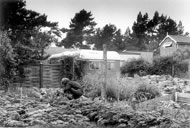 Original caravan and garden at Findhorn. Photo courtesy Findhorn Foundation
Imagine my surprise when I was handed a small pair of hand clippers and tasked with trimming a tall and unruly beech hedge that stretched for 200 yards in a giant L-shape between the Findhorn community centre and meditation sanctuary.
This is absurd, I thought, knowing the job would take a week or more, especially when a more conventional approach, plus the vigorous application of an electric or petrol-powered saw, could have had it done in a morning. In my mind I could hear the harsh mechanical scream of the saw and see the foliage shredding and instantly giving way beneath the vibrating blade. It wouldn't be pleasant but it would be quick.
Stifling my impatience, I began gently snipping at individual stems and leaves. It was strangely soothing and meditative and I felt a great peace come over me as I allowed myself to slow down and set aside my usual goal-driven approach to any job at hand. If Findhorn has taught me anything it is that there is often a gentler and more loving way.
The pioneering spiritual community in northern Scotland came into being in 1962 as an example of what could be achieved when humans opened their hearts and minds and engaged in an active partnership with the life forces of the natural world, including the subtle and unseen realms. I have discovered that, 50 years on, that commitment to co-creation endures.
Working alongside me in the community's now luxuriant gardens was former German forester Kajedo Wanderer, who was snipping carefully to ensure that no single stem or leaf was damaged unnecessarily. It was like watching a surgeon at work. Kajedo has been a Findhorn gardener for three decades, serving latterly as the custodian of the trees. "It was in the company of trees that I felt closest to the Great Mystery of Life – to God," he recalled.
"The garden and the community here is a microcosm of the larger world. How we interact with the land and soil always has a ritual aspect where we are trying to invoke kinder, more sensitive and more attuned ways of working with the Earth. When we have to trim a hedge we do what needs doing in the kindest way possible and in a way that allows us to be in touch with the living plants.
"Using a machine would cut through masses of green leaves and make them look as brown and unwell as the planet probably feels. So we have a tradition of doing it by hand with secateurs and loppers so that we create as little harm as possible.
"While it could be seen as slow and ineffectual, our role here is also to help people connect with the life force of the plants and to raise awareness of the divinity of the natural world. With that in mind, pruning a long hedge with secateurs might be the most effective way."
Findhorn has been likened to a laboratory for change that is dedicated to achieving the highest in human potential and was once even described as the Vatican of the New Age. It is also a holistic learning centre and an ecovillage with one of the lowest recorded ecological footprints in the developed world that has spawned other eco communities around the globe and earned United Nations recognition. Each year it attracts thousands of visitors, although its beginnings could hardly have been more inauspicious.
Dorothy Maclean, the 92-year-old sole surviving co-founder, says it is a source of wonder that a trio of out-of-work adults living on a pittance in a caravan could become the nucleus of a spiritual community that famously pioneered a creative collaboration with the higher intelligence of Nature and transformed a bleak landscape of barren sand dunes into a lush modern-day Garden of Eden.
"Looking around now I am absolutely amazed and can hardly believe it," she admits. "I think of the three ordinary people that we were, but we had the commitment to God, and that takes you everywhere."
She vividly remembers the November day in 1962 when she and her friends Peter and Eileen Caddy and their three young boys arrived with their now-famous caravan in tow, having been ignominiously sacked from their hotel jobs. They were parked alongside a rubbish dump and the Findhorn Bay Caravan Park, an inhospitable place consisting of sand dunes and prickly gorse bushes (and in winter it was wearing its least welcoming face, Findhorn being further north than Moscow). They expected to be there for days at most, but the weeks stretched into months. They had to do something to survive, so they began a vegetable garden, although none of them had prior gardening experience.
Each of the trio had individually spent years tuning in to their inner guidance and each knew their calling was to be together, although they had no inkling of what would unfold. This was not an intentional community but an amazing three-person collaboration that soon attracted other individuals also seeking to be a force for positive change in the world.
What followed is a demonstration of what is possible with faith and perseverance.
Eileen listened to a small, still voice within and passed on her guidance to her husband Peter, a former RAF squadron leader and action man who implemented it in complete trust. Dorothy, meanwhile, began receiving inner promptings from the overlighting intelligence of the Nature kingdom and was able to convey very specific and practical instructions about what to grow and how and when to do it. Despite poor sandy soil the miracle of Findhorn's gardens began to unfold.
Plants flourished with extraordinary vitality, and the appearance of giant, 40-pound cabbages prompted the Soil Association to investigate, the scientists concluding that a mysterious Factor X must be behind the horticultural phenomenon. Findhorn's fame was spreading fast, and a 1973 BBC TV documentary, presented by Magnus Magnusson, who was then a household figure in Britain, did much to give credibility to the fledgling community and its thriving gardens.
Schoolteacher Jonathan Caddy, son of Peter and Eileen, remembers those early days as a demonstration of the power of faith, the founders following their inner guidance to create pivotal structures such as the Sanctuary, the Community Centre and the Universal Hall – despite the fact that they had neither the money nor the numbers to justify the investments. Imagine building a kitchen and dining room for 200 when there were only a handful of residents! "There was no money but we went ahead anyway and the people came," he said.
Australian Craig Gibsone was one of the earliest arrivals and was attracted to a philosophy free of dogma that encouraged young and old and people from all religions and spiritual persuasions to come together and lovingly co-create. "It is a place of unity and diversity embracing wholeness and life. Everything is sacred: my relationship with you, my relationship with the garden, my relationship with life itself."
Another recurring theme is that life is meant to be fun, and if it isn't fun it isn't sustainable.
Each year around 4,000 people visit Findhorn to explore a different way of viewing the world, many participating in the introductory Findhorn Experience Week or being drawn by a variety of learning programmes and an impressive line-up of guest speakers. They come for a day, a week or a lifetime, often finding inspiration to start new projects elsewhere in the world. Among those who have been recent sources of inspiration are best-selling author Caroline Myss, environmental activist Julia Butterfly Hill, interspecies communicator Anna Breytenbach, and Resurgence editor Satish Kumar who addressed an Inspired Action conference and co-presented a workshop entitled A Journey through Inner and Outer Landscapes.
While the Findhorn community is a physical home to only around 500 souls, it touches many lives around the world; more than 300,000 people visit the community's website each year, with Eileen's daily guidance proving second only in popularity to the home page. In 2004 she was awarded an MBE for her services to spiritual inquiry, and although she passed at the end of 2006 at the age of 89, her books and those of the other founders are in continued demand.
Chatting to long-time residents and newcomers alike, I had a sense that the Findhorn experiment remains an exciting work-in-progress that is as relevant as ever. Dutch-born Mari Hollander, a Findhorn trustee, says: "From the beginning it was the synthesis of different personalities with different gifts that made up the whole, and that pattern has been expanded and is still a key feature – all the different contributions of all the different players make the whole what it is, with the whole not overly reliant on any one person." Looking ahead, she suggests: "The community's very existence feeds the imagination of what is possible. It's a wee glimpse of what it might begin to look like if we aim to live in harmony with all life."
For more information about Findhorn, visit www.findhorn.org