A Rich Diversity
Donate Now
Issue 273

Jul/Aug 2012
Emerging Networks
Reviews
A Rich Diversity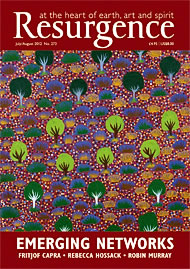 Cover: View of Country by Betty Beasley 2011 www.r-h-g.co.uk
David Green went around the world – with 33 half pans of paint – not once but twice to produce this book. Anne Phillips is impressed with the results. Drawing on Experience by David Green. Impress, 2011, ISBN: 9780951119891
This is an eye-catching book with an intriguing debossed foiled cover that invites further exploration. Even a short foray between its covers will be rewarded with a fascinating anecdote emerging from David's time in some extraordinary place on behalf of one of the three institutions with which he worked: Voluntary Service Overseas (VSO), Save the Children, and the British Council. Each tale is illustrated from a collection of 50 atmospheric drawings.
In 1967, at the age of 18, David Green was a volunteer with VSO in the Punjab, Pakistan. Although I was doing VSO at the same time I didn't meet him until a few years later when I was teaching at the progressive Dartington Hall School in Devon. I was responsible for Dartington's links to a comprehensive school in Yorkshire, and my counterpart there was David.
After a short period teaching art, he began to work in a variety of roles at Save the Children. In 1990 he became Director of VSO and it was there that we met again. As Director of Schumacher College, I had asked to meet the people at VSO's HQ in London in order to explore whether they could help identify worthy recipients for bursaries. David introduced himself and reminded me of his earlier connection with Dartington.
In 1999 he became Director-General of the British Council. During his time in that role, he became a Trustee at Dartington Hall, where he is now the Chairman. In all of his professional roles he has been required to travel abroad extensively, and it was in this context that he went to "many extraordinary locations, met some fascinating and humbling people and had opportunities to sit and draw in situations ranging from the magical to the mundane".
The book captures the spirit of VSO very well: I recognise the sense of adventure we volunteers felt, the hospitality we received from hosts, their courtesy in the face of our youthful ignorance of their cultural norms, and the astonishing escapades we undertook and from which we sometimes needed to be rescued, usually by the people in the British Council. Having no personal knowledge of life in the British Council, I assume that David has similarly managed to capture the ethos of life there.
The 50 drawings beautifully illuminate the atmosphere evoked in his stories. Using a Rotring ArtPen and a palette of watercolours – 33 half pans – David's is an inimitable style. With few exceptions the drawings are townscapes and landscapes; ancient temples and vernacular dwellings; insolent camels in Petra, and the glittering Golden Temple that provides sanctuary for sacred rats in Nepal. It is perhaps the selection of colours he uses that captures for us a difference in atmosphere between, for example, Bergen in Norway and the ebullience and biological diversity of a rainforest in Ecuador.
Drawings of people may be few in this book, but each is truly memorable. The one of Benjamin shows a faintly suspicious young Kenyan who, having run to watch this stranger drawing (on the shores of Lake Victoria), suddenly found himself centre-stage as model.
The 1994 drawing of David's parents seems to confirm that two people who have lived together for so long begin to resemble each other. To me, his father appears to be looking for the next challenge, and his mother to be accepting with humility whatever life brings. Their wisdom and resilience seem to speak out from the page.
Likewise, the painting of the Rwandan gardener hints at the horrors he must have witnessed in the genocide. It's a pity there aren't more such portraits.
Halfway between the portraits and the other illustrations is one of Paa Joe's workshop in Ghana in which elaborate coffins, including a shoe, an aeroplane, a bottle of beer and a womb(!), are made for the deceased. Such illustrations do so much more than a few paragraphs to portray the rich cultural diversity remaining in our world. Combining the sharp insights of his tales with the keen observation of his drawings, David has been able to articulate this diversity for those of us who haven't shared his privileged access.