Welcome to Shedland
Donate Now
Issue 273

Jul/Aug 2012
Emerging Networks
Web Exclusives
Article
Welcome to Shedland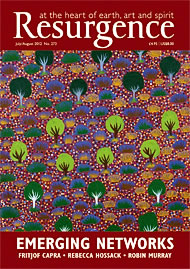 Cover: View of Country by Betty Beasley 2011 www.r-h-g.co.uk
Michael Lewin shares his journey to enlightenment – via the various sheds he has often retreated to!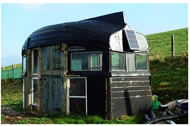 Alex Holland's 'Man Shed' Photo: Alex Holland
I've spent a lot of time in sheds – starting as a child, when I used to venture down the garden path to my dad's tool shed and amuse myself for hours playing around with pieces of wood. Eventually some serious construction took place – the making of assorted toys that meant so much to me. Then later on in life I acquired my own well-equipped 'workshop' shed where I refined and honed my woodworking skills. Here I tackled tasks such as making maquettes of sculptural work, building small pieces of furniture, repairing garden and domestic items as well as, of course, general tinkering. After this the allotment shed provided me with sanctuary – it was where I wrote, meditated on hot summer days, stored my gardening tools, made endless cups of tea and fiddled about (an essential prerequisite)...
'Shedding' has been a big part of my life. I've never been happier than when pottering around in sheds. I suppose it has something to do with being alone in a non-stressful environment under no pressure to undertake anything in particular. I've spent many guilt-free days lounging in one, especially in fine, warm weather, totally undisturbed by the vicissitudes of the crazy external world that surrounds us. There have also been times when I've been so at ease in one, so relaxed and peaceful, that I've fallen asleep.
Nourishing catnaps are not unknown to 'shedders'. Fine music played softly on a summer's afternoon, in a shed, has induced in me beautiful feelings of connectedness and sanctity befitting any stay in a great medieval cathedral or a rural retreat. Given the restricted space of sheds, it's quite remarkable what a range of activities can be engaged in and what benefits can be gleaned. Many times on entering a shed I have been overcome by a deep compulsion to tidy it up. Sometimes this desire has been a fleeting one and I've just ignored it or committed it to a 'Must Do' list. At other times I've had to act on it and spend the entire day rummaging through everything in order to bring some sort of order to the place, tidying up, cleaning, labelling, bagging, gifting and throwing away accumulated 'junk'. Yet even this experience is very pleasurable.
Many distinguished creative individuals have spent time in their sheds working away at their art. The sculptor Henry Moore was one. He lived and worked in rural Hertfordshire and over the years surrounded his home with a number of work sheds, outbuildings and, eventually – as he grew more successful – studios, where he worked for over 40 years. I studied Moore's work many years ago, and what struck me on my visits to Hoglands (his former home) was his persistent pragmatism. The 'sheds' that produced some of the most recognised and revered art of the 20th century had emerged out of fully tooled and 'untidy' workmanlike 'sheds'.
Similarly to Moore, many of my friends have undertaken their creative work in sheds and wouldn't change the experience and process for anything. It's not always about costs, either; some can afford studio space but choose instead to work from home in their small, creative art space.
Another example is Thomas Merton (the 20th-century Trappist monk) who spent time writing, meditating and praying in his shed. He wrote: "I am now almost completely convinced that I am only really a monk when I'm alone in the old tool shed Reverend Father gave me – just back in the woods beyond the horse pasture. True I have the will of a monk in the community but I have the prayer and the silence of the woods in the tool shed...At least now solitude is something concrete, it is St Ann's [the name Merton gave the tool shed]. Out here in the woods I think of nothing except God. I have the late summer sky, watch the silent flight of a vulture and the day goes by in prayer. This solitude confirms my call to solitude. The more I'm in it the more I love it. One day it will possess me entirely and no man will ever see me again."
The humble shed, I would argue, is a refuge, a sanctuary where we can retire from the hurly-burly of modern consumerist society to find peace and quiet to 'recharge our batteries'. Although writers, artists and others have had a long tradition of working in sheds, there now appear to be new recruits to this modus operandi – businesspeople. From accountants to IT specialists, shed working is gaining in momentum. There are even a few employers in the United States who have erected sheds in their large office complexes for employees to use. These cutting-edge companies believe that the humble shed can help inspire creativity in their employees, thus contributing to the overall effectiveness and profitability of the company.
When I was allocated my allotment plot it didn't have much of a shed on it: just weather-ravaged boards barely holding on to rotting supports, and a leaking roof. The wonky door threatened to come off at any time. I managed to use the shed as best I could, but it was never home to me. Then one day, as I was walking home from the allotment site, I happened to notice a large number of marine-ply boards being discarded by a builder. I immediately recognised their value to me and sought permission to take them. Fairly soon, in my garden at home, I started to build a shed. It was constructed in manageable sections so that I could erect it on the allotment plot like an assembly kit.
When it was eventually finished I was amazed at what I had done. Over the coming seasons I spent so much time in and around that shed, especially on long summer days, when my mind just seemed to drift off in wonder and delight at the magical presence of everything real and vibrant in Nature. I felt like Thoreau, who a century earlier had made his home in the woods of New England and wrote so beautifully and movingly about his inspiring experience as "an infinite and unaccountable friendliness all at once like an atmosphere sustaining me...Every little pine needle expanded and swelled with sympathy and befriended me. I was so distinctly made aware of the presence of something kindred to me...that I thought no place could ever be strange to me again."
There is something quite inexplicably magical and mysterious about our attraction to these wooden structures. They seem to have flexible, multiple uses that endear them to our sense of imaginative and creative thinking. Whether we are working, writing, painting, sculpting, pottering, lounging, resting, meditating, praying, pondering, reflecting, sleeping or even shed living, there is always a use for this small, but vital space in nurturing our creative endeavours, and of course, just as importantly, our sanity.
I now can't imagine my life without a shed of some description, and I hope you feel the same...
So all that is left for me to say is, welcome, my friend, to shedland!