The Rise of Real Bread
Donate Now
Issue 275

Nov/Dec 2012
Pricing Nature
Web Exclusives
Article
The Rise of Real Bread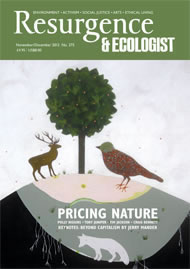 Cover: Three Fold by Helen Melland www.helenmelland.com
Andrea Mynard rediscovers the joy of real bread, baked using ancient grains.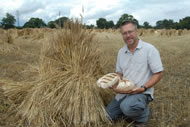 John Letts with his real bread
Artisan bread is becoming increasingly popular, and local, traditional stone-milling is being revived, but some real-bread enthusiasts are taking their interest in the old traditions a stage further by exploring the type of wheat our flour comes from. If we use flour from grain that is itself a blend of ancient varieties of wheat and grown as a 'landrace', as it used to be done in medieval times, it can be better for us healthwise, better for our communities and better for our planet.
Landraces used to evolve over time, naturally adapting to local and regional conditions and resulting in a hardy, high-yielding and genetically diverse crop that produces good-quality bread grain as well as thatching straw. Today, some small-scale farmers are once again growing ancient varieties of grain in this way to produce a flour that is naturally lower in gluten than we've become used to and often more digestible than flour produced from modern varieties of grain. As the grain is hardier it also suits being grown organically and in a low-input way.
Charles Bennett started growing three or four acres of ancient grain four years ago on Sandy Lane Farm in Oxfordshire. He has discovered that the old varieties of grain are "not very demanding crops from a nutrient point of view since they'd rather not have too much residual nitrogen, which means it suits organic growing where bagged fertiliser isn't used. They're good in times of drought too as they're very deep-rooted."
Sandy Lane Farm grows grain for a heritage grains project set up by archaeobotanist John Letts, who also launched Lammas Fayre to sell a range of flours from heritage wheat including rivet (a rare medieval wheat) and heritage pizza flour. Letts decided to recreate his own landrace after completing a research project about grain that had been perfectly preserved in a medieval thatched roof.
The modern farming of wheat in the UK largely favours monoculture on large farms, where the high-yielding modern varieties need high levels of nitrogen, added to the soil in the form of fertilisers. In a relatively isolated medieval society, however, each field contained a genetically mixed landrace. Plants varied in height, ripening time and yield (due to genetic variability as well as uneven growing conditions), and this diversity allowed them to survive frost, drought, high rainfall and disease.
Letts gradually bulked up the grain from his initial research project with over 250 ancient varieties to create a hardy, genetically diverse crop with very good yields. He believes that bread made from the resulting heritage flour has both health and taste benefits: "Bread made from older varieties of wheat is healthier because of the lower gluten content, but it's also because of the baking process."
Chris Young of The Real Bread Campaign agrees and says research has found higher micronutrient levels in certain older varieties. He cites a recent study showing levels of the elements of gluten that trigger the coeliac response as being higher in some modern varieties, and he points out that older varieties did not have a reliance on an agrochemical cocktail of pesticides, herbicides, fertilisers, growth regulators, fungicides and so on bred into them. The more nitrogen in the soil, the higher the gluten content of the grain is likely to be. "There are also people who simply believe that using older varieties offers a greater range of flavours," he adds.
Others are now following suit in growing old varieties of grain. Brockwell Bake Association, based in Lambeth, London, grows heritage wheat on allotments, schools and community gardens, as well as with farmers close to London, and bakes many delicious loaves with the resulting flour.
Addicted to the smell of home baking in the kitchen and having, like many families these days, several gluten-intolerant relatives, I was keen to try heritage flour for myself. In bread, pancakes and pizza dough, the extra flavour was immediately apparent. I was initially disappointed by the lack of 'rise' after leaving the bread and pizza doughs to prove, but I've found that if I use a traditional bread recipe with a long fermentation (leaving a bowl of dough overnight on a cool windowsill), the results are excellent. Not a pappy white dough that triples in size easily, but certainly something with a much more interesting taste and texture.
My initial disappointment was probably because we've all become so used to voluminous loaves of bread. Even if it isn't produced using quick industrial methods, our bread now often uses mostly imported flour with a high gluten content. It's much easier to grow wheat with a high gluten content in hot countries, whereas English wheat is generally lower in gluten because of the weather. English heritage flours rely on wild yeasts developing gently during a long fermentation, which is also much better for healthy digestion.
Lovely then to think that enjoying sourdough and pancakes made with heritage flour can not only be good for us but also help to preserve crop diversity.