Pricing Nature
Issue 275 • November/December 2012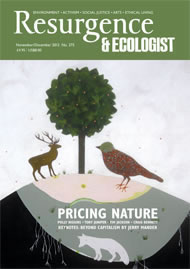 Buy a copy of this issue
Become a member and receive 6 issues a year
Contents
Key
Free for all to view
Free for members to view
Not available
Welcome
Why not create an economy that is self-renewing, self-managing and self-sustaining?
Ecologist
Ignorance and Ineptitude • Tony Juniper
Economics and ecology are two sides of the same coin
The take over of environmentalism by neo-liberals is a confidence trick
The shocking scandal of land-grabbing in Africa
Weather, water and economics have sent food prices soaring. What can be done?
Producing renewable energy from domestic waste
An interview with TV naturalist Chris Packham
Why have we done so little to protect the wildlife of the seas?
A love letter to the Earth
Frontline
Action From the Grass Roots • Lorna Howarth
Grass roots initiatives around the globe
Integration is the key to breaking down barriers
Action beyond Rio +20
The Great Biofuel Debate • Lorna Howarth
How to create energy in a warming world
Ethical Living
Why we need to create space for ethics in business
Introducing a grass roots education movement
Permaculture pioneer Narsanna Koppula on securing food sovereignty for India's rural poor
Reclaiming the countryside for Nature and people
Walking the Mary/Michael Pilgrim's Way
Regulars
Poetry

- That Shiver of Recognition • Peter Abbs

Introducing poems by Pauline Stainer
Letters to the Editors
A selection of letters from our readers
Members' Page

- A Tribute to John Lane • Truda Lane

John Lane was a guiding light for Resurgence and former Art Editor
The Arts
Repair, Rebuild, Reconnect • Peter Cairns
Rewilding the Earth through the unique 2020VISION photography project
The psychological value of being in Nature
Exploring the significance of new Nature writing
Keynotes
Exposing the inherent contradictions of global capitalism
Undercurrents
It's time to radicalise the green movement
The Cinderella Economy • Tim Jackson
On building a truly sustainable green economy
Brockwood Park School encourages students to develop a deeper intelligence
Campaigning in the 21st Century
A time-lapse love story
Reviews
Review of To Uphold the World: A Call for a New Global Ethic from Ancient India
Review of A Guide for the Perplexed
Review of Night Thoughts: The Surreal Life of the Poet David Gasgoyne
Review of Hedge Fund: And Other Living Margins
Review of On Extinction: How We Became Estranged from Nature
Review of The Beauty in the Beast: Britain's Favourite Creatures and the People Who Love Them
Review of The Battle for Life and Beauty on the Earth: A Struggle between Two World-Systems
Review of Future Money: Breakdown or Breakthrough?
Web Exclusives
Introducing four Devon-based artists who are inspired by Nature
In appreciation of real bread and ancient grains
The role and relevance of small cooperatives in rural communities
Quantum physics is the place where ancient philosophy meets new science