Crossing the Great Divide
Donate Now
Issue 277

Mar/Apr 2013
The Quiet Revolution
Reviews
Crossing the Great Divide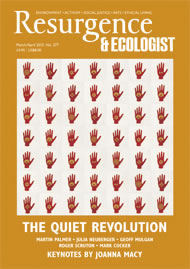 Cover: Awakening by Olivia Fraser www.oliviafraser.com
Kate Rawles cycled across the United States to discover what ordinary people think about climate change.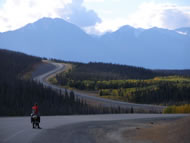 Photo by Kate Rawles
The Rocky Mountain 'great divide' is an invisible, unmarked but almost magical line that defines the fate of raindrops. Fall to one side, and you'll be Atlantic-bound. Fall fractionally on the other, and the Pacific will be where you merge back into the ever-shifting seas. If you are a cyclist on a road bike, the great divide offers a heady mix of fantastic mountain panoramas interspersed with sheer, hard and occasionally almost overwhelming slog.
I wanted a big ride in beautiful mountains, and the Carbon Cycle was certainly that. From El Paso in Texas to Anchorage, Alaska, following the spine of the Rockies as closely as a human on a road bike can, my route criss-crossed the great divide and, at 4,553 miles, was easily twice as far as I'd cycled before. My aim was to try to use the journey as a communication medium. The adventure bike ride would be a sort of Trojan Horse, with a climate change story inside the cycling one.
This was 2006, with President Bush famously declaring the American way of life as non-negotiable – and climate change a non-problem. The two are related, of course – by oil.
The USA is amongst the most oil-hungry countries on Earth, burning billions of gallons a year and releasing tonnes of additional CO2 into the atmosphere. I wanted to know what 'ordinary people' thought about climate change. And, on the premise that solutions often arise where the problem is most acute, I was keen to discover the positive responses arising from within the belly of the oil beast.
I rode the first half of my three-month trip solo. If you turn up alone on a bike with big panniers, and perhaps especially if you are a woman, people come and talk. Where are you headed? Are you crazy? Don't you have a car? Not infrequently they offered to buy me beer, coffee, lunch. It confirmed my view that 98% of people are friendly and helpful and that the world is a safer place for women cyclists than we sometimes believe.
From Texas to Alaska, I asked truck drivers and café customers and bike-shop mechanics their views. Not surprisingly, I got a huge range of responses. Some seemed scarcely to have heard of it. "Climate change?" asked a man in New Mexico. "You won't find anything like that until you get further North"!
At the other end of the spectrum were the Cool City Mayors. Representing millions of US citizens, these mayors had bypassed federal inaction and committed their cities to significant reductions in CO2 emissions. I came to think of this as leadership from the middle. The city or town is smaller and fleeter of foot than a nation-state, yet more effective than an individual acting alone.
My ride was physically challenging and absolutely fabulous. I started in a desert and ended with glaciers running down to the ocean. Bears with shining black fur grazed on berries by the roadside and often a moose would amble in front of me. On one occasion a lynx walked out of the forest and stood on the road just metres away – an astonishing encounter on a journey vivid with contrasts.
Tragically, though the political landscape has transformed since 2006, the climate change story is not remotely out of date. With global emissions still rising, the great divide between where we are and where we need to get to remains as high as ever. The question is how best to tackle it. Can we really prevent runaway climate change whilst keeping intact our modern, Western, high-consumption lifestyles? Or do we need much deeper shifts in our lifestyles, our values and our worldviews?
The Carbon Cycle: Crossing the Great Divide (Two Ravens Press, 2012) was shortlisted for the 2012 Banff Mountain Festival 'Adventure Travel' book award.