The Quiet Revolution
Issue
277

• March/April 2013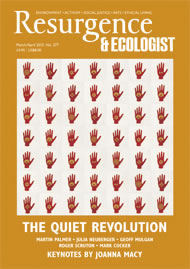 Buy a copy of this issue
Become a member and receive 6 issues a year
Contents
Key
Free for all to view
Free for members to view
Not available
Welcome
The time has come to spread the word
Frontline
Grass roots initiatives around the globe
Promoting bee conservation
Reclaiming Japan's cultural heritage
Helping slum dwellers in Dhaka
Behind the scenes of 'fast fashion'
Ethical Living
Can credit unions replace the high-street banks?
Celebrating the 175th anniversary of the birth of John Muir
An interview with environmental activist Donnachadh McCarthy
Realising a childhood dream of seeing the world by bike
Exploring the alchemy of wine making
The wisdom of wise old owls
Ecologist
Why EU policy makers are interested in Romania's smallholder farmers
Farming with an emphasis on biodiversity rewards everyone
How to maintain robust, biodiverse ecosytems
Why the notion we must curb nature is a myth
A strong people's movement across India is ushering in change
Julia Neuberger on why environmental issues are moral issues
Quotes
Never accept payment for a kindness
Keynotes
We are on the brink of The Great Turning
Undercurrents
Introducing an eco-philosophy that that will benefit all living beings
The life and work of Albert Camus
Faiths are key in helping to protect the planet
We need a whole culture that encourages a deep connection with the wild world
Reshaping the economy without using up natural resources
The Arts
The work of Dorset-based sculpture David Risk Kennard
Part two of the Beauty Dialogues, featuring Roger Scruton
Regulars
A selection of letters from our readers
A tribute to Janice Fixter
Reviews
Review of Celebrating Nan Shepherd's Green Classic The Living Mountain
Review of The Resilience Imperative: Cooperative Transitions to a Steady-state Economy
Review of In Search of Happiness: Understanding an Endangered State of Mind
Review of Corporation 2020: Transforming Business for Tomorrow's World
Review of Fathomless Heart: The Spiritual and Philosophical Reflections of an English Poet-Sage
Review of How Much is Enough? And What Money Can't Buy
Review of Poet and Critic: The Letters of Ted Hughes and Keith Sagar
Review of The Carbon Cycle: Crossing the Great Divide
Review of Sustainability: A Cultural History by Ulrich Grober
Web Exclusives
Eating seasonally enhances our sense of place and participation
Is solar farming the answer to 'green' energy?
Sections of rural society are still using wildlife as scapegoats