Wild Wales
Issue 279
July/August 2013
The Ecozoic Era
Nature Writing Competition
Wild Wales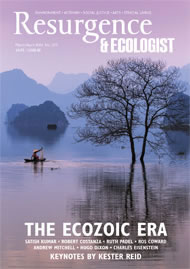 Cover: The Way to Survive', Vietnam © Hoang Hai Thinh
Issue availability
So many talk of change as if it is something to be feared, but in her account of walking the mostly deserted new Wales Coast Path, Julie Bromilow embraces the challenge of what lies just ahead.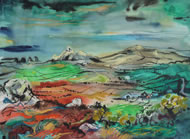 Strumble Head, Pembrokeshire by Luke Piper www.lukepiper.com
I have so far walked 500 miles around the edge of Wales and have yet to meet anybody knitting by the side of the road.
I roll up my tent when there is enough light to see my rucksack. Ducks rise and circle the water field, leaving as they arrived the night before when the sky was pink. A startled hare pauses its journey across the field, shrinking low and lower until it cannot be seen among the divots. There are wet leaves in the grass, yellow mushrooms clustering at the kissing gate, and in the sycamore lane scuttering pheasants crash through the trees.
A pink television light wobbles through a dark window at a huddle of bungalows. On the path, I meet a stoat with a wren in its mouth. We regard each other long seconds before it turns to loop back into the hedge. It is two hours before I see a person – far below me on a beach, jogging with abandon, snatched song tossed up the cliff by the wind. It will be two hours more before I see three builders on a roof, and two more again before I speak to anyone, when I order coffee in a beach café.
Things were different when George Borrow walked around Wales in 1854. He was an enthusiastic English gentleman who talked to people he met along the way, astonishing them with his accomplished use of Welsh. He wrote a cheerful account of his journey in his book Wild Wales and what impresses me most is the sheer number of people he met in the countryside. Stone breakers, Irish fiddlers, millers, masons, tree fellers, gypsies, drovers and knitting women all populate his pages, which are merry with dialogue.
My journey is quieter. I am walking 1,027 miles around the edge of Wales, my adopted country, via the new Wales Coast Path and the longer-established Offa's Dyke Way. I walk alone on weekdays and Rob joins me at weekends bringing chocolate and love. We have a small budget, camp at night and cook breakfast on beaches and in fields. Winter has determined a pause – we'll resume in the spring with the light. I have walked on duney soft paths, smelled blackberry scent grasses, lain on rabbit thump headlands to watch Atlantic grey seals, crossed gorsey fields and lorry spray roads bordered with ragwort, campion and scabious that tremble in rain, and talked to the salt marsh sheep. There are moments of beauty and reflection. Sometimes I meet hikers, often I meet dog walkers, especially when near to car parks. Some days are even busy – a Flintshire County Council litter truck joined the crowds at Jubilee Tower on a blue day in the Clwydian hills. Occasionally I try out my uncertain Welsh and no one is astonished. When we have money to spend, we meet café people, campsite folk, and shopkeepers. But if there is none and we pass through no towns, we sometimes meet no one at all.
Just north of Bangor, rain was approaching. A few stubbly fields away from the path, the train frequently passed, passengers blurred and unseen. The water was high up the salt mud flats. I boiled noodles among the bladderwrack; the paper mushroom bag caught alight and burned to flimsy fragments dark and whimsical as the clouds over Puffin Island. I looked across the estuary green grass at the magnesium light and washed my cooking pot in the silt-lapping Menai Straits. Squadrons of piping oystercatchers ranked up with black-backed gulls, herring gulls, crows solitary among them, and overhead a murmuration flashed silver against the ink sky. I camped in an oak copse and saw no one.
I have grown to love and anticipate countryside walking as an act of solitude and contemplation, though I sometimes hear the whisper of old drovers on bare and empty hills. When dusk falls and I pitch my tent, I imagine crossing meadows in the summer dark with George Borrow, returning the 'nos da' greetings of homebound folk.
Sheepdogs swirl in a field. There are berry ropes in the hedge and lingering harebells on muddy paths. Smashed orange beech leaves smudge the lanes, cashmere clouds soften the hills and crab-apples lie crushed on the tarmac – in autumn the hillsides appear knitted. Sometimes there's a tractor, and once a rosy farm lad raced his quad bike over the field to correct my route. George Borrow would stop and talk to gangs of reapers about poetry and religion, but farmland here is barely populated now, and rarely arable. Musing among the scarlet pimpernels at the edge of a wheat field on the Llyn peninsula, I was boom-shocked by an automated crow scarer.
Of course I have met people – just far fewer than George Borrow did. He met more in a day than I would in a week, but they colour my diary too. Away from the billowy Shell Island campsite tents and car radios, kids and dads scragged for causeway crabs. Wildlife Trust bracken clearers raked paths next to their Land Rover, big coffee mugs on the dashboard. Anglers were out on the south coast of the Dee – kids threw stones in the sea, men sat on tackle boxes and one watched his rod from inside his car.
A winkle digger at Criccieth dug hasty buckets with a fork on the tide line, and three contractors repaired a Nefyn fence. Sherry-faced hunters tumbled from a barn at Carmel Head – with their guns – straw caught in their jumpers. The organ repairers at Bodfari church told me I was lucky to find it open then tripped the electricity – there was a flash and a mournful curse from behind the chapel screen as I tiptoed out. On Porth y Nant a check-shirt beachcomber shared a rover's grin, and an old man dug muck into his allotment at the edge of Holyhead. None of these rare and cheery encounters led to conversations, and no one asked if I was there to buy hogs, though a salesman in Penegroes watching me sit on my rucksack to wait for Rob's bus did come and ask if I had any need for Sky TV.
The sun rose raw and fiery over the frosty hills. Puddles had skin ice that cracked on the cinnamon moors. The clear sky bowl was blue and cold and still. Two mountain bikers called a greeting as they scrambled the paths, black grouse crouched in the leking places and far away an owl surveyed the heather husks from a rock. Hours further along, under the limestone cliffs at the Edge of the World, fieldfares hustled in a hawthorn tree newly arrived from Scandinavia, come for the berries, and old moss furnished a wall.
People standing in their yards would invite George Borrow in for some tea or ale but I walk through streets and whole estates that seem to be unoccupied. In the neat empty Llandudno suburbs next to the bird berry crag of Little Orme just one man is out in the sun, power-washing his drive. He doesn't invite us in to see his bible, he doesn't even say hello.
But when I arrive at a farm campsite past Aberdaron after hiking up weary from the fishing creek, the farmer's wife invites me into her kitchen for tea. She talks to me of errant boys and motorbikes while detergent dish steam billows round three large bags of Yorkshire puddings defrosting on the draining board. Her husband John laments the lapse of rural life. "There are no jobs for young people any more," he says. "Just sheep farming and the council, and the council look after themselves. Retired people move in; we don't meet them till they're in the doctor's waiting room, and when they die they go back home. Not many English in the graveyards," he says. But it doesn't matter to him what language is spoken, only that the shops and schools and pubs are busy. Anyhow my Welsh is the wrong kind of Welsh, he says kindly, "not much use this far North".
I sometimes hear the whisper of old country folk but I'm not yearning for a gone era – times are always changing. Life was hard for the Irish refugees, the urchins and the quarrymen, the lime kilns burned acrid and stifling, the valleys round Swansea were 'full of blast and smoke' and in truth I'm not much good at knitting. Sheep subsidies and grain imports did away with the oat fields, and supermarkets killed off the Pembrokeshire cauliflowers, but long before George Borrow went a-roaming, forests covered the hills. Times have changed, and they'll change again.
Researchers show how we could respond to the challenges of climate change by altering the way we use land. Reduced grazing and an increase in carefully managed food and energy crops would mean that the land could capture more greenhouse gases than it releases. We would have a more diverse countryside than today, with agriculture pushing into towns and cities, and an increase in wildlife as well as rural livelihoods. Agriculture would be less intensive, and people would once again work in the fields and woods.
Montgomery canal is frozen. This section is no longer used as a waterway, and ducks nibble at the edges of ice. Moorhens walk across it and floating swans keep their heads buried under their wings. Crimson berries are frosted, birds chatter in the ivy. I cross lump hard fields in which Offa's Dyke is a gentle swell and sheep look brown against the stricken white. Behind the hedge the hill line has vanished in a glacial mist, and below it yellow headlamps speed unsteadily along the A458, a lorry pulled up in a lay-by. Further along and into the hills, I watch a hare race across the high white field at Beacon Ring and a distant farmer tossing hay from his tractor. Cobwebs are frozen white and trembling on hedges and trees. It is not till late afternoon that I meet anyone – a sprightly old couple bent over their sticks and eager to greet. "It's such a lovely day, we couldn't stay inside," they say. "We've come out to look at the frosty trees." I leave them with a smile and a spring in my step.
I love countryside solitude but also to meet people busy about the land – blackberry pickers, fishermen on rocky headlands, conservationists baling heather. I loved to glimpse an old man climb secretly over a gate in a shady green wood with his fishing rod. I hear the whispers of George Borrow's old country voices along empty roads and like to think they might also anticipate the future, when fields and lanes are once more lively with folk. I don't expect peat carts and roadside knitting to replace four by fours and television but I can believe we might once again have the time and inclination to pause, and pass the time of day.