Small Ideas Big Future
Donate Now
Issue 288

Jan/Feb 2015
Power to the People
Welcome
Small Ideas Big Future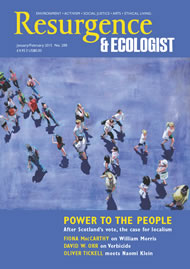 Cover: Painting by Sara Caracristi www.caracristi.blogspot.co.uk
Social justice, environment and peace are ever more important.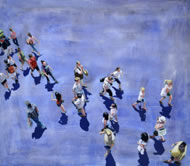 Painting by Sara Caracristi www.caracristi.blogspot.co.uk
Chaos theory holds that seemingly unrelated events may have a connection. A butterfly flaps its wings one day; a hurricane blows up weeks later. There is a ripple effect. The campaign surrounding the recent referendum on Scottish independence has had similar repercussions, generating widespread debate over the need for greater localism and more autonomy in our lives – for power to be truly devolved to the people.
This New Year issue of Resurgence & Ecologist reflects this debate, with an extended feature in which writers examine the Scottish campaign and discuss its consequences for other parts of the United Kingdom. The debate is not confined to the British Isles, as the recent ballot in Catalonia, or the eagerness with which Parisians voted for city-wide environmental initiatives (see our Frontline pages) showed. Localism is an idea that has taken off.
The idea of devolving power, that more local institutions might be more appropriate to people's needs – that small can be beautiful – is one that Resurgence has been advocating, along with other causes relating to environment, activism, social justice, ethical living and the arts, since our first issue, almost 50 years ago. Today those concerns are as valid as ever – and if anything are even more pressing. So elsewhere in this issue you will find Naomi Klein interviewed on the need for united action in the face of the climate crisis, Vandana Shiva and Craig Sams revealing the ecological imperative for protecting the soil, and Max Lawson on the urgency of curbing the lobbying power of the fossil-fuel industry.
Our ideals and interests are international as well as local. In this issue, Adam Weymouth reports from Alaska on a campaign for Indigenous people's rights and the distinguished American environmentalist and critic David Orr writes perceptively on the dangers of debasing our language. The social commentator Jeremy Seabrook pursues the myths of the market, and in the first of a new series of articles on religions and the environment, Rob Burbea explores Buddhism and its relationship with Nature.
Our arts pages, as always, reflect our concerns and ideals. Fiona MacCarthy discusses the work and influence of the great Victorian visionary, artist and political radical William Morris; the Indian sarod player Amjad Ali Khan talks about music and spirituality; Ian Skelly visits the Prince's School of Traditional Arts, a beacon for the development of craft skills; and the poet Matt Harvey writes of his time working with a renewable energy company. Together with our many regular columnists and features, we hope this issue will provide enjoyable and stimulating reading to last well beyond the holiday season.
As we enter 2015, the causes for which Resurgence & Ecologist stands are as vital as ever. We will continue to strive for them.
We wish all our readers a peaceful New Year.