When the Grass is Not Greener
Donate Now
Issue 288

Jan/Feb 2015
Power to the People
Ethical Living
When the Grass is Not Greener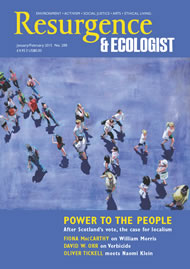 Cover: Painting by Sara Caracristi www.caracristi.blogspot.co.uk
Jane Hurst urges an alternative to lawns for those planning their gardening year.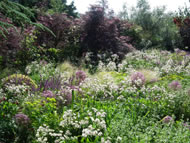 Fig 1. Naturalistic planting by Jane Hurst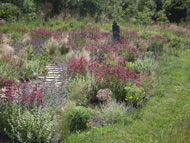 Fig 2. Expansive meadow-like planting by Jane Hurst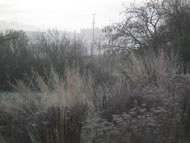 Fig 3. Naturalistic planting in winter by Jane Hurst
The lawn has traditionally been one of the most treasured features of the British garden – whether a rough kick-about patch or an expanse of highly maintained, perfect sward. The latter has always been a much-ridiculed British obsession, even as the fashion for lawns has spread around the world.
From the Middle Ages in Northern Europe (where the climate is suitable for its cultivation), the aristocracy boasted areas of lawn – managed by labour-intensive scything and shearing. Seen as a status symbol, lawns continued to flourish through the 17th and 18th centuries – with André Le Nôtre's design at Versailles, and in England through the work of William Kent and Lancelot "Capability" Brown. And in 1830 the lawn was further popularised following the invention of the lawnmower by Edwin Beard Budding, an Englishman from Stroud.
With global warming, however, these lawns will become increasingly unsustainable. In those regions facing higher temperatures, increasing irrigation will be necessary to prevent discoloration and dieback, putting pressure on water resources. In some parts of the United States, morning-only lawn sprinkling restrictions have been introduced.
Lawns will also continue to grow through the milder, wetter winters likely to become the norm in some regions under a changing climate, increasing the use of motorised mowers, which create noise and air pollution, and of chemical fertilisers, pesticides and herbicides with all their environmental disadvantages.
Naturalistic planting offers a beautiful, more sustainable and less expensive alternative to lawns in gardens. Inspired by the aesthetics of wild plant communities, it aims to match closely the ecological requirements of plants with the conditions that prevail at the planting site. These schemes require little or no irrigation and are low-maintenance.
Naturalistic planting was brought to Britain in the 1990s by Piet Oudolf, the figurehead of the New Perennial movement, the roots of which go back 100 years to Karl Foerster in Germany and William Robinson in Britain. Oudolf's work in the UK includes the borders that lead down to the glasshouse at the Royal Horticultural Society's garden at Wisley, the walled garden at Scampston in Yorkshire and, recently, the thrilling planting at the Hauser & Wirth gallery in Somerset. Oudolf has also created an extraordinary planting along the High Line, a disused railway line that cuts through Manhattan and has proved remarkably popular as a release from the pressures of New York city life.
Traditionally, borders are cut back in the autumn, but naturalistic plantings are left standing and look beautiful during the winter months, taking on an almost sculptural quality, especially after a hard frost. Oudolf says: "Dying in an interesting way is just as important as living." As well as their aesthetic appeal over winter, the plants provide a valuable food source and habitat for birds and other wildlife when pickings are lean.
The joy of naturalistic plantings is that they are an immersive experience. Whereas traditional borders are generally seen from a fixed viewpoint, naturalistic plantings are seen in the round, with paths leading through them, and seating areas created within them. They help define an area, creating the impression of far more space than is actually there, whereas the eye would simply wash over the equivalent area of lawn. They are also havens for bees, butterflies and other wildlife.
Fig 1 shows a naturalistic planting that replaced an area of neglected, moss-dominated lawn in my garden five years ago. A mown grass path leads to a seat in the middle. The white-flowered Astrantia major 'Alba' has been a great success, flowering over a long period and in semi-shade. This plant used en masse would be perfect for replacing an area of lawn struggling under a tree's shade.
Fig 2 is an expansive, meadow-like planting in full sun. It receives no irrigation and is low-maintenance. The number of species is limited. Swaths of Penstemon 'Andenken an Friedrich Hahn', with bright pink flowers, provide brilliant colour for most of the summer. This works very well with the deep-blue Salvia verticillata 'Purple Rain', which originates from a similar barren, well-drained habitat. A path leads through the planting to a seating area. In late summer, Sedum 'Herbstfreude' and the airy, mauve-flowered Verbena bonariensis join these plants and both encourage legions of butterflies. Grasses are an important element in these plantings, moving in the slightest breeze and looking magical, especially in low light. In both these schemes, Nasella tenuissima ('pony tail grass') has been used. Even in the depths of winter (Fig 3) many grasses are still looking wonderful.
The cost of maintaining a 5m x 5m area of perfect sward is approximately £700 a year, based on mowing and trimming edges 36 times, scarifying and aerating once, and weeding and feeding four times. Lazily neglecting scarification and aeration for a couple of years resulted in a plague of chafer grubs in my lawn last spring. After a week's feeding frenzy by crows, the bulk of the lawn had transformed into a muddy, grassless expanse. The equivalent area of naturalistic planting would cost about £180 per annum to maintain. The planting is weeded up to four times a year. It is cut back in March and then a mulch of compost is applied, which helps to suppress weeds and retain moisture.
Naturalistic or perennial meadow planting is suited to a wide range of gardens, rural or urban, large or small, in sun or shade. The lawn could be reduced or dispensed with altogether. Shrinking a lawn to the size actually used – as a play area for children, for instance – and replacing the rest with an area of naturalistic planting cuts down dramatically on maintenance costs at the same time as benefiting the environment. Look out of your window now, in mid-winter, and imagine wonderful, sculptural frosted spires, umbels and bobbles amongst gently swaying grasses, with robins, wrens and great tits weaving in amongst them, feeding.
Pam Lewis has created a haven for wildlife in her beautiful Dorset garden, Sticky Wicket. She writes in her book Making Wildflower Meadows: "I keep dreaming that if just 10% of that vast acreage of gardens became patches of meadow, we could reinstate 10,000 acres of butterfly and other wildlife habitat … and leave a more gracious and sustainable environment for the generation behind us."