The News Behind the News
Donate Now
Issue 289

Mar/Apr 2015
We Need New Stories
Web Exclusives
Review
The News Behind the News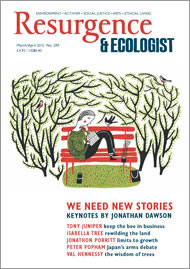 Cover: The Red Bench by Mina Braun www.minabraun.com
Paul Matthews wrestles and rejoices with a book of poetry. Monuments by Jay Ramsay. Waterloo Press, 2014. ISBN: 9781906742720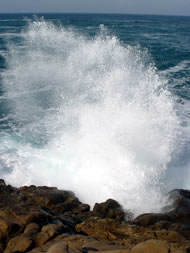 Photo by Mirko Delcaldo www.delcaldo.com
To read is to wrestle. Jacob wrestling with his angel said, "I will not let you go unless you bless me," and that is what I'm saying to this fat volume that has dropped through my letter box 100 years to the day since the Great War broke out.
The opening poem of Jay Ramsay's book, addressed to Ted Hughes, is very fine and moving. Others, less self-contained, build a momentum as they move in sequence. I do find myself asking whether I want poetry to admonish me with statements (however true) like When men stop hating women | the world will be saved. I wrestle with myself… Is it rhyme I'm waiting for to transport me? A more obvious lyric? But here is the clue to resolving this: these poems are all moments that stand beyond themselves as metaphors – to embody (not talk about) the shift in consciousness Jay's poetry calls for so full-heartedly.
This poet has courage to assume a wide scope for his work. "Myth is the truth of fact," said Kathleen Raine (one of his mentors). And, says Jay, There is always a story bigger than you or me. I am glad to meet in these pages someone with the capacity to interpret the News behind the news of looters (for instance) removing gold from Baghdad palaces: Ask any alchemist: all you can take | is its reflected light inside you. Jay is a compassionate witness to intimate lives and world catastrophes – women holding their dignity in the face of barbaric mistreatment; devastating tsunamis. Can a killer wave show us the way? Dedicating poems to them, he lifts these trials "out of time", and places them within a meaningful and evolving story. This he does most beautifully when contemplating the contrasting sides of his dead father's face.
Wilfred Owen, writing poems 100 years ago at the battlefront, said they were "not about heroes"; but this book calls the hero in each of us to join the battle for the human soul and Mother Earth. When times are dire "poets must be truthful" – that's Owen again – and Jay is faithful to this. He accompanies events of the 2003 Iraq War in a powerful poetic diary, and as his mind ranges far out, the inwardness of fact distils into true images, the juxtaposition of Oil, or human blood. | Hatred, fear and revenge - or love. Particularly striking is his suicide bomber stepping astonished after death into a place of love.
Love is the crossing point between the book's two voices. The sequence written during the author's time as resident poet in St James's, Piccadilly begins with Traveller, stop a moment. | It is time to stop time, to step inside. He reaches inward, and love's lyrical voice does indeed begin to sound behind what's personal. It is the ultimate theme in all Jay Ramsay's writing. I don't take easily to being told that love is all we need (Jacob's angel wounded even as it blessed), but this poet does not shy from raging at dictators and makers of chemical weapons who no longer show in their countenance what William Blake (baptised in that same church) called "Love, the Human Form Divine". Anger is love's companion here. It burns to purify, testing whatever's sham in being poetical. Jay's voice is generous and authentic.