Climate Protests Target Fossil-Fuel Firms
Donate Now
Issue 292

Sep/Oct 2015
Lines of Hope
Frontline
Climate Protests Target Fossil-Fuel Firms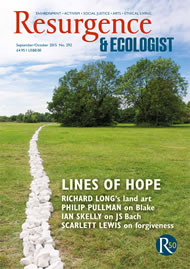 Cover: Boyhood Line, 2015 by Richard Long. Photograph: Max McClure
Day of action hears calls for renewable energy. Kara Moses reports.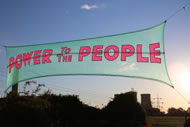 Climate action camp Didcot power station © Reclaim the Power
A day of protest against climate change and the fossil-fuel industry saw actions across Britain in June, targeting companies and supporters of the industry including PR firms, lobby groups, government departments and art galleries.
The protests came after hundreds of people gathered at the Reclaim the Power mass climate action camp near Didcot power station, between Oxford and Reading, in May. Over a long weekend, workshops were held on topics including direct action, fuel poverty, international struggles and grass-roots organising around the UN Conference of the Parties (COP) climate negotiations in Paris this December.
In 2014 the coal-fired section of Didcot power station was demolished after becoming unprofitable in the face of European Union anti-pollution legislation, but in December 2015 RWE npower, which owns the plant, will decide the future of the remaining gas-fired section. The protesters say that lobbying by energy companies such as RWE npower is weakening legislation and holding back progress on a global climate deal.
"This is part of an international day of action against the fossil-fuel industry and its stranglehold on the COP," said Kerry Fenton from Reclaim the Power. "Didcot power station represents the unfinished job of kicking coal out and the uncertain future using more gas would bring.
"Thousands of people are dying each year from climate change and fuel poverty in the UK and abroad while energy companies rake in millions in profit and avoid paying tax. The barriers to a just transition from fossil fuels to community-owned renewables are political, not technical. The community-led renewable solutions thriving in countries like Germany are what is needed here in order for communities to reclaim their power and their future."
For more information: www.nodashforgas.org.uk