No Room in the Market
Donate Now
Issue 292

Sep/Oct 2015
Lines of Hope
Ecologist
No Room in the Market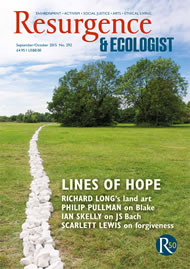 Cover: Boyhood Line, 2015 by Richard Long. Photograph: Max McClure
Aditya Chakrabortty meets the new breed of housing activists.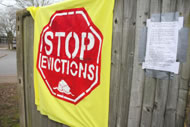 Photo © sweetswayresists.wordpress.com
The day before Britain's general election in May, some actual politics broke out. In Barnet, on the leafy northern outskirts of London, a few dozen protesters converged on a tall grey office block. This is the premises of Barnet Homes, which manages social housing in the borough, and inside the building its chief executive was meeting a woman with nowhere to live.

Until those protesters showed up, Juliet Azie's case appeared hopeless. She was facing eviction from her home of the past four years, so that it could be smashed up and rebuilt as something far more lucrative for the developer and much more unaffordable for her. Barnet Homes had shown Juliet other options, but when they didn't suit, officers declared they had no further obligation to house her. The single mother and her four children had nowhere else to stay.

Then kicked off a very 2015-style demonstration. Call-outs were issued on social media, stating Juliet's case and giving a rendezvous to protest, attracting a mix of housing activists and neighbours. One accompanied her into the meeting with Barnet Homes, while others stood outside the building where the family's future was to be decided, clutching signs reading HOUSE JULIET and THESE PEOPLE NEED HOMES. Amid the aggressive rain, they began to lie down in the middle of the A-road outside, blocking the traffic on one of the main arteries into the centre of London. Within hours, Barnet Homes relented, offering to help Juliet and her children find somewhere else to live.

What makes this protest contemporary isn't just the technology: it's also the subject. Thanks to soaring prices and a predatory rental market, housing is once again a political issue in London and elsewhere. Except it's not the politicians leading the debate: it's people taking direct action. However picturesque the Barnet demo, it was one of many housing actions held pretty much every week. Just before writing this article, I quickly checked Twitter. It told me of activists talking to residents in north London's Camden, of street stalls held in east London's Stratford, of a protest about to take place in Essex in support of a homeless 22-year-old ("URGENT ACTION: No to homelessness! Tell Redbridge council to house the vulnerable tomorrow 2.30").

And those are only the ones I've heard about. The week before the blockade in Barnet, the Midlands city of Coventry was the site of another housing protest. Just as bailiffs were coming to evict Archie Millar, 30 demonstrators massed outside his house. The outgoing coalition government's introduction of the 'bedroom tax' – penalising benefits recipients deemed to have surplus rooms in their homes – had left Archie without enough money to pay his rent, so he'd fallen into arrears. After an hour-long stand-off, the eviction was called off. And in London over the past few months there have been numerous occupations on council estates facing 'redevelopment': east London's Stratford, south London's Brixton, central London's Elephant and Castle…

The new housing activism has nothing to do with the stilted choreography and talking points Britons yawned over during the election campaign. It has none of the polite circumspection of the usual protest march, which goes from A to B and achieves nothing along the way.

To get a feel for what it looks like, you only need walk a few minutes from the location of that stand-off in Barnet. That takes you to the Sweets Way estate, the original home of Juliet and her children and over 140 other households. In early March, as the families were moved off the estate and the houses were boarded up, protesters moved in. It became the longest-running political occupation in the capital, the activists holding on even after court battles and forced moves.

What strikes you on visiting the Sweets Way occupation is how nice the four-bedroom house is. An estate agent would need little embroidery in the write-up: handily located for all amenities, lovely garden, double glazing, full carpeting… Yet in a city where over a quarter of a million households are waiting for a council home, it was left empty.

Wander over to the living room, where families from Sweets Way regularly gather in an atmosphere of cosy domestic radicalism. The mothers hand round cake; the children run in and out of the garden. Then the parents talk about West Hendon, the council estate handed over by Barnet to the developers Barratt to turn into luxury flats, and compare their situation to the enclosures of the 18th century.

Sweets Way is a living, talking example of what Sam Middleton of housing group Focus E15 calls 'Made Activists': "None of us started out radical, but we have no other choice." And it's a reaction to two major failures: one political, the other to do with the market.

The political failure runs across all of the major parties and can be summed up simply: no leading politician will allow houses to drop in price to a level where they become affordable. Indeed, David Cameron and George Osborne have spent the past five years doing everything they could to pump up the property market, with a variety of funny-money schemes and subsidies for landlords. As for Labour, Ed Miliband went into the election touting goals for more new houses – but without any credible commitments of how to raise money to do so, or even whether these new homes would be affordable. And both sides are in favour of reducing the social security net, thus pricing ever more poor households out of their homes.

The second factor is even easier to state: property developers are not interested in providing homes that the majority of Britons can live in. The consultancy KPMG calculates that any first-time buyer in London needs to be on a salary of nearly £77,000, yet the average annual wage there is just under £28,000.

In Britain today, the only easy way to buy a house is to own one already – or two, or three. Whatever our politicians might say about the need for greater social mobility, this is a system they've helped bring into being. Last year, the chair of Barnet's housing committee, Tom Davey, claimed that his council was providing affordable housing – because people were buying them. An objector pointed out that only the wealthy could afford them, and the young Tory thumped the desk, saying: "Those are the people we want."

When the market has no room for you, and the politicians have no time for you, you don't have many options left. Perhaps that, better than anything else, explains the rise of the new housing activism. So far it is small and under-resourced – but to my mind that makes it all the more remarkable. Because the lesson it offers is very stark: push previously unpolitical people into a tight enough corner, and they will turn political pretty quickly.

For more information contact Sweets Way occupation: www.Facebook.com/SweetsWayResists
Twitter: @SweetsWayN20