Time to Feast, Time to Fast
Donate Now
Issue 293

Nov/Dec 2015
Go With the Flow
Ethical Living
Time to Feast, Time to Fast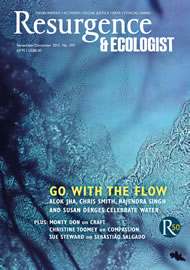 Cover: Cover image: River Taw (1998) by Susan Derges www.susanderges.com
Our daily diet should reflect and respect the seasons, not limitless consumption, says Julia Ponsonby.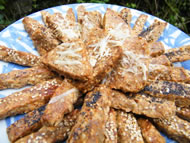 Cheese, walnut and rosemary straws Photo: Joanna Brown
As those of us in the northern hemisphere move into the winter months, we find ourselves heading towards the shortest day of the year, a time when there will be more hours of darkness than daylight. From the winter solstice onwards, the hours of daylight gradually become longer. Something to celebrate, perhaps?

In the pagan Roman world the feast of the Unconquered Sun (Sol Invictus) was matched to this day in late December and early January. Nowadays the Christian world celebrates the notion that at this moment the 'Sun' (or Son) of righteousness was born into our world. Thus the coming of the light was both literally and metaphorically celebrated with the birth of the Christmas-Epiphany celebrations, which included feasts.

Because the astronomical events that coincide with this time of year in the northern hemisphere are so fundamental to premodern experience, it's not surprising that the winter solstice was also taken by the ancient Egyptians as the moment to celebrate the birthday of Osiris, by the ancient Greeks to celebrate the birthday of Dionysus, and by the Norse people of Scandinavia to celebrate the birthday of the goddess Freya. Falling during the November-December period is the Jewish celebration of the rededication of the temple in Jerusalem, Hanukkah, also known as the Festival of Lights. In India, at roughly this time, the Hindu Festival of Lights, Diwali, culminates in an explosion of fireworks reminiscent of the UK's 5 November Bonfire Night. All these festivals are associated with the joy of welcoming light back into the world.

Today our lifestyles have become largely unpicked from the natural and seasonal landmarks that once entered our consciousness on a daily basis directly from the big outdoors – the darkening skies, the cold, the poverty of the soil. All these we would have noticed and struggled with to a far greater extent without the veils of modernity that come in the form of indoor heating and lighting, greenhouses, lavishly stocked supermarkets and the global transportation of both people and food.

The consumption of fossil fuels that feeds this false sense of perpetual abundance represents another variable that we do not see clearly for what it is. Energy supply is so smoothly tailored to our perceived or 'gross' needs in the modern world that we are veiled from seeing it as a finite commodity. We do not see the way in which resources are being plundered to create comfort. Electricity – potted sunlight – can be turned on at the switch of a button, and has no season to it.

Traditionally, feasts came as markers of natural, historical, religious and personal events. They often took place at times of the year when people needed a boost – coming together to celebrate the return of the sunlight that in turn heralded another year of fecundity in the realm of plants, animals, birds and bees. Feasts were to do with affirming social cohesion and they reminded us of the rhythmic ebb and flow of our natural and cultural calendar, and how both are intimately intertwined. Feasts also took as their medium the food that was appropriate to the season, so that in the sparse winter months dried fruits and nuts often formed the basis of the sweetmeats being created for the feasts. By contrast, in springtime, the new shoots ushering from the earth – such as asparagus – could bless a banquet.

Today, we have reached a crescendo of feasting on the Earth's resources that is symbolic of the way in which our out-of-kilter patterns of feasting and fasting need to be reined in and respectfully re-established. This is where fasting – the counterpoint of feasting – comes into play. As we get ready for any period of feasting, we need to step back, hold back, and punctuate life. Pause for thought. Let our stomachs rest and our brains refocus. Fasting is not about dieting: rather it is about noticing, or anticipating, bad habits, and stepping out of them. Thus when we decide to go on a 24-hour fast before the feasts of solstice time – or any other feasting event – why not make it a fossil-fuel fast too?

Cheese, Walnut & Rosemary Straws
The secret of a good cheese straw is to make it really cheesy and really 'short', so it melts in your mouth and you feel like you want another immediately! MSG, eat your heart out!

My recipe has evolved over many years – since I was asked to make them for the cocktail-party-style launch of an upmarket kitchen showroom. My 'agent', Theo Woodham-Smith, said my straws weren't quite crisp enough and gave me her recipe, which contained far more butter. My current version is an amalgamation of Theo's long-lost recipe, Delia Smith's rich walnut pastry, and rosemary from the garden.

The dough can be prepared in advance, cut to shape and frozen. When you want to serve the straws, all you need do is whisk them out of the freezer and bake them until golden-brown.
INGREDIENTS

75g brown flour

150g white flour

125g butter

50g smoked cheese or mature Cheddar, grated

50g medium or mild Cheddar or Leicester, grated

25g fresh Parmesan, finely grated

100g walnuts, quite finely chopped

¼ tsp fine salt

⅛ tsp cayenne or black pepper

the leaves of two 8cm fresh rosemary sprigs, very finely chopped

1 egg, separated

1 tbsp cold water

1½ tsp olive oil

1 rounded tsp smooth mustard

4 tbsp sesame or poppy seeds (optional)
METHOD
1. Combine the brown and white flour in a bowl with the roughly chopped, room-temperature butter. Rub in the butter to obtain a bread-crumby consistency.
2. To this add the grated cheeses and the walnuts. (If preparing the walnuts in a food processor be careful not to grind them completely into 'sand' – they should still have some texture, like coarse grit.) Add the salt, pepper and chopped rosemary leaves. Mix these together.
3. Add the egg yolk, water, oil and mustard and mix to form a stiff, malleable dough. Add a little egg white if the dough does not come together easily. (Reserve the remaining egg white for later.)
4. Take a grapefruit-sized portion of the dough, knead it briefly and roll it out on a lightly floured surface to about ½ cm thick. Using a sharp knife, cut it into a rectangle and then remove the outer edges. Paint it thinly with beaten egg white and then, if you wish, sprinkle it with sesame or poppy seeds and press them down gently with the rolling pin. Cut the rectangle into smaller fingers (say, 5cm x 1cm). You can also use a cutter to make round cheese biscuits.
5. Continue to roll out and cut the rest of the dough. If freezing or refrigerating the dough to bake later, pack single layers of the straws (or rolled-out slabs of dough ready for cutting after freezing) between layers of baking parchment. This will make them easier to get out later.
6. When it's time to bake the cheese straws, heat up your oven to 200 °C. Lay the cheese straws out about a finger's width apart on some baking parchment or a buttered/oiled and floured baking tray. The frozen straws will defrost very quickly and can be spread out whilst still frozen. Bake until the straws have turned a tempting golden-brown and are sizzling and smelling delicious (15–20 minutes). Cool and serve. Once cold, the cheese straws can be kept fresh in an airtight box or tin for at least a week.

This is an edited version of a recipe that first appeared in Schumacher College's second cookbook, Gaia's Feasts: New Vegetarian Recipes for Family and Community by Julia Ponsonby and Friends at Schumacher College, published by Green Books in September 2014.