A Diet for Every New Year
Donate Now
Issue 294

Jan/Feb 2016
A Food Renaissance
Ethical Living
A Diet for Every New Year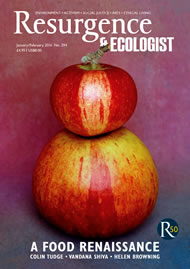 Cover: Cover image: Tessa Traeger www.tessatraeger.com
By understanding the seasons, you can avoid faddishness, says Julia Ponsonby.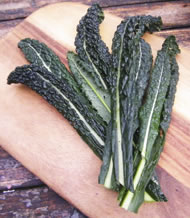 Photo by Julia Ponsonby
Have you ever wondered why you need to give up anything at all after the indulgences of Christmas? If you have, then it is very likely you are the kind of person who naturally tunes into the kind of healthy seasonal diet that Christmas used to be about before it got taken over by huge turkeys, crackers and chocolate.

Traditionally, Christmas in a northern, winter climate offered the best preserves of the season – and the fat of the land, be it in the form of suet and brandy butter, or roast potatoes made with lard and goose fat. As a vegetarian, I am not so keen on the lard and goose fat, but I do enjoy a dab of brandy butter on a Christmas pudding plump with revitalised dried fruits, and bread sauce on my (chestnut-embellished) sprouts!

Of course, there is a temptation to over-indulge when great banquets are offered, but let's not forget that the patterning of our lives, and of the lives of many other species, over many thousands of years, is closely coupled to what the seasons offer. This varies in abundance during the course of a year.

Humans have cleverly learnt to work with this by using preservation techniques that allow out-of-season alternatives to be pulled out of the cupboard (or freezer) with a flourish when they are no longer available in the garden. However, for many animals, and perhaps for our own ancestors, the alternative was to pile on fat in times of abundance and live off this reserve during times of sparsity.

It may be the residue of an outmoded crisis instinct that tempts us to over-indulge at Christmas in order to stoke up, but if we can understand the subtle underlying driving principles of our appetite and dietary needs, we will be going a long way towards reconnecting with what is one of the most healthy diets we can have: a local, seasonal one that oozes the vital antioxidants of the calendar just at the moment when our bodies most need them.

Journeys into the domain of unhealthy eating often cloud our instinct for the healthy. It is easy to be wooed by sugar and chocolate until they become so much of a craving that we forget our love for all the other flavours – and we become dissociated from the unique palettes of spring, summer, autumn and winter. When it comes to reality TV cookery shows, it is often the most sticky and indulgent dessert that grabs our attention and becomes the thing we want to make for someone else. Of course, it is lovely to offer pleasure – as the 'author' of many birthday and wedding cakes I would not deny this – but let's keep a sense of perspective and not lose touch with the deliciousness of eating fresh seasonal produce as our mainstay.

If I were asked to set a challenge for a team of cooks, what better mission could there be than to create the most delicious new canapés for spring, summer, autumn and winter?

In setting this challenge I would put down a few ground rules. Every canapé must contain at least one seasonal fresh ingredient, no more than three preserved ingredients and NO imported ingredients. When judging the results, I would expect to find more fresh ingredients in the summer canapé than in the winter concoction. Every mouthful would be an edible portrait of each season in miniature, filled with flavours that encapsulate what is special about each time of year.

So, what might I find? In spring, tips of nettle and wild garlic curling onto a crispbread made with local oats; in summer, fresh mange-tout planting themselves like butterfly wings on top of a tiny wheat case filled with freshly herbed goat's cheese; in autumn, a marbled chunk of roast beetroot sitting sturdily on a slice of potato soda bread; and in winter I would resurrect an old idea and make a savoury mince pie using dried fruit dappled with stilton and pearls of honey-roast parsnip.

Of course, there is no guarantee that these foodie flights of fantasy would taste of the season in just the way I would like, but I would love to see seasonal thinking influencing the creativity, health and sense of harmony at all levels of cooking, celebratory as well as everyday.

If you are looking for a New Year's resolution, why not make it to eat with the seasons in the year ahead, so that your 'plate time' becomes the navigator of your journey through the calendar year? Thus, a bit as clock time helps us navigate through a day from dawn to dusk, a varying plate of food will bring extra meaning to every meal time, helping us to see where we are as we journey from the brooding darkness of winter to the abundant lightness of summer.

Black & Blue Tartlets

Gluten-free tartlets with a blue cheese filling and a topping of crisped Cavolo Nero

Before you put away your mince pie trays for another year, why not use them to create a rather different kind of tartlet experience using some of the season's favourite ingredients? These savoury tartlets combine a thin oaty base with a blue cheese centre and a crispy topping of flaked Cavolo Nero. This elegant black kale with its long bobbly leaf works really well when it comes to being crisped up in the oven, but other crinkly varieties such as curly kale can also be used. Flat varieties are less successful as the crinkles give rise to pockets of warm air around the leaf that assist drying.

My inspiration to use kale has been heralded by the fact that we now have four varieties growing abundantly in the new horticulture patches around Schumacher College. We have been the beneficiaries of its bountiful nutritional properties for several months now, for it has a long season that reaches from September through to February, while more delicate shades of green succumb to the frost. Kale is so full of goodness that it is increasingly presented as some kind of 'superfood', although of course every good cook knows that all food is SUPER when very fresh and nicely prepared! Key ingredients in kale's nutritional profile are vitamins B1, B2, B3, B6, folate and E, dietary fibre, calcium, potassium, iron, magnesium, phosphorus, omega-3 fatty acids and protein. Not surprising, then, that some opportunists have thought of vacuum sealing tiny bags of crisped kale and selling it off in 25g portions – for a few extortionate pounds a go.

Crisped kale is very easy to make, and once you have mastered the technique you will have no temptation to buy those tiny bags – which at a global level probably cancel out through the carbon footprint of the packaging all the goodness kale would otherwise give.

I've made this recipe using an oaty pastry so that it's gluten-free, and because it uses a cereal that is currently being promoted and grown more in our local area. If you prefer, you can use bought, ready-made puff pastry instead.

I've used Stilton as it's a real Christmas favourite and you may have some left over, but any other blue cheese would be great, and next time I think I'll go for a Devon Blue!

The crisps can be stored in an airtight container for a few days. When perfectly ready, they will shatter in your mouth like warm snowflakes and are very moreish: they won't last long when offered to guests. Once you get into the rhythm of making them, you can add your favourite powdered spices to the rub-in blend to make them has hot or piquant as you like.
Ingredients

Crisped Kale
250g whole Cavolo Nero leaves
½ tsp mustard powder
¼ tsp paprika
¾ tsp fine sea salt

Oaty Pastry

150g gluten-free oat flour (I use Bob's Red Mill)
85g fine yellow maize flour (or other gluten-free flour such as buckwheat flour or Dove's Farm white gluten-free blend)
25g ground almonds
½ tsp fine salt
½ tsp xanthan gum (if available)
150g cold butter, straight from the fridge (I use salted)
150ml cold water
1 egg yolk
sunflower oil or butter for greasing the tins

Blue Cheese Filling

150g Stilton, Devon Blue or other blue cheese
1 cup of Greek yoghurt, sour cream or crème fraîche
1 egg white
a pinch of freshly ground black pepper
½ tsp cider vinegar, port, beer or lemon juice

Method

To make the Crisped Kale, rinse the kale in cold water, stripping the leaf from the stalks and donating the stalks to your compost heap. Spin the kale in a salad spinner to remove excess water before beginning the enjoyable process of tearing the pieces of kale into small pieces each the size of about three breakfast cornflakes. For me the sound is pleasantly reminiscent of our local farmer's horses grazing in their paddock near the College, ripping off one mouthful of grass after another in what seems like a very systematic, engrossed fashion.

Pat the kale pieces dry with a clean tea towel or some kitchen paper, spread them out, and leave them to dry some more before transferring them to a bowl and sprinkling over the salt, mustard powder, paprika and olive oil. Use your clean hands to mix everything together, rubbing the oil into the crevices of the kale until all the leaves are well coated and slippery.

Heat your oven to 160 °C. Line a couple of flat metal baking trays with baking parchment and spread out the kale pieces – you should be able to see the parchment peeping through in places. Put the trays in the oven for about 30 minutes. If you check after 15 minutes you'll notice that the kale has begun to look wilted. Don't worry: it will soon crispen up, so that by the time it's done it has a lovely tinkling feel to it, a bit like autumn leaves dried by the midday sun and swept into a tempting pile. If you're using the crisps to make the tartlets, be careful to avoid them going brown, as they will be going back into the oven later. Set aside to cool.

For the Oaty Pastry, combine the flours and ground almonds with the salt and xanthan gum, and then grate in the butter using the coarse side of your grater. After every few gratings, toss some of the flour over the grated butter so that it doesn't get pressed back into a lump. Use your fingers to swiftly distribute the butter evenly into the flour, and then add the water and egg yolk before mixing everything together to give a medium-soft dough that holds together in one piece. Set this aside in the fridge while you oil the mince pie tins with sunflower oil or grease them with butter.

Divide the pastry into four and roll each piece out thinly on a floured surface with a floured rolling pin. (Use the gluten-free flour for this.) Cut out rounds of pastry 6–7cm across. Gently push these into the greased mince pie tins so that the edges sit just slightly proud. Place the tins in your fridge to chill.

To make the Blue Cheese Filling, crumble the cheese and mash it with a fork, tip it into a bowl and stir in the yoghurt or cream and the egg white. The mixture doesn't need to be completely smooth. Season with black pepper and cider vinegar, port, beer or lemon juice.

If you want to prepare your tartlets in advance, this is the point to stop. Put the fully cooled crisps in an airtight box or bag and leave the lined mince pie trays and the cheese filling in the fridge.

When you're ready to bake the tartlets, heat your oven to 180 °C. Using only half the mixture, place a teaspoon of the cheese filling into the middle of each tart and spread it out with the back of the spoon. Bake the tartlets for 15–20 minutes until the filling is set and the pastry is beginning to brown slightly. Remove the trays from the oven and spread a second of teaspoon of cheese filling in each tart.

Sprinkle the kale flakes on top of the uncooked filling. Use as many flakes as you can to fill each tartlet. Return the trays to the oven for a further 5–10 minutes. The second layer of cheese mixture will set, holding the flakes in place. They may become slightly bronzed, but this two-stage baking process ensures that they don't become too brown.

Delicious served warm or cool.