Spring In Our Step
Donate Now
Issue 295

Mar/Apr 2016
Walking Back to Happiness
Welcome
Spring In Our Step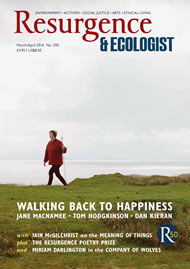 Cover: Sarah Boden, hill farmer, Isle of Eigg www.sopiegerrard.com
When we walk together we become forces for change.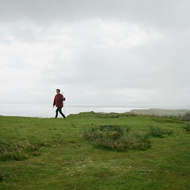 Sarah Boden, hill farmer, Isle of Eigg by Sophie Gerrard www.sophiegerrard.com
In this issue of Resurgence & Ecologist, we celebrate many things. Our writers walk the talk, as it were, in a special fea­t­­ure about walking – a basic human activity, and one imbued with value and meaning. Walking regularly is environmentally as well as person­ally healthy for us, whether we live in towns, cities or the countryside. We should walk more, and plan our communities to encourage it. Liberated from the tyranny of the car, our lives are closer to Nature and each other. When we walk alone, we are closer to our thoughts, too. And when we walk together, we can become forces for change.

We are also celebrating with a series of articles on poetry. Celebrating the winners of the inaugural Resurgence Poetry Prize; the power of poets such as Dante or Gerard Manley Hopkins to help us engage with Nature; and the wry, humorous insights of Matt Harvey, gently exposing the pretensions of our time. The arts have always been central to Resurgence, and in this issue Miriam Darlington takes a nocturnal journey in the company of wolves – proof of the powerful combination of words and the Wild.

Elsewhere our contributors reflect on the outcome of the Paris conference on climate change, and the movements it has helped inspire, whether that be activism for social justice, Vandana Shiva's proposal for a Pact with the Planet, or a move to a low-carbon, low- (or no-) meat diet. Iain McGilchrist's keynote essay on true wellbeing is typically thoughtful and provocative, and our reviewers are as incisive as ever.

Other celebrations are almost upon us. Our next issue will mark 50 years since the first publication of Resurgence, and we hope to make it a memorable one. There are also plans for a major Resurgence anniversary event to be held in Oxford in September 2016.

Given that seemingly every day our news is filled with fresh horrors, new assaults on our planet, and further conflict between peoples, any talk of celebration may appear frivolous, self-regarding or even delusional. Yet just as the coming of spring brings new hope in life, so the message of resurgence – and Resurgence – is that just as we have much to work for, we have much to celebrate, too.

Greg Neale is Editor at Resurgence & Ecologist.